BP's Chinese EV chargers and circular football pitches: The sustainability success stories of the week
As part of our Mission Possible campaign, edie brings you this weekly round-up of five of the best sustainability success stories of the week from across the globe.
---
Published every week, the new series charts how businesses and sustainability professionals are working to achieve their 'Mission Possible' across the campaign's five key pillars – energy, resources, infrastructure, mobility and business leadership.
From a partnership aimed at electrifying transport across China, to an initiative redistributing used soil in North London, each of these projects and initiatives is empowering businesses to play their part in achieving a sustainable future, today.
ENERGY: EIB to finance construction of 21 Spanish wind projects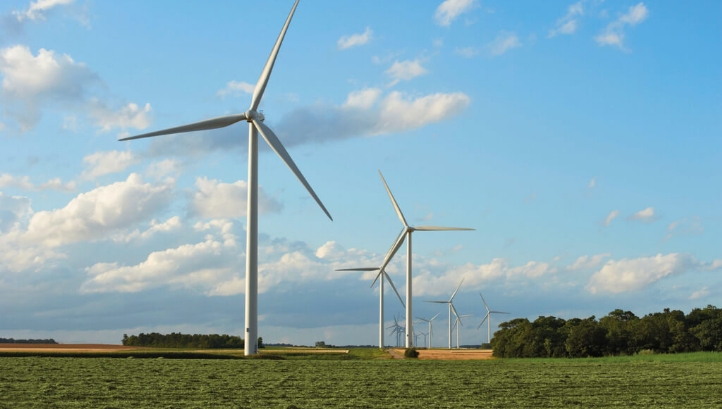 Last month, the European Investment Bank (EIB) committed to end its multi-billion-euro financing for fossil fuel projects by the end of 2020 in order to align its strategy with climate targets.
The earliest signs of this transition are now beginning to materialise, with the Bank having this week confirmed plans to lend up to €385m (£354m) to Saudi Arabian energy group Alfanar. The financing will be used to support the construction of 21 new onshore wind arrays across six Spanish regions – Andalusia, Asturias, Castilla-La Mancha, Castilla León, Galicia and Navarra. Alfanar claims that the portfolio of arrays will have a total capacity of 547MW once complete.
"This project is a clear example of the EIB's priorities in Spain: promoting the transition to a low-carbon economy by supporting sustainable economic growth and job creation," the EIB's vice president for climate action and environment Emma Navarro said. "We are delighted to support Spain's huge renewable energy potential and help the country to meet its climate change targets."
RESOURCES: FA launches circular stadium soil project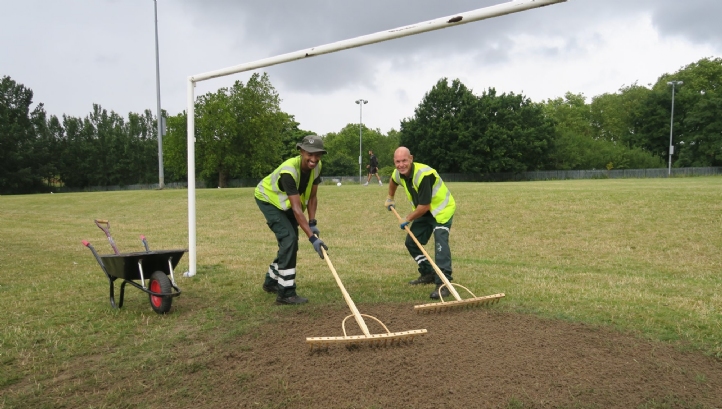 With the Premier League kicking off for a new season this week, football has been as much on the minds of edie's editorial team as sustainable business has. We've even taken the time to rank each of this year's competing Clubs based, not on their players or set pieces, but their green credentials.
It is timely, then, that this week has seen The Football Association (FA) team up with Veolia to divert the used soil from Wembley Stadium to football fields and small sports clubs across Brent. Around 130 tonnes of topsoil is removed annually in the off-season to prepare the venue for the start of the new season in August, and is typically sent to landfill. However, this year, it will be dispersed across Northwick Park and Gladstone Park.
"This is another brilliant example of how materials can be repurposed and recycled – something we should all be thinking about more," Brent Council's lead member for the environment, Cllr Krupa Sheth, said. "What's more, people living in and visiting our borough can enjoy soil previously trodden by the likes of David Silva, Paul Pogba and Harry Kane. We are grateful to the FA and Veolia for making this happen."
MOBILITY: BP forges partnership for Chinese EV charging network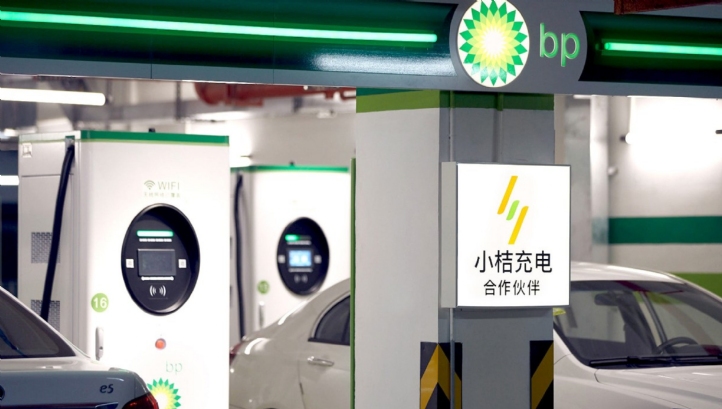 Oil and gas major BP made headlines last year when it purchased the UK's then-largest electric vehicle (EV) charging company Chargemaster, in a move which has seen it install charging points at more than 1,000 petrol station forecourts. The acquisition has also seen BP fit charging points for the likes of Mitchells & Butlers, the London Fire Brigade and Highways England.
This week, BP announced another key move in the EV space, partnering with Chinese ride-hailing firm DiDi Chuxing to develop a national network of charging points in what is currently the world's largest and fastest-growing EV market. The partnership will see BP and DiDi work together to design and install a network of charging "hubs" across China, to be used by DiDi drivers and members of the general public alike. While the total number of chargers, their locations and their technical specifications are yet to be confirmed, the first was this week opened in Guangzhou and contains ten fast-charging units tanging from 60-120kW.
"The lessons we learn [in China] will help us further expand BP's advanced mobility business worldwide, helping drive the energy transition and develop solutions for a low-carbon world," BP's chief executive for downstream, Tufan Erginbilgic, said.
THE BUILT ENVIRONMENT: London cycle lane gets a closed-loop makeover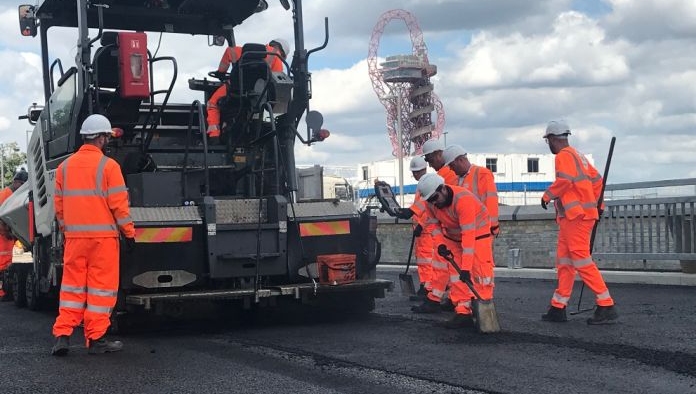 Plastic carrier bags are often considered hard-to-recycle in traditional infrastructure, as their lightweight nature and chemical makeup make them both low-value and hard-to-detect in reprocessing plants. As such, they are often sent to landfill.
In a bid to close the loop on this waste stream, Balfour Beatty and Thames Water have upgraded one of Stratford's most popular cycle lanes, through the Queen Elizabeth Olympic Park, with a waste plastic asphalt. Developed by Scottish start-up MacRebur, the innovative asphalt contains between 3kg and 10kg of waste plastics per tonne, with the plastics replacing the proportion of the mix usually accounted for by Bitumen. In total, around one million carrier bags were used in the asphalt used on the cycle lane.
"We are proud to have taken an innovative approach to sustainability and ultimately offer a more sustainable yet practical result to the community for their new cycle lane," Balfour Beatty's senior construction manager for the project, John McKay, said. "Finding a material which not only saved plastic from landfill, but which could also be recycled again at the end of its life, is the ultimate sustainable solution."
BUSINESS LEADERSHIP: Zippo launches reforestation campaign to combat forest fire impacts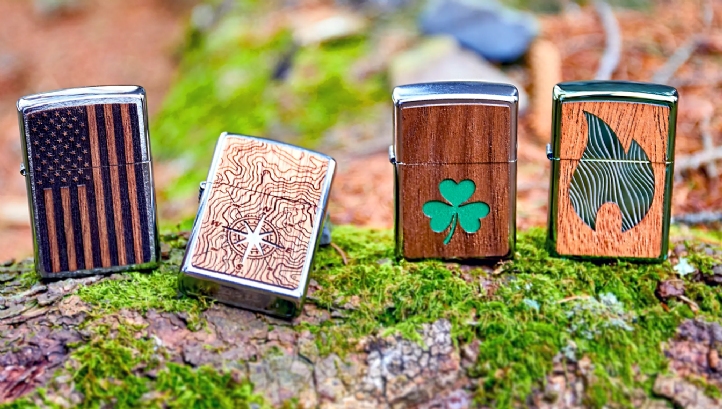 The US alone is thought to fall victim to more than 100,000 forest fires every year, with up to nine million acres of land being cleared in this way annually. Moreover, climate change is widely believed to be making such fires more likely and more frequent, with forest fires having been recorded as far north as the Arctic Circle during the past 12 months.
In a bid to engage the public with this issue and urge consumers to use its products responsibly when in nature, lighter brand Zippo has partnered with custom wood product maker Woodchuck USA to launch a new range of wood-coated lighters. For every lighter sold, the company will fund the planting of a tree. The campaign has also seen Zippo team up with National Geographic to tell the story of climate change and wildfires to its customers in video format, and to showcase its reforestation efforts.
"Temperatures are at the highest level on record and wildfires are affecting almost every continent on Earth, but unlike most natural disasters, the majority of wildfires are caused by humans," Zippo's senior brand manager for global marketing, Lucas Johnson, said. The Zippo windproof lighter gives people the power of portable fire, but with this comes responsibility."
Sarah George
© Faversham House Ltd 2023 edie news articles may be copied or forwarded for individual use only. No other reproduction or distribution is permitted without prior written consent.