Can HS2 comply with the UK's net-zero target?
With Prime Minister Boris Johnson giving the green light to the £100bn HS2, edie examines whether the controversial high-speed rail project can align with the UK's net-zero emissions future.
---
Boris Johnson has approved the HS2 project, aimed at radically reducing journey times between London and the north of England. The decision has angered MPs, especially those located in areas where construction of the project is likely to destroy natural locations. The fact that the cost of HS2 has ballooned to more than £100bn has also created more detractors.
HS2 was proposed when the UK was still performing towards the aims of the 2008 Climate Change Act. But the Conservatives have since enshrined a net-zero emissions target into law, and there are serious concerns as to whether the HS2 project can comply with this vision.
HS2 has committed to five pillars of environmental and societal objectives, listed below.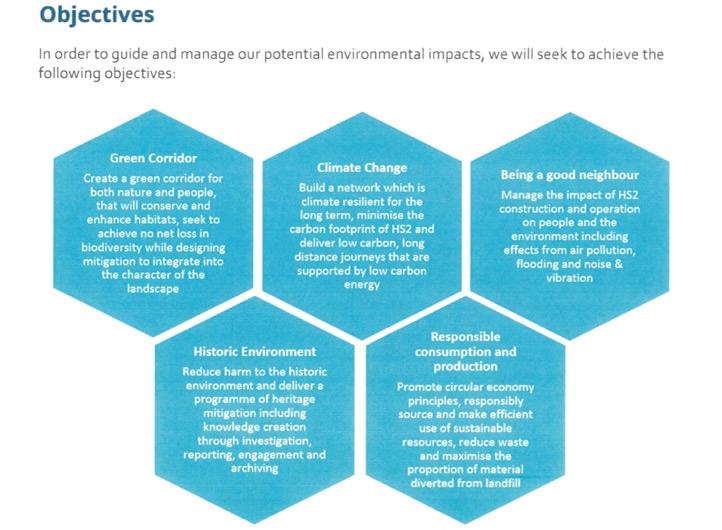 Will HS2 lower road transport emissions?
The Government is adamant that high-speed electric trains can help the UK slash its carbon footprint. This is namely though lessening demand for short-haul air travel, car journeys and reducing road freight.
Transport is the largest emitting sector in the UK, and improvements are required, and quickly, to help decarbonise the sector on the road to net-zero. The Clean Growth Strategy and Road to Zero strategies are steps to do just that, but critics argue that these place too much focus on the uptake of small electric vehicles (EVs) and not enough on reducing individual road journeys altogether.
According to the HS2 website, the project will reduce car travel by 1.2 million miles every day once fully operational. HS2's own calculations suggest that the project can achieve 8g of carbon emissions per passenger per km. In contrast, the same journey by car would lead to 67g in emissions, while a plane journey would create 170g.
In fact, HS2 estimates that carbon emissions from car travel will be reduced by more than 40,000 tonnes annually – saving around 18 million litres of petrol as a result.
However, this is already some discrepancy in the claims that HS2 will reduce road journeys, with the Department for Transport's own data suggesting that just 1% of HS2 passengers will consist of passengers who have flown and 4% for those who have driven.
Will HS2 be zero-emissions?
According to the Guardian, HS2 will "not cut carbon emissions". Figures from the project's own forecasts suggest that over the construction and operational lifetime of 120 years, HS2 will generate almost 1.5 million tonnes of carbon emissions. While this represents a little over 1% of the UK's annual transport emissions, it still isn't a zero-emissions project and as listed above there are still concerns as to whether the project will reduce road transport.
In contrast, research by Greengauge 21 estimates that the first phase of HS2 can deliver carbon saving of 0.6 million tonnes of CO2 over sixty years. These savings could be quadrupled "if the Government puts in place a wider package of policies to capture the full carbon benefit of HS2", the analysis adds. This "comfortably offsets" the 1.2 million tonnes of embedded carbon that will result from the construction of the line, the group states.
In fact, the embodied carbon and carbon intensity of the construction phase may have been over-estimated. The Align Joint Venture, for example, has already found carbon savings that are 13% better than a projection on its preparation works for the projects and some analysis suggests that embodied carbon in the construction phase could actually by up to 30% lower than anticipated.
Will HS2 stop other low-carbon investments?
Friends of the Earth is one of the many green groups that have warned of the  "opportunity cost" of HS2. This is the notion that at more than £100bn in costs, it will stifle investment into other low-carbon transport initiatives.
However, and perhaps to placate these concerns, Johnson has today (11 February) unveiled £5bn in funding to revamp bus and cycle links for every UK region. This includes at least 4,000 zero-emission buses and more than 250 miles of new cycle routes to promote cycling over car journeys in city centres.
As such, it seems that the Government is still willing to funnel investments into low-carbon transport initiatives. Whether this is the first of many remains to be seen.
Friends of the Earth's campaigns director, Jamie Peters, said: "HS2 is a costly and damaging mistake which will threaten wildlife, destroy ancient woodlands and do nothing to reduce climate-wrecking pollution.
"Anyone who has tried to take public transport recently can tell you why building HS2 is completely the wrong decision. The estimated £100bn earmarked for this project would be better spent fixing the dilapidated commuter rail network and funding other initiatives to encourage people out of their cars. 
"The government's £5bn sweetener on bus and cycling infrastructure is a nod in the right direction but falls way short of the investment required to build the low carbon transport infrastructure that the climate crisis demands."
More broadly, however, the HS2 – towards a zero-carbon future report recommends that "stretch targets to reduce construction carbon should continue and learnings should be shared with other construction projects and the supply chain". It claims that "HS2 provides a major opportunity for the UK to position itself as a global leader on lower-carbon construction, on the back of its record of infrastructure innovation around Building Information Modelling (BIM) and offsite construction".
Will HS2 impact biodiversity?
The HS2 Environmental Policy, states a commitment to "developing an exemplar project, and to limiting negative impacts through design, mitigation and by challenging industry standards whilst seeking environmental enhancements".
As part of this commitment, HS2 had made a pledge to ensuring no net loss of biodiversity at a route-wide level. This falls just short of the Government's 25 Year Environment Plan to embed net-gains for the environment into infrastructure projects.
However, the subsequent Environment Bill doesn't hold major national infrastructure projects to be subject to a biodiversity net-gain approach.
When the Bill was published, Wildlife Trusts' head of land use, planning and ecological networks Sue Young said: "We are disappointed that major national infrastructure projects will not be subject to [biodiversity] net-gain.
"While we welcome the clauses strengthening the Natural Environment and Rural Communities Act – saying all public bodies must have regard to conservation and enhancement of biodiversity – we believe that this should also apply to national Government when [it] decides on the planning of national infrastructure projects such as HS2."
In fact, the Wildlife Trusts' own examination of HS2 has outlined the stark ecological damage that the project will cause.
Claiming that HS2's own assertations that no net loss of biodiversity will be achieved are "based on out-of-date and incomplete Local Wildlife Site data", the report warns that almost 700 classified local wildlife sites are at risk due to the project.
Other notable sites at risk include five wildlife refuges of international importance, protected by UK law; 33 sites of Special Scientific Interest which are protected by UK law and four nature improvement areas that have been backed by £1.7m in Defra funds. In addition, 18 Wildlife Trust Nature Reserves and 108 ancient woodlands are at risk.
The report warns that HS2 is focusing on "inappropriate mitigation", such as tree planting on habitats that would suffer as a result, like species-rich grassland and wetland habitats. Instead of creating a "green corridor", HS2 "may actually destroy important existing habitats", the report notes.
As is often the case with Government announcements the destination is still heavily focused on integrating HS2 into a net-zero economy, and just like most Government announcements, the means to get there remain undefined.
Again, the HS2 – towards a zero-carbon future report recommends tree planting to take place as soon as possible to help with the offsetting of both carbon emissions and wildlife destruction.
The project had earmarked seven million trees to replace woodland that would be cut down to make way for the 216km London to Birmingham line. However, HS2 confirmed to the Leamington Observer that nearly 90,000 of the 240,000 trees planted, needed to be replaced.
Matt Mace
© Faversham House Ltd 2023 edie news articles may be copied or forwarded for individual use only. No other reproduction or distribution is permitted without prior written consent.