Carbon trading clarity and citizens in the spotlight: What do businesses want from COP26?
With a successor to the COP26 presidency role yet to be announced, all eyes are on Westminster for news on its plans for organising the crucial summit. But - beyond a stable delivery team - what are UK business's big asks of the conference, both in terms of organisation and execution?
---
That was the key question asked of expert panellists at The Aldersgate Group's latest event in London, who represented sectors ranging from law and finance, to retail and food manufacturing.
The event took place shortly after former Energy Minister Claire O'Neill was removed from her position as COP26 president, as part of Boris Johnson's plans to completely restructure the event's delivery team.
Since it was held, David Cameron and William Hague have turned down offers to take up the presidency, while former Environment Secretary Michael Gove has shirked rumours that he is going to take the role, much to the ire of Mary Robinson and Yvo de Boer.
With a new COP26 president set to be announced after this week's cabinet reshuffle, all eyes will be on Westminster (and on O'Neill's Twitter account). But the event is ultimately about international climate diplomacy rather than individual egos, and agreements are meant to prioritise the demands of nations, citizens and businesses above individual interests.
The Aldersgate Group, therefore, held its event to give businesses from across all UK regions and sectors the chance to put their "big asks" to Ministers in the lead-up to COP26, and to collaborate to ensure these messages are joined-up and holistic.
Here, edie rounds up seven of these asks, from carbon trading clarity, to collaboration with councils and citizens.
Trade deals with sustainability built-in
Given that COP26 will take place mere weeks before the UK's deadline for navigating initial post-Brexit trade deals with the EU, several of the panellists said they would like assurances from Ministers that all future trade deals would have sustainability requirements "built-in", to prevent a "race to the bottom" and to help businesses engage suppliers.
The consensus was that, although the updated Environment Bill goes some way to addressing these concerns, specific trade requirements around issues such as decarbonisation and forest protection will be needed to give the framework real teeth.
Tesco's responsible sourcing manager Christina Downend pointed out that while the supermarket and other major food firms are working with bodies such as the GRI to embed sustainability requirements in contracts with suppliers, Government intervention would help unify and improve requirements at scale.
Similarly, Nestle UK and Ireland's head of sustainability Anna Turrell pointed out that the majority of most food and beverage firms' environmental impacts sit in their supply chains, and that trade deals could help address this challenge more broadly and rapidly than action by any single business.
Turrell summarised: "We have to look at what a post-Brexit world will look like in regard to trade rules and the environmental requirements that we need to bed in now if we are to keep on moving forwards. We need to make sure we maintain high standards and that we set the tone as a country, but that we make sure others come along with us."
Stronger sector-specific policies…
It's the question that's been raised time and again since the UK enshrined its 2050 net-zero target in law last year – what needs to be done in the shorter term, and in what sectors, to get us there?
Panellists cited a lack of policy clarity as a key barrier to decarbonising hard-to-abate areas of their respective businesses, including road transport (HGVs were a particular bugbear), heating, cooling and livestock.
Speaking about the firm's ambitions to achieve carbon-neutral global operations by 2030 and switch its gas business to hydrogen turbines by 2025, Siemens' carbon neutral manager Sarah Handley said: "The challenges we are experiencing are the actual pace of change and the scale of the change we have to deliver.
"We have the technology, the solutions, the research and the development… But to scale up… needs significant intervention not just from us, but the wider infrastructure. There is a really important role for Government in this, to set the right policy and incentives."
Calls were also made for better policy recognition of the role of a circular economy in a net-zero world, given that global resource extraction is booming and reuse rates stagnating despite the fact that linear consumption models account for 45% of global emissions.
… With room for coupling and collaboration
'Sector coupling' has been a buzzword throughout the EU's Green New Deal, with explorations of how cross-sector collaboration could help deliver a net-zero continent at a reduced cost well underway.
Several panellists voiced concerns that the UK Government may not be so holistic in its thinking, pointing to previous instances of policy "siloing".
CEMEX Europe's director of public affairs Martin Casey, for example, explained how the cement industry's net-zero transition depends on the decarbonisation of heat and transport and the creation of circular business models in the construction and demolition sectors. Tesco's Downend highlighted the food retail sector's reliance on refrigeration technologies and on agriculture.
"You can't go down your typical sector lines, this is about a more holistic, landscape-based approach," Nestle's Turrell added.
Chances to showcase best-practice
Panellists recognised that since the UK legislated for net-zero, the global uptake of similar legislation has boomed. As of December 2019, around 40% of global GDP was covered by governments with net-zero commitments or intentions, up from 16% in June 2019.
They concluded that this trend could be attributed, in part, to the UK Government's drive to prove that emissions can be decoupled from economic growth. In order to provide other nations with more engaging proof than facts and figures, WSP's future-ready lead David Symons said, Ministers should help businesses attending COP26 to showcase their best-practice case studies.
"If Britain is open for business, let's use COP26 as an opportunity to showcase Britain at is best and net-zero as a growth opportunity, not a responsibility play or a perception that this is all about Government and business doesn't count," Symons said.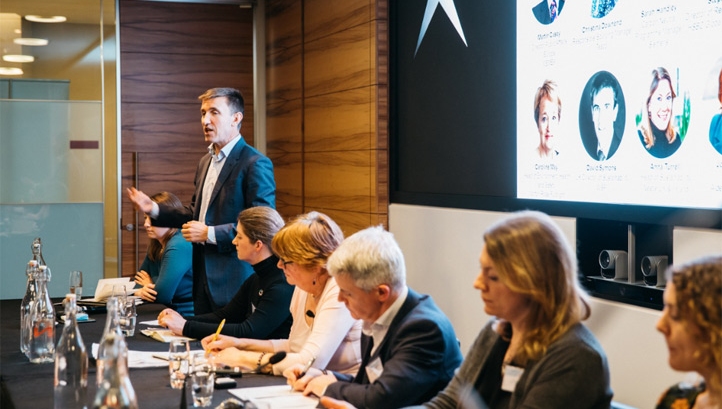 Siemens' Handley agreed, emphasising once more the importance of projects whereby actors from different sectors come together to align people, planet and profit. She cited the recent trials of grid-injected hydrogen at Keele University as a project she'd like Ministers to show international delegates. 
Mandatory climate-related disclosures – and support for businesses to deliver
Between June 2018 and June 2019, corporate efforts to translate climate risks into financial risks through the Task Force on Climate-related Financial Disclosures (TCFD's) recommendations grew by more than 50% globally. But the TCFD's latest status report warned that broad disclosures are not yet sufficient for most investors, due to mixed levels of both uptake and alignment.
In a bid to address this and other finance-related barriers to net-zero progress, the UK Government unveiled its Green Finance Strategy, which includes a pledge to mandate TCFD-aligned disclosure for large businesses within the next three years.
HSBC Global Asset Management's responsible investment director Stephanie Maier welcomed this move, saying it would help businesses and governments realise that climate change is an "un-hedgable risk". But she wants more Government clarity ahead of the TCFD mandate to help businesses determine how to meet its scenario analysis requirements.
"Trying to model what 2C would look like is a complex thing… and it does matter how we get there. It does matter whether policy action comes sooner or later," Maier said. "It does matter what technologies go forward and how their prices compare.
"If we get that scenario analysis right, it's not just a tool for managing climate risk because regulators are interested from a financial perspective. It's also a tool for mitigating climate risk, if it helps us re-direct capital to those companies delivering the actions we need for the low-carbon transition."
Clarity on carbon trading
Besides trade deals, another big question mark hanging over the Government's 'Green Brexit' promises is emissions trading and carbon pricing, panellists agreed.
Under the current withdrawal process from the European Union (EU), a Carbon Emissions Tax (CET) will replace the EU Emissions Trading System (ETS). But uncertainty remains about when the CET will be set and whether it will entail pricing comparable to, or more ambitious than, the EU. The CCC's net-zero recommendations notably state that reaching the 2050 target will "require a strong and rising carbon price, in order to induce changes to both short-term behaviour and longer-term investment decisions". 
An agreement on the Paris Accord's Article 6, which covers carbon trading, is expected to be reached at COP26, after delays at COP25.
"We operate both in the developed and the developing world, and getting Article 6 right… is fundamental," CEMEX's Casey said.
"We need to understand what is happening with the UK ETS after Brexit, because that links to the competitiveness of trade. The challenge is to understand how the current Government, on its current direction of travel, will be looking for free trade agreements and perhaps de-regulation of industries to maintain competitiveness. How you reconcile that with delivery on climate change and with non-regression… is something we need to hear as we head towards November."
Support for local authorities and individuals
As the panel drew to a close, speakers repeatedly emphasised that while businesses have historically had a sizeable voice at COPs, local authorities, communities and citizens will also need to mobilise in order to achieve a 1.5C-aligned world, according to the IPCC.
WSP's Symons said that UK local authorities – of which 260+ have now made 'climate emergency' declarations – can "be the catalyst" for change perhaps faster than most businesses, given their direct and sizeable links to infrastructure and education.
But he acknowledged that the necessary level of change can only be delivered by councils if the Conservative Government allocates the funding promised in its Manifesto, either at next month's Budget, at the autumn Statement, or elsewhere. The manifesto notably includes a £2.9bn public sector decarbonisation fund and £9.2bn to improve energy efficiency across schools, hospitals and social housing.
On citizens and communities, HSBC Global Asset Management's Maier said she would like Ministers to use COP26 to acknowledge how "crucial" grassroots activism from groups like Extinction Rebellion was in the creation of the UK's net-zero target. She also called for greater Government incentives to ensure a just transition for individuals, in order to create an "all on board" narrative.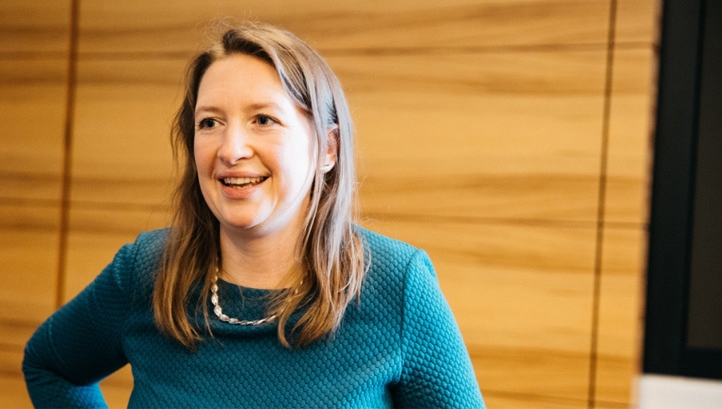 "One piece where governments are well-positioned to make an impact but haven't really gone is by bringing civil society along," Maier said. "This transition is going to need changes in behaviour and we need people to recognise that and to have that sense of joint endeavour."
These comments echo those made by Michael Gove this week. He is calling for live-streaming and entry for members of the public in a bid to make COP26 the "most transparent ever".  On incentives for individuals specifically, the Treasury is reportedly mulling grants for homeowners looking to phase out gas boilers and fit rooftop solar arrays alongside funding for motorists making the EV switch for inclusion in the Budget.
Sarah George
© Faversham House Ltd 2023 edie news articles may be copied or forwarded for individual use only. No other reproduction or distribution is permitted without prior written consent.