COP26 Action Tracker: Australia and Saudi Arabia set net-zero goals, questions remain about logistics of summit
With less than one week to go until COP26, this latest edition of edie's Action Tracker explores the eleventh-hour actions being taken by the nations and the private sector.
---
Taking place in Glasgow this November after a one-year delay due to Covid-19, COP26 is widely considered the most important iteration of the annual UN meeting since 2015, when the Paris Agreement was ratified.
The new COP26 Action Tracker provides a regular round-up of the policy and business preparations being made here in the UK and across the world. The key elements of the Tracker will be updated every two weeks with all of the need-to-know updates ahead of the November talks.  
The COP26 Action Tracker is brought to you as part edie's Countdown to COP26 Festival – a six-month programme of exclusive content and events supported by headline partner Virgin Media O2. View all of edie's COP26 content here. 
The numbers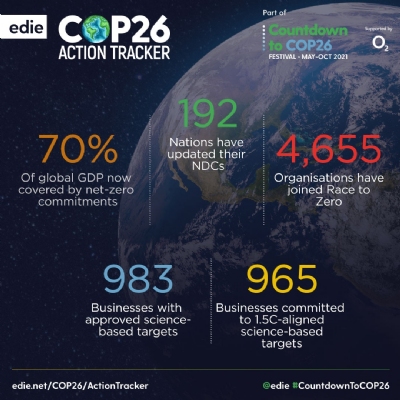 The headlines
UK policy updates
A swathe of green policy updates have been provided by the UK Government since the last edition of this Action Tracker was published, with 21 related documents being uploaded during a 72-hour period last week.
Headlines were dominated by the Net-Zero Strategy, which has been badged as a roadmap for "transforming every sector of the UK and global economy" in line with net-zero by 2050, covering plans for high-emitting sectors including energy generation and transmission; transport; heavy industry, heat and buildings. There are also updates on nature-based and man-made carbon removal solutions.  400,000 jobs
Several green groups have expressed disappointment that the Strategy does not feature time-bound, numerical, sector-specific decarbonisation targets.  You can read edie's analysis of what, exactly, is included, here.
The Heat and Buildings Strategy was also published in the same week, following delays of around one year. In total, the Strategy details about £3.9bn of funding to support the transition to low-carbon commercial and domestic buildings, with most of the information on the latter. 
The Strategy sees the Government coming down firmly in favour of electric heat pumps in the short term. It delays a decision on the widespread use of hydrogen in heating until 2026, subject to trials of the UK's first Hydrogen Village in 2025. Carbon capture, usage and storage (CCUS) is also confirmed as something that will be scaled up in the more distant future.
In general, the Strategy was welcomed but, given that the Conservative Party manifesto committed £9.2bn to building energy efficiency alone, and that the new funding covers technology shifts, innovation and scheme administration as well as efficiency, there are hopes that it is just a starting point.
The Environment Bill has also been in the headlines, but for all the wrong reasons. Amendments voted for in the House of Lords were all thrown out in the Commons, including measures for greater provisions for ancient woodland protection in planning frameworks; restrictions on ministerial powers to weaken habitat-related regulations; a legal duty on water companies to reduce raw sewage discharges into rivers and moves to strengthen the independence of the new watchdog, the Office for Environmental Protection (OEP).
On the sewage point, only 22 Conservative MPs rebelled and voted in favour of the amendment. The water sector is facing a shortage of chemicals for treating raw sewage, due to factors including Covid-19 and Brexit.
For edie's full round-up of everything that happened regarding UK-wide green policy last week, click here.
Looking to Scotland: The Scottish Government has spearheaded the development of – and international agreement on – an agreement that recognises the role of devolved, state and regional governments in delivering net-zero. It garnered the support of 260 regional, devolved and subnational governments within one day. Additionally, Glasgow has published its draft Green Deal with headline targets net-zero, improved resident wellbeing and improved climate resilience by 2030.
Conference planning
A quick scroll through Twitter will reveal that many climate activists from countries on the UK's travel "red list", or from nations without comprehensive vaccine rollouts, are still striving to make the practicalities work that they can attend COP26. At the same time, ire is being directed at the UK Presidency and UN's decision to allow 20,000+ people to bypass all usual testing and quarantine requirements.
On the ground in Glasgow, The Telegraph is reporting, the Government is having trouble coordinating accommodation, transport and waste collection. To this latter point, refuse workers are planning to go on strike across the city – and across Scotland –  demanding a pay rise and better provisions to protect their health.
Additionally, titles including The Telegraph and The Guardian have claimed that corporate COP26 sponsors have raised formal complaints about the "mismanagement" of event plans by "very inexperienced" staff.
The Government will clearly need to pull several rabbits out of hats to address these concerns. Boris Johnson admitted, during a special broadcast with WWF, aimed at children, that he is "very worried" about whether COP26 will be a success.
Global policy updates
As noted in the headlines section above, Germany and Canada have collaborated with the UK to develop plans for the OECD to finally make good on a pledge for $100bn of international climate finance annually for developing nations. But the roadmap states that the full amount is unlikely to be delivered until 2023, and provides no requirement for additional payments to make up for the historic shortfall.
International failings have also been highlighted in a string of reports from UN bodies. The UNEP's 2021 Production Gap report revealed that national fossil fuel production plans will put the world on course to produce more than twice the level of fossil fuels compatible with a 1.5C world by 2030. An update to the synthesis report on Paris Agreement NDCs showed that the world is still off-track for either 2C or 1.5C, as did the subsequent emissions gap report.  2.7C likely, or 2.2 if all nations with binding targets do it
On a more positive note, the first half of the UN's 15th Convention on Biological Diversity (CBD) closed with strong progress towards treaty adoption, with major new funding commitments from China and the EU. Businesses, investors, NGOs and scientists have said they will continue to call for more information on the science behind the framework and to accelerate timelines for tipping to a net-positive impact globally before the second half begins next spring.
Elsewhere, Australia has confirmed that it will legislate for a 2050 net-zero target, stating that it will cut annual emissions by 80% by this time before offsetting the residual 20%. Little detail has been revealed, at present, on how emissions reductions will be achieved, with Prime Minister Scott Morrison's opponents calling for more information on how the nation plans to avoid over-reliance on "technology breakthroughs" which may not materialise. Nonetheless, this is the same Morrison that, just weeks ago, was debating skipping COP26 as he has travelled a lot in recent months.
Also having set a new net-zero pledge is Saudi Arabia. As with Australia, Russia and the UAE, scepticism abounds. For Saudi Arabia specifically, the target is likely to exclude fossil duel exports.
In the US, tensions have continued to rise in the climate space, with West Virginia Senator Joe Manchin leading the opposition to President Joe Biden's sweeping set of climate bills. The New York Times is reporting that, due to Manchin's influence, the budget bill pending in Congress is likely to be changed to cut spending for clean energy. Manchin is reportedly considering switching from the Democrats to the Republicans, as the former party increases its focus on low-carbon energy. Manchin has notably received more than $400,000 from fossil fuel interests since the start of 2021.
In South America, Bloomberg is reporting that Brazil has softened its stance on Article 6 of the Paris Agreement, which aims to create a framework for countries and companies to participate in growing international carbon markets. The Taskforce on Scaling Voluntary Carbon Markets estimated in 2020 that the current market for offsets will need to grow by at least 15-fold by 2030 if the private sector is to align with the Paris Agreement's 1.5C trajectory. By 2050, it may need to be up to 160 times bigger than in 2020. 
Business action
It's the final chance for business collaborations to put forward their calls to action for COP26, and a major set of recommendations were delivered to Downing Street on Tuesday (26 October), signed by more than 1,000 firms as well as 250,000 individuals. Business signatories included Tesco, Sky, Selfridges and DPD Group.
The letter was coordinated by the Climate Coalition and calls on the Prime Minister to deliver a joined-up response to the climate and nature crisis, in a way that supports the most vulnerable in the UK and across the world.
Standalone business announcements are also continuing to come in thick and fast. Last week, Mitsubishi Corporation announced a £12.6bn investment plan to support a new ambition to halve operational emissions this decade. Similarly, Rio Tinto set out a $7.5bn spending plan to support the same goal.
Elsewhere, new net-zero goals came from the likes of Sodexo, Bupa and the Zero Carbon Forum for hospitality, while science-based target uptake remained strong. Organisations with newly verified targets include Johnson Matthey, Forsters LLP, Avery Denison, Stora Enso and the BBC.
Staying with media for one moment, and most major UK broadcasters and written media outlets have confirmed their plans for coverage at this stage, with several campaigns focusing on demystifying climate jargon and engaging the general public in behaviour change. Nonetheless, research out from E.ON this week revealed that nine in 10 UK adults do not feel that they properly understand what COP26 is. Similarly, research from BayWa.r.e found that online mentions of the petrol and diesel shortages last month were six times higher than COP26 mentions.
On the horizon
On 30 and 31 October, G20 nations will meet for this year's summit in Rome. Pre-summit meetings on topics including finance, infrastructure and agriculture have already taken place.
COP26 will formally open on 31 October in Glasgow. Negotiations will begin on 1 November.
Zooming back in on the UK for one moment; Chancellor Rishi Sunak is due to deliver the Autumn Statement today (27 October).
Words of wisdom
"Commitments are, of course, cheaper than actions. We're yet to see anything like the scale or scope of actions needed to stop the accumulation of carbon in the atmosphere….  as leaders, we have to be prepared not only to take bold action to fulfil promises already made, but that we have to hold our nerve as the unintended consequences of those actions play out.
"It seems, to me, that COP26 is such a big, crucial gathering where we need to hear answers to difficult questions."
– Jeremy Darroch, chief executive, Sky
Sarah George
© Faversham House Ltd 2023 edie news articles may be copied or forwarded for individual use only. No other reproduction or distribution is permitted without prior written consent.