COP26 Action Tracker: G20 members clash on coal as credibility of corporate net-zero targets questioned
With less than 100 days to go until COP26, this new series from edie will provide a regular temperature check of global climate action from nations and businesses.
---
Taking place in Glasgow this November after a one-year delay due to Covid-19, COP26 is widely considered to be the most important iteration of the annual UN meeting since 2015, when the Paris Agreement was ratified.
The new COP26 Action Tracker provides a regular round-up of the policy and business preparations being made here in the UK and across the world. The key elements of the Tracker will be updated every two weeks with all of the need-to-know updates ahead of the November talks.  
The COP26 Action Tracker is brought to you as part edie's Countdown to COP26 Festival – a six-month programme of exclusive content and events supported by headline partner O2. View all of edie's COP26 content here. 
The numbers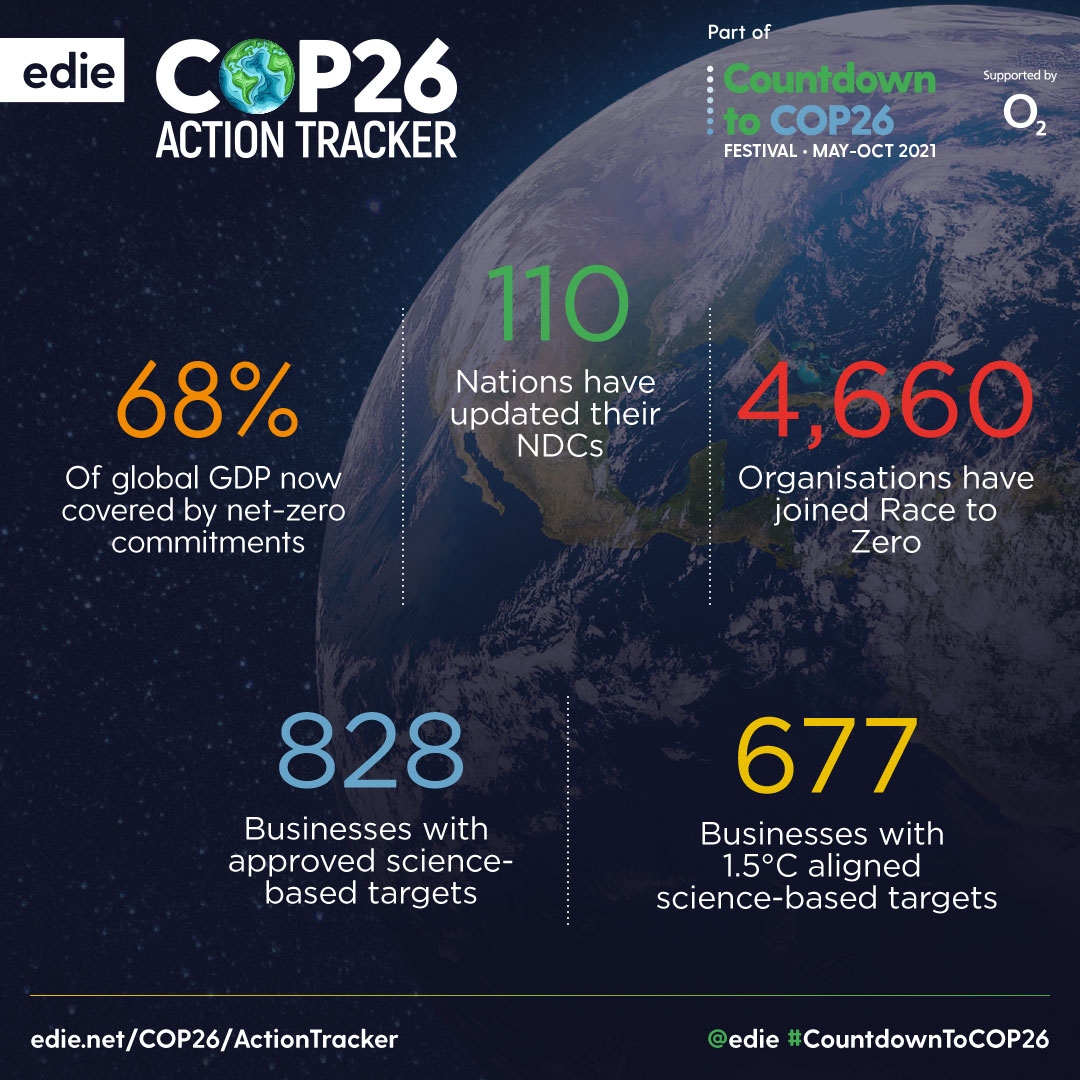 The headlines
UK policy updates
With Parliament having risen for summer recess shortly after the previous edition of this Action Tracker was published, there has been little in the way of major policy announcements. There has, however, been the publication of the new £5.2bn Flood and Coastal Erosion Investment Plan for England, covering the period through to 2027. The Innovation Strategy has also been released, outlining priority energy and environment technologies.
It has been confirmed that the Heat & Buildings Strategy has been postponed until autumn – as has the introduction of a mechanism to curb costs in the UK's new domestic emissions trading scheme (ETS) –  but there are still hopes that the Hydrogen Strategy could be released in the coming days.
Aside from policy packages themselves, the Department for Business, Energy and Industrial Strategy (BEIS) has published official data on energy generation and consumption during 2020. The latest Digest of UK Energy Statistics (DUKES) reveals that the proportion of fossil fuels in the energy mix reached a record low in 2020, dropping to 37.7%. At the same time, the proportion of the energy mix accounted for by renewables reached a record 43.1%.
Regarding COP26 itself, President-Designate Alok Sharma hosted a two-day ministerial meeting in London last week, convening representatives of 51 nations. Sharma revealed, in a speech to media after the event, that attendees "reached a common understanding" that the outcomes of the Conference must be aligned with the Paris Agreement's 1.5C trajectory rather than 'well-below' 2C, and that agreement was clear on climate adaptation finance. However, Sharma noted that "there are still significant differences that persist".
There has been no official news update on the Conference format. Paris Agreement architect Christiana Figueres has spoken out in favour of a hybrid format, in which some negotiations can happen virtually, in light of Covid-19.
Global policy updates
International green policy news has been something of a mixed bag in recent weeks.
As above, the talks hosted by Sharma did not end with an overarching consensus on some of the Conference's key issues. Then, in the same week, talks between G20 climate and energy representatives ended with all nations except China, Russia, Turkey, Saudi Arabia and India agreeing to phase out coal. This meant that no consensus could be reached. The official Leaders' Summit takes place in Rome in October.
As August began, the UN's deadline for submitting updated Paris Agreement NDCs passed. Of the 197 nations committed to the Accord, 110 submitted updated plans. Under the previous NDCs, the global temperature increase would likely surpass 3C, according to UN calculations. The UK Government will now press nations without updated plans, such as China, to submit them as soon as possible. There will also be questions about how strong the plans are; plans from nations including Indonesia and Japan are already facing criticism for planning coal use into the 2030s and beyond. A recent report from BloombergNEF revealed that G20 nations have collectively allocated subsidies topping $3.3trn to the oil, coal, gas and fossil-fuelled electricity generation sectors between 2015 and 2019 – a level incompatible with the Paris Agreement.
In more positive news, Ireland has officially enshrined a new Climate Act into law. With a headline target of net-zero by 2050 at the latest, the Act has an interim goal to cut emissions by 51% over the next decade. There is also a requirement for all local authorities to submit individual climate plans, covering both adaptation and emissions reductions, every five years.
Elsewhere, the UK has opened a dialogue with Japan over Industrial Policy for the fourth industrial revolution, with net-zero as a key remit. The UK has also forged a new partnership with Colombia on sustainable growth.
Business action
The big business discussion at the moment centres around how best to avoid greenwashing and what climate activists have called "creative carbon accounting", delivering a meaningful transition to net-zero.
Once the forte of campaigners, this issue has risen up the finance agenda. Earlier this week, more than 50 global investors, managing more than $14trn in assets, issued a call for new corporate governance structures and standards to be introduced to improve the accountability of net-zero carbon commitments. Recent weeks have also seen pension schemes facing increasing pressure to outline how they will reach net-zero across financed emissions.
On the same topic, a new initiative – the Voluntary Carbon Markets Integrity Initiative – has been launched to ensure that voluntary carbon markets actually deliver the levels of mitigation and sequestration needed. The Initiative's launch comes amid reports of emerging challenges to offsetting. Oxfam has warned that an over-reliance on nature-based offsetting by the private sector could jeapordise global food security. There are also concerns about the resilience of offsetting projects, after corporate-owned trees burned in wildfires in Oregon.
Moving on to specific business announcements, and broadcaster Sky has announced the five winners of its £2m sustainable advertising prize, the Sky Zero Footprint Fund. The winners, Olio, Pura, Path Financial, Here We Flo and OVO Energy, will be supported to develop climate-focused advertising campaigns. One will secure £1m of media value before COP26. Sky is notably the UK COP Unit's Principal Media Partner.
Elsewhere, PayPal has joined the Catalyst Fund, an accelerator aiming to support sustainable development, enabled by digital technologies, across the globe. The Fund already had support from the likes of JP Morgan Chase and the UK Government's Foreign, Commonwealth and Development Office. PayPal will finance technologies that can enhance climate resilience for vulnerable populations while also bringing financial empowerment to low-income communities.
On a less positive note, Shell has confirmed plans to appeal a Dutch court ruling ordering the energy major to set stronger targets to reduce greenhouse gas emissions.
On the horizon
August is always a quieter month than most, with Parliament on recess, children on their summer break from school and many businesses closing or scaling back for a few weeks. This is the same in the environmental space as elsewhere.
Nonetheless, the Intergovernmental Panel on Climate Change's (IPCC) Working Group 1 is currently meeting virtually to finalise a major new report. This Working Group is tasked with examining the science underpinning "past, present and future climate change" and this report, for the first time, will detail predictions on climate tipping points. Meetings are expected to conclude on Friday (6 August) with the report to be published soon after. Readers should not expect projections of the likely environmental, social and economic results of future climate change.
Looking a little further ahead, the International Union for Conservation of Nature (ICUN) is due to meet from 3-11 September in Marseille, France, for its Congress. These meetings are held every four years but this edition was initially due to take place in September 2020. The Congress should serve as a key precursor to the 15th Biodiversity COP in Kunming, China, in October.
Words of wisdom
"There will be nowhere to hide at COP26. Each of us will be in the spotlight and we will only deliver by working together."
– COP26 President Alok Sharma
Sarah George 
© Faversham House Ltd 2023 edie news articles may be copied or forwarded for individual use only. No other reproduction or distribution is permitted without prior written consent.