COP26 Action Tracker: Nations urged to respond to IPCC report as Cambo oilfield row rolls on
With less than 100 days to go until COP26, this new series from edie will provide a regular temperature check of global climate action from nations and businesses.
---
Taking place in Glasgow this November after a one-year delay due to Covid-19, COP26 is widely considered to be the most important iteration of the annual UN meeting since 2015, when the Paris Agreement was ratified.
The new COP26 Action Tracker provides a regular round-up of the policy and business preparations being made here in the UK and across the world. The key elements of the Tracker will be updated every two weeks with all of the need-to-know updates ahead of the November talks.  
The COP26 Action Tracker is brought to you as part edie's Countdown to COP26 Festival – a six-month programme of exclusive content and events supported by headline partner Virgin Media O2. View all of edie's COP26 content here. 
The numbers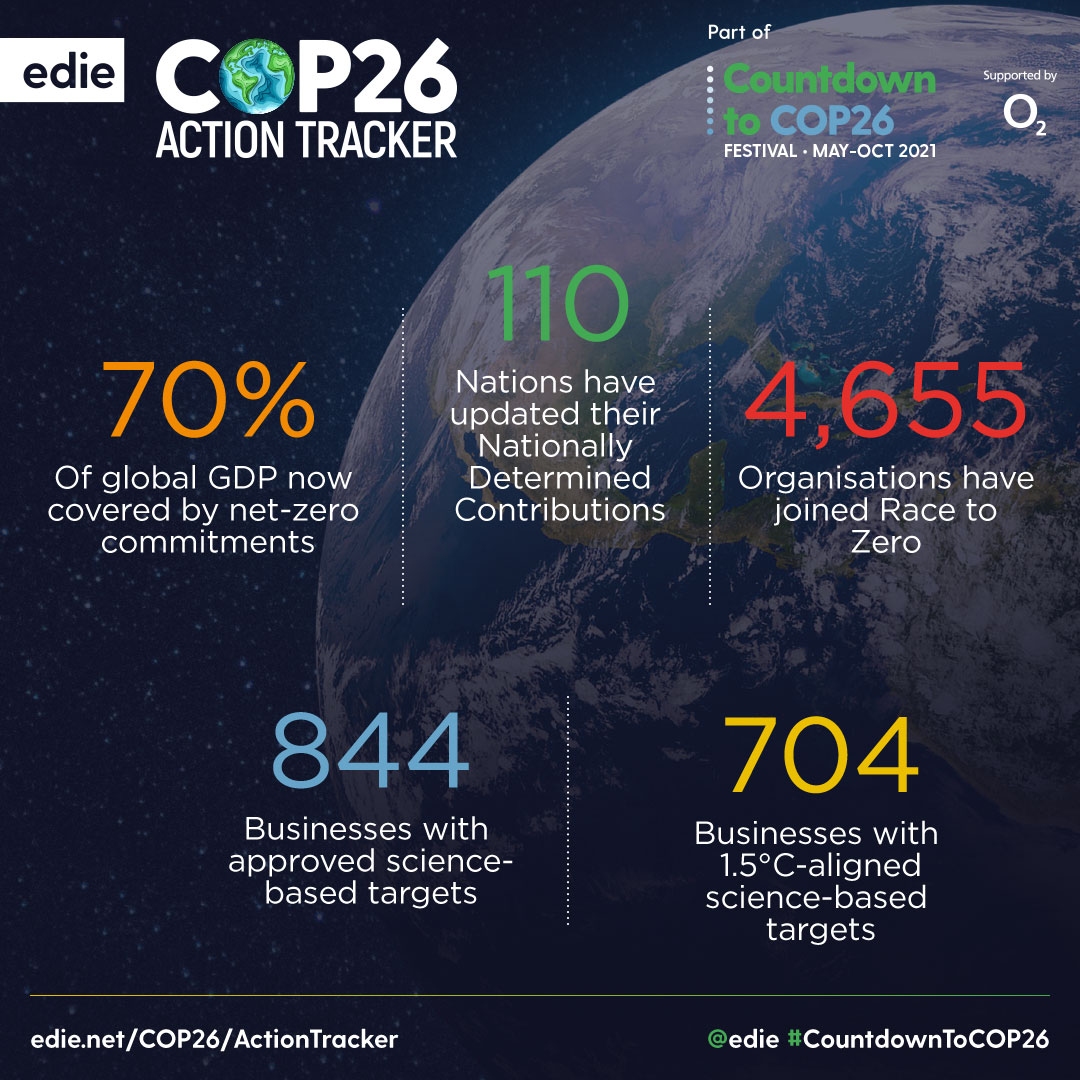 The headlines
UK policy updates
August is always a quieter month for big policy announcements than most in the UK, with Parliament on recess.
It has been confirmed, since the last edition of this Action Tracker was published, that the Heat & Buildings Strategy will not be published until Parliament has returned this autumn. Energy Minister Kwasi Kwarteng was interviewed by MPs shortly before the recess began and said he had been keen to get the Strategy published but that this might not be possible. There have been widespread reports that backbench Conservative MPs have argued that the Strategy's current proposals could place too high a cost on middle-class households looking to replace their boilers in line with an upcoming ban. The Climate Change Committee (CCC) has recommended a 2035 ban date but media outlets are reporting that 2040 is being considered.  
The Hydrogen Strategy was due ahead of recess beginning but has instead launched four weeks into the break. Building on the initial commitment of £500m to the hydrogen sector made through the Ten-Point Plan last year, the Strategy details consultations on how a new a £240m 'Net-Zero Hydrogen Fund' should be allocated; how a new 'low-carbon' standard for producers could be drawn up and how a new 'Hydrogen Business Model', to be based on the Contracts for Difference (CfD) auction scheme for renewable energy generation, should be laid out.
In total, some £900m of Government funding for the hydrogen sector has been confirmed through the Strategy – some new, some existing. Storage and end-use are considered as well as generation.
While the Strategy brings welcome clarity, it has also drawn criticism. Many green groups argue that the Government's 'twin-track' approach to supporting blue, as well as green hydrogen, will lock in reliance on fossil fuel imports. There are also questions about whether the 5GW target for 2030 is ambitious enough, whether the right end-user sectors are being supported to the right extent, and about why consultations have not been launched sooner.
Speaking to The Guardian this week, CCC chairman Lord Deben warned that delays in publishing policy packages designed to support the net-zero transition have weakened the UK's international green reputation ahead of COP26. He also argued that the Government could do more to prevent climate scepticism from creeping in, amid reports of MPs questioning the cost of the transition.
Elsewhere, Ministers are continuing to face pressure from climate activists over plans for the new Cambo oilfield off the Shetland Islands, being put forward by Siccar Point Energy and Shell. Nicola Sturgeon wrote to Ministers in Whitehall urging them to "reassess" the plans, but the SNP only declared its opposition to the project after activist pressure.  Many voices among the Conservative Party have expressed their support for the project. Kier Starmer has confirmed that the Labour Party will oppose the plans.
GND Rising and @StopCambo organiser Lauren spoke to @Channel4News last night about challenging Nicola Sturgeon to oppose the new Cambo oil field.

We can't afford to drill for new oil. We'll keep challenging politicians until they take concrete action to stop the climate crisis. pic.twitter.com/qZGkp17a3X

— Green New Deal Rising (@GNDRising) August 13, 2021
Taking it down from a national level, the London Assembly's Environment Committee has written to Mayor Sadiq Khan to ask how he is engaging with the Government to deliver the capital's own climate plans and how he is preparing to utilise the opportunities that COP26 presents.
Global policy updates
In all parts of the world, national governments have been facing calls to react to the Intergovernmental Panel on Climate Change's (IPCC) latest landmark report, which confirms that the global temperature increase from pre-industrial times has already surpassed 1.1C and that 1.5C is likely to be surpassed by 2040.
As the previous edition of this Action Tracker stated, only 110 of the 197 nations committed to the Paris Agreement submitted updated Nationally Determined Contributions (NDCs) plans before the deadline. COP26 President Alok Sharma expressed disappointment that many wealthy nations missed the deadline or failed to increase their ambitions.
Now, the EU's foreign policy chief Josep Borrell has begun urging EU nations to submit updated NDCs as soon as possible. He said: "As one of the most economically developed areas in the world, we are among those who emit and have emitted in the past the most greenhouse gases responsible for climate change."
Borrell's call to action builds on the EU's approval of its 'Fit for 55' package, a string of 13 policy proposals designed to put the bloc on track to reduce net emissions by 55% by 2030, against a 1990 baseline.
Elsewhere, the US has marked the publication of a $550bn infrastructure deal called the Infrastructure, Investment and Jobs Act. The Act has prompted mixed reactions on climate grounds. It details $74bn of spending for rail networks and $15bn for electric vehicles, on the plus side,  but more than $109bn for road and bridge building, which is likely to be allocated without environmental 'strings'. The Act also has no information on clean energy tax credits, decarbonising buildings or increasing investment in R&D and manufacturing.
Policy packages aside, many regions and nations have continued to face heat domes and/or wildfires in recent weeks, including Spain, Greece, Turkey, Italy, Russia, California, Oregon and Canada. Haiti, meanwhile, has been dealing with Tropical Storm Grace in the aftermath of a 7.2-magnitude earthquake.
Business action
Just as government departments are publishing major policy announcements less frequently at the moment, there has been less in the way of major sustainable business announcements over the past few weeks than there would be at most points in the year.
However, there are several success stories to highlight. Deloitte, for example, made headlines with a decision to deliver a climate learning programme to the entirety of its global workforce, totalling more than 330,000 people. The 'Big Four' accountancy firm is working with WWF to deliver the virtual training and is hoping to have all staff invited within six months.
Deloitte Global's chief executive Punit Renjen said: "To address climate change, we need to understand it. Through dedicated learning, we can help make the right choices necessary to combat the crisis."
In other news, the UK-based 'Tech Zero Taskforce' coalition of companies passed the 100-member mark this month. It had been hoping to reach the milestone ahead of COP26. Spearheaded by energy company Bulb and industry body Tech Nation, the Taskforce will play a role in engaging policymakers, unifying climate targets across the sector and urging other businesses to follow suit
Another positive collaboration story comes from The British Chambers of Commerce (BCC), which, in partnership with telecommunications major Virgin Media O2, has launched a new online hub enabling businesses to freely access information on how to approach the net-zero transition. The tool is geared towards SMEs, which account for more than 99% of the businesses in the UK but typically find it harder than large corporations to measure and reduce their emissions. Common challenges include a lack of funding and in-house expertise.
On the horizon
The end of August will mark the start of the UN's third round of Regional Roundtables on Sustainable Finance for Latin America and the Caribbean, following discussions with representatives for the Asia Pacific region, Middle East and Africa earlier this summer.
Then, on 4 September, the International Union for Conservation of Nature's (ICUN) World Conservation Congress will begin, with the French Government acting as host. A hybrid in-person and virtual format will be used. Building on the experience of the 'Hawaii Commitments' posted in 2016, the Congress will see attendees agreeing on a set of shared 'Marseille Outcomes' – commitments to conserve and restore nature. This framework will be structured around the key themes of delivering a green recovery from Covid-19, responding to the climate emergency and preparing for the UN's post-2020 biodiversity targets.
The Congress is a precursor to the 15th biodiversity COP, scheduled for October in Kunming, China, where the UN's post-2020 targets will be agreed upon. A draft has already been published.
In-house here at edie, the team is preparing for a dedicated COP26 Focus Week of exclusive events, interviews, reports and opinion pieces, taking place from 6-10 September. The main event will be three back-to-back webinars focused on how businesses can harness nature-based solutions while adapting to the changing climate to improve resiliency, taking place from 1-4pm BST on 9 September. Click here for more information.
Words of wisdom
"It's never been a question of whether we can solve the climate crisis. Of course we can. It's whether we will."
– Sheril Kirshenbaum, lecturer in climate and agriculture politics and communications at Michigan State University
© Faversham House Ltd 2023 edie news articles may be copied or forwarded for individual use only. No other reproduction or distribution is permitted without prior written consent.