COP26 week 1 analysis: Is the world any closer to 1.5C?
The first week of negotiations in Glasgow has led to some head-spinning announcements, the formulation of crucial climate coalitions and some massive restructures to the economy. One question still needs answering though: is COP26 'keeping 1.5C alive'?
---
The state of play going into COP26 was one of renewed optimism. The International Energy Agency's (IEA) World Energy Outlook, published in October, found that more than 120 nations have unveiled new targets to reduce emissions by 2030, while governments and nations account for 70% of global carbon emissions had made some sort of net-zero pledge.
Despite these pledges, the IEA claimed that collectively they would only limit average temperature increases to 2.1C by the end of the century, which is not even in alignment with the lesser ambition of the Paris Agreement.
The IEA's estimates are optimistic. According to the UN's latest annual Emissions Gap report, also published in October, climate commitments and plans from national governments are currently aligned with a 2.7C temperature increase.
The IEA has since released new research based on the updated climate commitments made during the first week of COP26 and pledges made since the publication of the World Energy Outlook. These include India's net-zero target for 2070 and how more than 100 nations have pledged to cut methane by 30% by 2030.
The IEA now estimates that, if these targets were met on time, the world would be on course for an 1.8C global temperature rise by the end of the century. Others put the trajectory at a slightly different number, most notably Climate Resource claiming the pledges would lead to 1.9C of warming.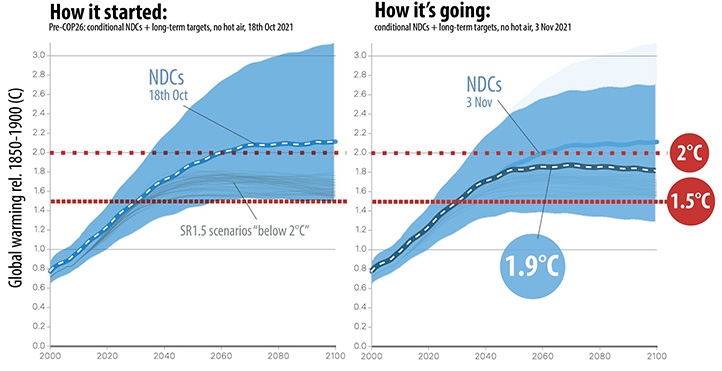 Image: Climate Resource
Still, COP26 delivered a landmark moment in its first week. It marks the first time that governments have collectively increased ambition to hold global warming to below the 2C threshold envisioned by the Paris Agreement.
Whether these targets can be met is a different story entirely.
India's net-zero drive
A lot of scrutiny has already been placed on how and when India could reach its net-zero target, for example.
Under the net-zero target set for 2070, the nation's renewables capacity looks set to jump to 500GW by 2030, compared to around 130GW today. A holistic range of measures will also be introduced to deliver a projected reduction in emissions of one billion tonnes by 2030. Carbon intensity – emissions for each unit of GDP – will also be slashed by 45%.
While some have lamented the 2070 date – it's 20 years behind most net-zero targets and the IPCC's scientific advice and 10 years later than China – research has previously claimed that between 2060 and 2070 would be a "realistic" and "feasible" deadline for the nation.
It is also worth considering that despite being the world's fourth-largest emitter. India records one of the lowest emissions per capita readings, coming in at under two tonnes per person. In comparison, the UK's sits well over five tonnes per person.
Regardless of the nation's efforts to decarbonise in the future, it has created a monumental shift right now. India's net-zero target means that more than 80% of global carbon emissions and two-thirds of the population are now covered by net-zero targets.
India's net-zero by 2070 pledge means that 84% of global CO2 emissions are now covered by net-zero targets

Net-zero goals cover:

* 84% of global CO2
* 93% of coal use
* 80% of oil
* 65% of population
* 75% of gas pic.twitter.com/vP2aSUNtRr

— Simon Evans (@DrSimEvans) November 1, 2021
Gigaton gaps
At COP26, edie spoke to the Energy Transition Commissions' (ETC) deputy director Ita Kettleborough to gain an informed understanding of what was still required as part of a systems change in reaching net-zero.
Kettleborough was speaking to edie on the COP26 Covered podcast, where she covered the findings from the Commissions' study into Nationally Determined Contributions (NDCs) from nations back in September.
The report found that NDCs submitted as part of the Paris Agreement would only deliver a 12% reduction in global emissions by 2030, against a 2030 baseline. This would leave the world off-course to deliver either of the Agreement's temperature pathways; a 25% reduction would be needed for 2C and 45% for 1.5C.
The ETC has claimed that reaching 1.5C would require emissions to be 22Gt lower in 2030 than what the current trajectory would deliver (around 43Gt).
The Commission has now started to analyse key announcements from COP26 and whether they can successfully shrink this gap. The near-global pledge from nations to end deforestation would, according to the ETC, deliver a 3.5Gt reduction, provided it was "supported by appropriate finance and delivered".
New NDCs also account for an additional 3Gt of reductions, but more effort needs to be made to cut emissions from the power sector.
The ETC claims that a global agreement on the phase-out of coal during the 2020s could potentially save 3.5Gt by 2030. While the Commission welcomed the Clean Power Transition Statement to phase-out coal generation and financing, the fact that India and China were not among the signatories, coupled with the fact that the commitments are for the 2030s and 2040s, means that it will only deliver a 0.2Gt reduction. New commitments to the Powering Past Coal Alliance and the South Africa finance deal look set to deliver reductions of around 1Gt.
Referencing the  Global Methane Pledge, which is supported by countries accounting for around 45% of global methane emissions, the ETC claims that 50 million tonnes could be reduced by 2030. However, this is still well short of the 130 million tonnes that Commission is calling to be reduced.
Overall, the ETC estimates that NDCs and new collaborative initiatives combined could deliver a 9Gt reduction out of the 22 needed.
It's been a momentous week of climate action that has put us within sight of the Paris Agreement for the first time. Another week of negotiations starts up again, with decision-makers and politicians expressing quiet confidence that things will be wrapped up by Friday. Whether 1.5C is still in sight and "alive" by then remains to be seen, but the first week of negotiations has thrown it a massive lifeline.
Matt Mace
© Faversham House Ltd 2023 edie news articles may be copied or forwarded for individual use only. No other reproduction or distribution is permitted without prior written consent.