COP26 World Leaders Summit: 6 things you need to know from Day 1
World leaders were officially welcomed to COP26 on Monday (1 November), with a host of Prime Ministers and national leaders joined by Sir David Attenborough and Prince Charles in setting a tone of urgency for two weeks of critical climate negotiations. Here at the key announcements from Day One of the World Leaders Summit.
---
The Procedural Opening of Negotiations technically took place over the weekend, but the start of a new month also acted as the starting gun for two days of speeches and key political addresses from the leaders of 193 nations all over the world.
Day One of what is officially called the "World Leaders Summit" set a serious and sobering tone to discussions at COP26. High-level addresses from the likes of UK Prime Minister, Boris Johnson, Italy Prime Minister Mario Draghi and a rousing call to action from Sir David Attenborough all captured headlines across the globe.
Here, edie rounds up all the key talking points on the day that eyes across the world were firmly focused on the climate crisis.
1) The UK unveils £3bn climate aid package during Johnson's opening ceremony
As Boris Johnson took to the stage to set the scene for world leaders at COP26, he mused as to how Glasgow was the moment "when we get real about climate change and we can we can get real on coal, cars, cash and trees". The four-word slogan refers to how he views the priorities for international agreements. 
The Prime Minister used the opening ceremony of world leaders at COP26 to kickstart a new UK-based Clean Green Initiative (CGI), that will aim to scale up private investment in low-carbon and sustainable infrastructure globally.
The CGI will see the UK deliver more than £3bn in climate financing over the next five years to support developing countries. This will include a new £200m Climate Innovation Facility. The total amount is double what the UK's development finance institution, the CDC, invested in climate projects its previous strategy period from 2017-2021.
2) Attenborough urges attendees to turn 'tragedy into triumph'
After Johnson came Sir David Attenborough, who was appointed as the people's champion for COP26 earlier this year. He delivered a moving speech, recapping how nature and climate have changed for the worse over his lifetime and career.
Urging people to use "hope, not fear" as their motivation over the coming 12 days, he said: "In my lifetime I've witnessed a terrible decline. In yours, you could and should witness a wonderful recovery."
That is, of course, if world leaders increase commitments and then deliver on them.
Attenborough continued: "This story is one of inequality as well as instability. Today, those who have done the least to cause this problem are among those to be hardest hit. Ultimately, all of us will feel the impact, some of which is unavoidable.
"Is this how our story is due to end? A tale of the smartest species doomed by that all too human characteristic of failing to see the bigger picture in pursuit of short-term goals?"
3) Barbados' impassioned speech acts as a reality check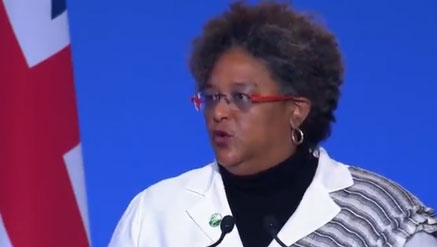 While many headlines in English-speaking nations have, understandably, featured Johnson, Attenborough, Prince Charles and others from the host nation, the speeches delivered today by nations already experiencing the worst physical impacts of the climate crisis moved many to silence – and to tears.
Barbados' Prime Minister Mia Mottley called 2C a "dreaded death sentence" for Island Nations and urged other nations to bear this in mind, stating that not choosing to "keep 1.5C alive" is, ultimately, an active choice. Mottley urged nations to use the technologies already available rather than betting on those which do not yet exist, calling this latter approach "reckless at best and dangerous at worst".
She also stated that, if $9trn of quantitative easing could be provided by central banks during Covid-19, delivering the longstanding $100bn climate finance goal should be an easier part of the negotiations.
Island States, the Least Developed Countries Coalition and others all played a key role in ensuring that 1.5C was included in the Paris Agreement in the first instance, at its ratification in 2015.
4) India targets net-zero by 2070 as NDCS roll in
In October, the UN's emissions gap report served as one in a string of reminders that climate commitments from nations will result in a world warmer than 2.7C from pre-industrial times, meaning devastation for millions of lives and livelihoods.
Nations were called upon to deliver last-ditch updates to their Paris Agreement NDCs and some of these updates – or promises to complete them – have materialised.
India has announced a 2070 net-zero target and said it will update its NDC with a commitment to hosting 500GW of renewable generation by 2030. This should account for 50% of the country's energy supply.
Brazil has also promised a stronger 2030 target, of cutting emissions by 50% by 2030 against a 2005 baseline. The current target is 43%, but some green groups have argued that the new target is not really any increase, as the Brazilian Government committed to 50% at COP21 and then regressed. 
Additionally, Australian Prime Minister Scott Morrison confirmed changes to the nation's NDC. For 2030, the new NDC says: "Australia reaffirms its ambitious economy-wide target to reduce greenhouse emissions to 26-28% below 2005 levels by 2030, and will exceed it by up to nine percentage points".
"Australia's emissions projections 2021 demonstrate that we are on track to reduce emissions by up to 35% below 2005 levels by 2030," it says. Australia recently announced a 2050 net-zero target but the mood is definitely that Morrison is one of the last laggards around decarbonisation in the developed world. 
Disappointment has been expressed in the speeches delivered today by leaders including US President Joe Biden and Canada's Justin Trudeau, with little said about renewable energy expansion and fossil fuel phase-out.
5) Forests Deal reignites global effort to curb deforestation
World leaders representing more than 100 nations, which between them play host to more than 85% of forests globally, announced a new Forest Deal shortly before midnight.
The Deal stipulates that nations should halt deforestation and land degradation by 2030, and to enter into a period of restoration by this point if possible.
At its launch, the Deal was pledged £8.75bn from national governments and £5.3bn from the private sector. The UK Government is providing £1.5bn to the initiative. Funding will be given to developing nations as a priority and a significant proportion will be spent ensuring that Indigenous Peoples' rights are protected.
The Deal has been widely welcomed but, as with any agreement of this scale, the devil will be in the detail and many are keenly awaiting the full documents.
6) Bloomberg sets sights on accelerated coal phase-out
The Bloomberg Philanthropies campaign has today set a target to close a quarter of the world's 2,445 remaining coal plants and to stop the pipeline for all 519 new coal plants proposed through to 2025.
The organisation has been working to phase-out coal in the EU and in nations including Japan, South Korea and Australia for several years now. It claims that this work has already contributed to the closure of 50% of the EU's plants and 66% of the US's. But meeting the new target will require engagement in 25 developing and emerging countries that are looking to rapidly grow their coal generation capacity as a means of economic development.
The approach to accelerating the phase-out includes funding advocacy for policy change, supporting renewable and low-carbon energy projects using mature technologies and piloting more innovative technologies.
"Coal is enemy number one in the battle over climate change because it causes one-third of all carbon emissions," Michael Bloomberg said.
1/3 of global carbon emissions comes from burning coal — the single largest contributor to climate change. I'm hopeful the Bloomberg Global Coal Countdown will help rally support to retire coal by providing countries w/ the data needed to take action. https://t.co/WTTABnVMeC pic.twitter.com/NE7Eq79DDy

— Mike Bloomberg (@MikeBloomberg) November 1, 2021
UN Secretary-General Antonio Guterres has long advocated for coal to be ended in the OECD and EU by 2030 and everywhere else by 2040. He said today: "If all planned coal power plants become operational… the Paris targets would go up in smoke. We need coalitions of solidarity between countries that still depend heavily on coal, and countries that have the financial and technical resources to support transitions."
The campaign is particularly significant in light of the fact that, at this year's G20 meetings, leaders were unable to commit to ending domestic coal-fired power generation. A commitment was made to end international coal finance by the end of 2021, but host Italy had hoped, also, for an end to domestic finance by 2030.
Stay up-to-date with the latest news from COP26 with edie's Live Blog. 
Matt Mace and Sarah George
© Faversham House Ltd 2023 edie news articles may be copied or forwarded for individual use only. No other reproduction or distribution is permitted without prior written consent.