Diageo to invest £180m in renewable energy and water stewardship
Diageo has unveiled plans to invest £180m in clean energy generation and water recovery across 11 of its brewing facilities in sub-Saharan Africa.
---
The first stage of the investment will see the beverage giant, which owns brands such as Guinness and Smirnoff, spend £50m of upfront capital on solar, biomass and water recovery facilities.
According to Diageo, this funding will facilitate the installation of on-site solar arrays at 11 sites across Kenya, Uganda, Tanzania, South Africa, the Seychelles, Nigeria and Ghana. Each of these arrays will produce around one-fifth of its facility's electricity demand.
It will also enable biomass boilers to be installed at three breweries, with these units earmarked to be powered using locally sourced alternatives to fossil fuels, including bamboo, rice husks and wood chip. Diageo estimates that these biomass units will reduce the collective carbon footprint of the three breweries by 42,000 tonnes of CO2e annually.
Additionally, the funding will cover the installation of five new water recovery, purification and reuse systems, which Diageo estimates will collectively save more than two billion cubic litres of water each year.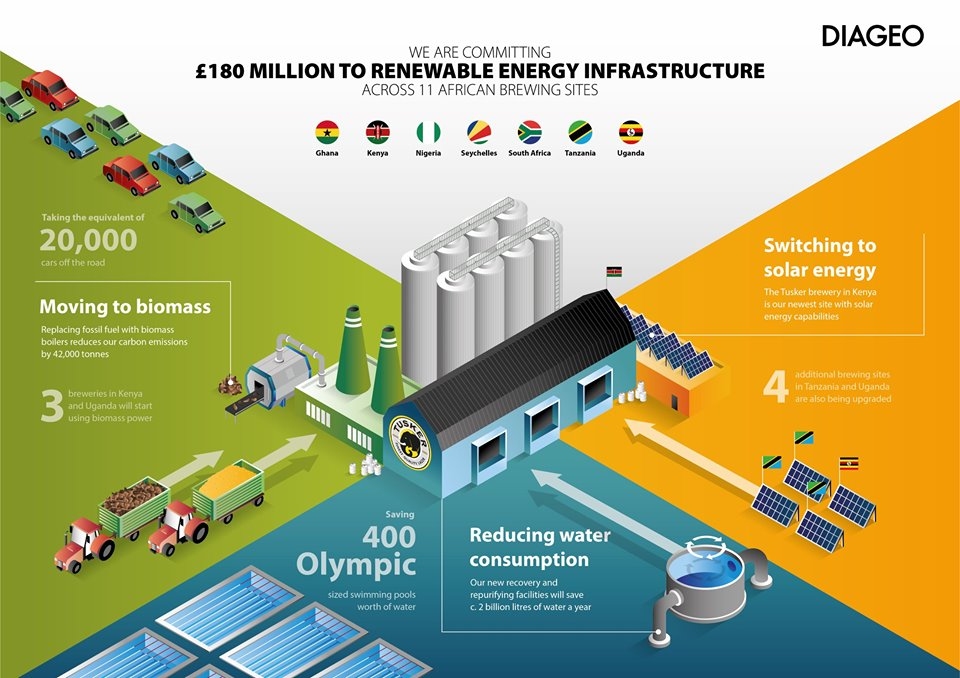 Diageo's chief executive Ivan Menezes believes the initiative is one of the largest single climate-related investments touching multiple sub-Saharan countries to have been made by a private sector firm to date.
"We have a responsibility as a local manufacturer and employer in Africa to grow our business sustainably – creating shared value – and this significant investment continues our work to pioneer sustainable solutions for our local supply chains," Menezes said.
Africa notably accounts for 12% of Diageo's global net sales.
Brewing up progress
The announcement from Diageo came shortly after the company revealed that it has reduced its Scope 1 (direct) and Scope 2 (power-related) carbon emissions by 45% over the past nine years.
Clean energy investments which have helped to drive this transition include on-site solar at the company's new brewery in Kisumu, Kenya, and a biogas plant at its Glendullan malt whiskey distillery.
But Diageo is perhaps better known for its water stewardship efforts. The company recorded a 44% improvement in water efficiency between 2009 and 2018, putting it in a position to update its already industry-leading Water Blueprint. The new framework is aligned with Sustainable Development Goal 6: Clean Water and Sanitation for All, and builds on its 2020 goal of replenishing the amount of water used in its final products across its water-stressed areas of operation.
Diageo's head of water, environment and agriculture Michael Alexander told edie that the plan would help the firm to better adapt its water management approach to geographical, cultural and scientific contexts as they evolve. You can find out more about the Blueprint and the other ways in which Diageo is aligning its water management with SDG 6 by clicking here.
Sarah George
© Faversham House Ltd 2023 edie news articles may be copied or forwarded for individual use only. No other reproduction or distribution is permitted without prior written consent.