Achieving Net-Zero Carbon Heating: Six Top Tips for Businesses
19 May 2021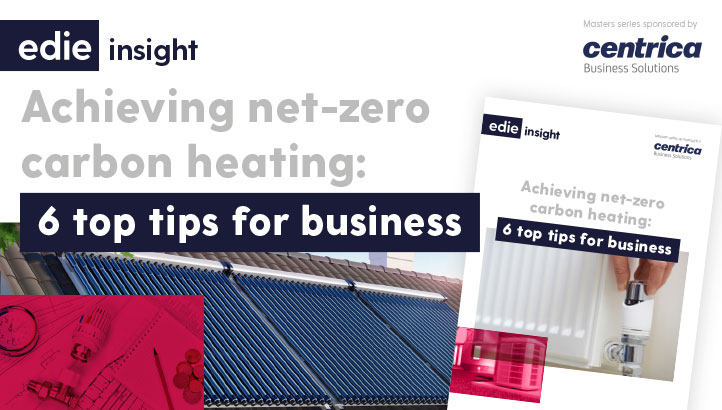 Produced in partnership with Centrica Business Solutions, this handy 'top tips' guide provides organisations across the private and public sector with six clear and concise pieces of advice on adopting low-carbon heating technologies and processes.
What are the key considerations for organisations looking to make the heat transition? Which technologies and systems are best for different contexts? What steps can energy and sustainability professionals take to maximise the benefits of things like heat pumps or hydrogen, and to sell these benefits to the board and other key stakeholder groups?
This new, free-to-download guide answers these key questions in six concise points, helping energy and sustainability professionals to tackle a key source of emissions on the road to net-zero.
CLICK "READ THE REPORT" IN THE SIDEBAR TO ACCESS THIS TOP TIPS GUIDE.
This report has been produced in partnership with Centrica Business Solutions and forms the final part of the partnership's Masters Series on the subject of decarbonising heat.
Also included in this Masters Series is:
- An episode of the Net-Zero Business Podcast, featuring interviews with the Heat Pump Federation's Bean Beanland and Centrica Business Solutions' Michael Firth.
- An edie Explains guide, which provides more detail on the topics covered in this Top Tips guide.
- A 45-Minute Masterclass webinar featuring two expert speakers from Centrica Business Solutions, now available to stream on-demand after the live event on 29 April.

Tags
ground source heat pump | heating & cooling | low-carbon | Air Source Heat Pumps | Top tips | Insight reports | net-zero




N.B. The information contained in this entry is provided by Centrica Business Solutions , and does not necessarily reflect the views and opinions of the publisher.



© Faversham House Group Ltd 2021. edie news articles may be copied or forwarded for individual use only. No other reproduction or distribution is permitted without prior written consent.