Briefing: The Energy Savings Opportunity Scheme (ESOS)
13 August 2014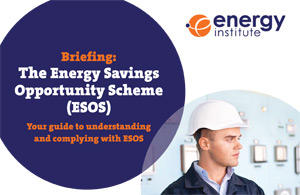 Your guide to understanding and complying with ESOS.

Your organisation may be affected by ESOS and it is important to understand what this will mean and what action to take. This UK Government scheme aims to raise awareness about energy consumption in large organisations, ultimately saving money and lowering carbon emissions. This document from the Energy Institute explains:
What is ESOS?
Why is it important?
Who qualifies for ESOS?
The routes to compliance
Reporting back
Tags
| energy manager | esos
© Faversham House Group Ltd 2014. edie news articles may be copied or forwarded for individual use only. No other reproduction or distribution is permitted without prior written consent.