Circular Economy Snapshot: Large Organisation
4 December 2014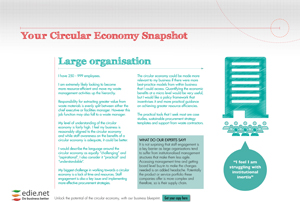 Unlock the potential of the circular economy for your business. The edie Circular Economy Snapshots offer businesses of all sizes an outline of the specific opportunities, challenges and tools needed in order to deliver the benefits of a more circular business model.
The snapshots form part of our Business Blueprint - an in-depth practical guide to making the circular economy relevant to you operationally. The full report is the result of exclusive edie research and is informed by a panel of the 25 leading experts in this, such as Forum for the Future, the Green Alliance and WRAP and business pioneers such as Marks & Spencer and Kingfisher Group. It includes:
How to identify the top-level barriers to going circular
Practical guidance on how to engage with the concept and how to deliver on it
A step-by-step guide about how you can realistically start incorporating closed loop thinking into your operations
Insight into how you can engage your employees and the language to use
A set of checklists for action
Case study examples

Download your Circular Economy Snapshot using the form on the right of this page
Tags
Circular economy
© Faversham House Group Ltd 2014. edie news articles may be copied or forwarded for individual use only. No other reproduction or distribution is permitted without prior written consent.