Five ideas to accelerate your electric fleet transition
29 November 2018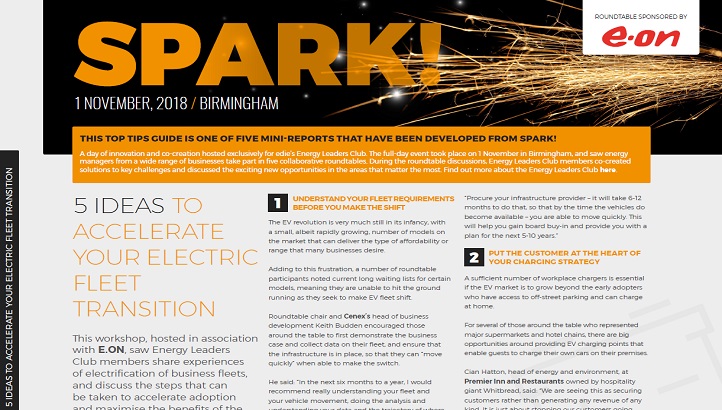 This report showcases the output of edie's SPARK! event, where roundtable participants shared experiences of electrification of business fleets, and discussed the steps that can be taken to accelerate adoption and maximise the benefits of the electric vehicle (EV) transition.
The report, hosted in association with E.ON, is the fifth in a series of mini-reports based on SPARK! roundtable discussions, where members from edie's Energy Leaders Club convened to co-create solutions to key challenges and discuss exciting new opportunities in the areas that matter the most.
Combining expert analysis with real-life case studies, industry viewpoints and key facts and stats, the report explores the new ideas that in-house energy managers and sustainability professionals can use to take action in the area of fleet electrification.
Fill out the form on the left and click 'READ THE REPORT' to download this edie insight report.
Tags
electric vehicles | Insight reports




N.B. The information contained in this entry is provided by E.ON UK , and does not necessarily reflect the views and opinions of the publisher.



© Faversham House Group Ltd 2018. edie news articles may be copied or forwarded for individual use only. No other reproduction or distribution is permitted without prior written consent.