Mission Possible Workshops report: 8 key sustainable business challenges, and how to solve them
4 July 2018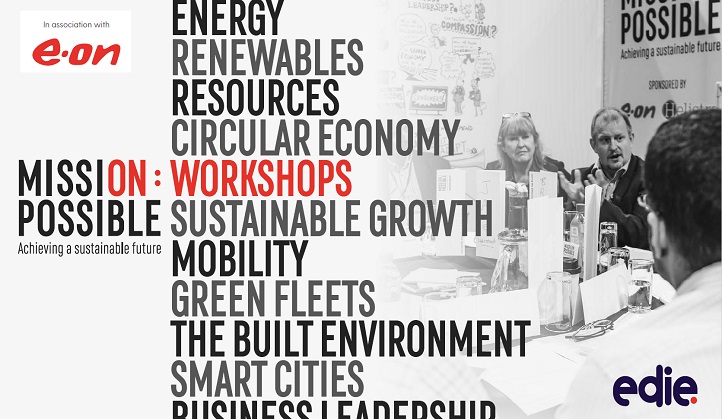 This edie insight report, produced in association with E.ON, showcases the outputs of eight interlinked workshop discussions which saw groups of sustainability and energy professionals solve key challenges that they face on their respective missions to achieve a sustainable future.
Whether it's unlocking the value of energy storage, getting to grips with the SDGs or solving the behaviour change challenge, the Mission Possible Workshops at edie Live 2018 brought end-user businesses together to come up with new ideas, share war stories, and reflect on their missions to achieve a sustainable future.
Each Workshop was facilitated by an expert edie Live speaker, with some also including an
industry expert put forward by the respective workshop sponsors. This resulting insight report, produced in association with edie Live headline partner and Mission Possible Workshops sponsor E.ON, outlines the key findings of the discussions.
The report is brought to you as part of Mission Possible, edie's flagship campaign which seeks to empower and inspire sustainability, energy and resource efficiency professionals to achieve a sustainable future for their business.
Fill out the form on the left and click 'READ THE REPORT' to download this free edie insight report.
Tags
Insight reports




N.B. The information contained in this entry is provided by E.ON UK , and does not necessarily reflect the views and opinions of the publisher.



© Faversham House Group Ltd 2018. edie news articles may be copied or forwarded for individual use only. No other reproduction or distribution is permitted without prior written consent.