Options and recommendations to meet the RED transport target
18 June 2014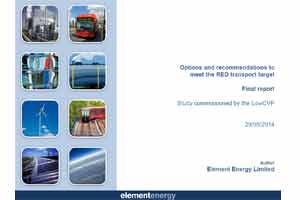 The LowCVP, which has been at the forefront of policy formation for fuels in the UK, has published twin reports which set out how the UK could meet the targets for 2020, defined in the EU's Renewable Energy Directive, and proceed on a pathway to decarbonise road transport fuel in the period to 2030 and beyond.
The publication of the reports follows closely on the move to provide greater clarity in policy direction for biofuels. This is the result of a decision by EU Energy Ministers on Friday 13 June to re-structure the nature of the targets in the EU Renewable Energy Directive following the European Commission's proposals on indirect land use change. 
Tags
| transport | biofuels
© Faversham House Group Ltd 2014. edie news articles may be copied or forwarded for individual use only. No other reproduction or distribution is permitted without prior written consent.