Sustainability in Facilities Management Report 2014
18 July 2014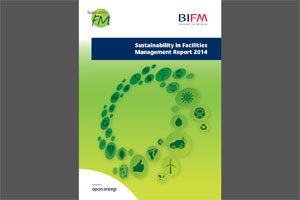 Sustainability has long been a core issue for facilities managers (FM's) and as the increasing demands of regulation force energy and waste issues further up the corporate agenda, so the role of facilities managers as sustainability champions becomes ever more important.
The BIFM Sustainability Survey started in 2007 and is now in its eighth year. It provides a valuable insight into how members of the FM profession perceive the implementation of sustainability within their organisations. The perspective afforded by this eight year timeframe provides a unique opportunity to see the trends of the industry and to understand where progress is taking place, as well as to make projections into the future of the sector.
Implementation of sustainability within the FM sector and by clients is now seen as a pre-requisite to complying with the increasing array of regulations and voluntary reports required by shareholders and investors.
An online survey of FMs was conducted by BIFM in April 2014. The survey was promoted through the BIFM website, FM world and social media channels to the Institute's individual and corporate members. (It should be noted that those responding to the survey have a natural tendency towards sustainability practices.) The survey helped establish discussion points, which were then investigated further in a workshop held in June 2014 with invited FMs. The outcomes of the workshop were used to evaluate the data and reinforce the findings.
Tags
sustainable business
© Faversham House Group Ltd 2014. edie news articles may be copied or forwarded for individual use only. No other reproduction or distribution is permitted without prior written consent.