The State of Natural Capital
26 January 2015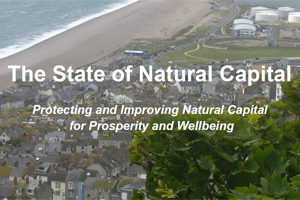 This is the Natural Capital Committee's (NCC) third report to Government, scheduled to be the last within the currently defined remit of the NCC. The report sets out a number of recommendations for achieving the Government's vision, "to be the first generation to leave the natural environment in a better state than it inherited". To deliver it, all interested parties (Government, business and civil society) will need to work together in new ways and with a much sharper focus. This report is about how to do this, with Government taking the lead.
To succeed, future declines in natural capital need to be halted and reversed. Society needs to take a different path, indicated by the green dotted line which depicts natural capital improving relative to a 2015 baseline. On this trajectory, the natural capital deficit is eradicated (i.e. net loss is zero and natural capital is protected) and society starts to 'pay off' some of the accumulated natural capital debt (i.e. improvements are secured). To achieve this, a new strategy that sets out specific targets for improvements in natural capital and the benefits derived from it is needed.
Tags
© Faversham House Group Ltd 2015. edie news articles may be copied or forwarded for individual use only. No other reproduction or distribution is permitted without prior written consent.