The Business Guide to Net-Zero Carbon Buildings
23 September 2021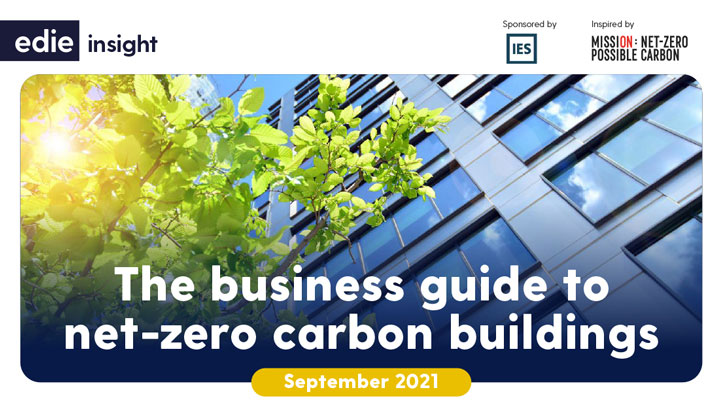 With buildings now accounting for more than half of total city emissions on average, it's clear that urgent and dramatic action is required to accelerate the decarbonisation of the built environment. In addition, the devastating impacts of the coronavirus pandemic has seen those that are able to work from home, creating a new dynamic for the energy use and management of corporate buildings.
Inspired by edie's award-winning Mission Possible: Net-Zero Carbon campaign, The Business Guide to Net-Zero Carbon Buildings provides a much-needed breakdown of how organisations can achieve net-zero carbon buildings, and what steps they can take today to accelerate progress.
The report, sponsored by building performance software and Digital Twin company IES, provides this insight through the lens of five key enablers of net-zero carbon buildings: energy consumption, data management, local energy networks, staff engagement, and embodied carbon. The guide concludes with a selection of green building innovations, as picked by edie's Innovation Partner, Springwise.
Click the READ THE REPORT prompt to the side of this page to access your copy of The Business Guide to Net-Zero Carbon Buildings.
Tags
building materials | Green buildings | Green innovation | The built environment | net-zero




N.B. The information contained in this entry is provided by Integrated Environmental Solutions (IES), and does not necessarily reflect the views and opinions of the publisher.



© Faversham House Group Ltd 2021. edie news articles may be copied or forwarded for individual use only. No other reproduction or distribution is permitted without prior written consent.