The carbon impacts of the circular economy
16 June 2015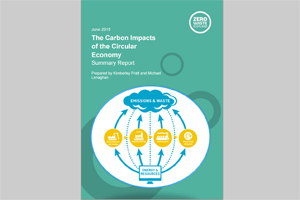 <
This report uses Scotland's ground-breaking Carbon Metric, as well as other peer-reviewed research conducted by Zero Waste Scotland, to quantify the potential carbon impacts of a more circular economy in Scotland.
The report is the first attempt to quantify the carbon impacts of a circular economy in Scotland and is one of the first globally to quantify the environmental impacts of the circular economy at a national scale. Decision makers should consider the uncertainties which are inherent to any new area of study when drawing conclusions from the results.
The analysis represents a bespoke approach, drawing on a life cycle thinking method to give an initial, high level description of the possible carbon impacts of a circular economy in Scotland.
Tags
Circular economy
© Faversham House Group Ltd 2015. edie news articles may be copied or forwarded for individual use only. No other reproduction or distribution is permitted without prior written consent.