edie explains: Onsite generation
4 August 2017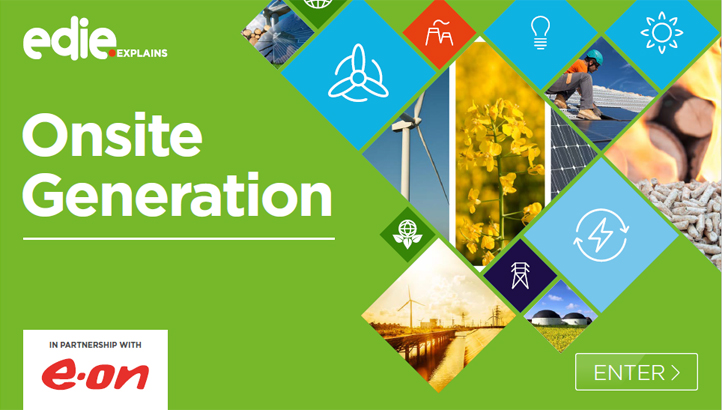 <
This edie explains business guide, produced in association with E.ON, provides an in- depth summary of onsite generation, which allows businesses to make and use their own energy at a particular location, rather than buying that energy through the grid.
Pressure on the national grid is increasing and centralised generation will struggle to meet future demand without serious investment in bringing new large-scale generation online. Therefore, ensuring there is enough capacity in the system for peak demand is critical.
Onsite generation takes pressure off the grid by allowing for more flexibility, helping it to maintain
capacity and smooth out supply volatility. Plus, as it is generated close to source, far less energy is lost in transmission between generation point and point of use.
Is onsite generation right for your business? What are the technology options and how do you choose the right one? And what is the return on investment? This nine-page edie explains guide answers all of these questions and more to help sustainability professionals and energy managers understand exactly how to make the most out of onsite generation.
Fill out the form on the left and click 'READ THE GUIDE' to download a pdf copy of the edie explains document.

Tags
Onsite Solutions | edie Explains | biomass | solar | onshore wind | combined heat & power | ground source heat pump | Air Source Heat Pumps | anaerobic digestion



N.B. The information contained in this entry is provided by E.ON UK , and does not necessarily reflect the views and opinions of the publisher.



© Faversham House Group Ltd 2017. edie news articles may be copied or forwarded for individual use only. No other reproduction or distribution is permitted without prior written consent.