edie's Plastics Thinkathon: Six moonshot business ideas that could eliminate single-use plastics
With businesses continuing to make plastic-reduction commitments in the face of ever-growing stakeholder pressure, edie recently hosted a 'Plastics Thinkathon' to spur collaborative action on achieving a single-use plastic-free future, today. Here, we round up the potentially transformational results.
---
The Thinkathon took place at edie Live 2019, which saw thousands of energy, sustainability and CSR professionals descend on Birmingham's NEC for two days of talks, workshops and activities – all centred around the theme of "ambition into action".
Tucked away from the event's four main theatres was our Plastics Thinkathon zone – an area containing a giant flipchart and two round tables. Graphite Digital's creative director Thomas Michalak was facilitating; plastics campaigner Dhruv Boruah was supporting; PA Consulting, the consultancy that's bringing ingenuity to life, was sponsoring; and an array of organisations of all sizes and sectors – from Royal Mail, to Molson Coors, to the Environment Agency – were in attendance.
The conversation was quickly flowing and, while topics discussed at the theatres ranged from school strikes and Climate Emergency declarations to the electricity systems of the future, everyone was eager to discuss one topic and one topic only: how to solve the single-use plastics problem.
Following on from our first Plastics Thinkathon earlier this year – which took a two-pronged approach (product innovation and behaviour change) to recapturing the $80bn-120bn of plastic packaging that is lost annually – our facilitator, Michalak, explained that this session would instead see participants co-creating plastic-free business models for their respective industries.
Michalak's first question for the group was: "How can we help consumers understand and act on single-use plastics?" Given that just 9% of all plastic ever produced has been recycled to date, several Thinkathon participants agreed that committing to the elimination of single-use plastics – albeit whilst addressing the potential environmental and social consequences of doing so – has become an important consideration for sustainability and resource efficiency professionals.
"We've been concentrating on recycling for so long, or on innovative single products, and patting ourselves on the back – but global plastic production is still increasing," said Merlin Entertainments' group head of sustainability Dare Ilori. "We need to drill down into plastic-free models for our whole systems – like, for me, theme parks – for anything we do to be thinking outside of the box."
Michalak welcomed the challenge, asking delegates what their biggest barriers to offering plastic-free products and services are. Common answers included being a small business and not having the time and staff to develop and scale up an alternative; being a big business and therefore having lots of different plastics streams; costs of alternatives and concerns around keeping products such as food and medicine in safe conditions.
Michalak and Boruah then encouraged the group to take a step back and think of the sizeable benefits to overcoming these issues: carbon reduction, the birth and growth of new economies, increased social sustainability to name but a few. In removing plastic altogether, Michalak said, we can omit the need for one of the hardest nuts to crack – behaviour change.
"At the moment, it's a privilege to be able to choose a lifestyle without plastic," he said. "But if we crack this and scale it up properly, the price will come down and it will become the norm rather than the exception. Behaviour change and worries about cost disappear."
Closed-loop post and plastic-reducing pens
With a renewed sense of hope that removing plastics is possible and their eyes fixed on the huge opportunities of doing so, the group started exploring how best to remove all types of single-use plastics from the products and services which form the "bread and butter" of their respective organisations – a task they are given just 20 minutes to complete. They are asked to fold an A4 piece of paper into eighths and, like with a storyboard, place the steps needed to deliver their goods or services to clients or consumers in chronological order – removing all occurrences of single-use plastic as they go.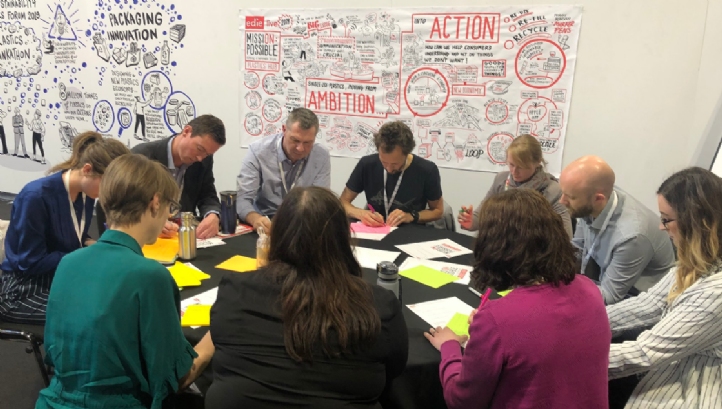 When the stop-clock runs out, the first volunteer to explain their innovative plastic-free system is Brandprintcolour consultant Paul Horton, who has developed a more sustainable system for stationary.
"If you go to any office or conference, you'll see these Parker-style pens which are non-recyclable and not made from recycled material," Horton said. "To top that, the ink is toxic – from a sustainability perspective, they're all-round bad products."
Horton's system takes into account the three main areas in which the pens are likely to be used – at home, at work and for group activities. It involves a redesign of the pens to create a refillable version, operated through community-level refill hubs, and a fully recycled and recyclable version, which can be sent to schools and charities when partly used and back to the producer at the end of its life. He noted that this model would create new roles in recycling and refill, with the added benefit of bringing communities – particularly creatives, schools and office workers – together.
Other participants were keen to put forward their own ideas. Seaport and logistic park DP London Gateway's sustainability manager Emma Cowper had developed a zero-waste logistics system. It was centred around a blockchain-based app that lets consumers choose services and products with little or no plastic packaging and track them throughout their journey, with suppliers and other workers providing details on packaging and waste at every stage.
"It might cost more because you've got that tracking and transparency, but you know the truth about the supply chain and what's going to happen to your packaging and products at the end-of-life," Cowper said. "What we really care about is the consumer and we know that more information is what they want."
Royal Mail's environment manager Liz Payne had also been brainstorming a potential solution for shipping, but Payne's focused more on communications rather than new technologies. Her idea involved creating and selling durable mailing bags which can be reversed and therefore reused a minimum of four times, with clear labelling to encourage reuse and safe resealing. Once these bags have been re-used, they would be sent to a central collection point for recycling or use in energy-from-waste (EfW). Payne stressed that, while this system may sound simple, it would need to be backed up by a communications campaign and, in the best-case scenario, partnerships with central Government and local authorities.
Pet food, plant pots and pouches
As we move around the table, we come to the Environment Agency's plastics and sustainability project manager Fiona Tovey. Her solution focused on the millions of plastic plant pots sold through garden centres, supermarkets and home improvement retailers. It involved replacing plant pots with either reusable alternatives, which come with a refundable deposit price, or mushroom-protein alternatives. These, she claims, biodegrade outside of industrial conditions, providing nutrients to the soil in the process.
Next came a sustainability manager from a pet retail chain. The manager, who chose to remain anonymous, had developed a solution specifically for dry dog and cat food. The system involved switching to either rigid paper sacks or re-usable, durable and recyclable plastic boxes for dry pet food and providing customers with an in-store return point for either option. Used packaging collected in this way would be sent using electric vehicles (EVs) to a distribution centre for cleaning and refill or recycling, with any remaining food anaerobically digested.
Another product which currently comes in flexible plastic pouches with a zip-lock closure – loose-leaf tea – is tackled next. The team from London-based Jing Tea explain that they have looked into paper tea pouches and refillable plastic and aluminium alternatives in the past but have concerns about how hard-wearing paper alternatives are and around the cost of refill models.
"We need incentives for reuse that go beyond saving the planet, such as absorbing the cost and making them cheaper than the plastic sheath," Jing Tea's product and innovation manager Julie Tilson said. "It would be interesting to have a small, simplified circular economy in our business where we do the refills in-house and have our own facilities for separating the layers of our current pouches." 
Triple-bottom-line
Without the group realising, almost two hours had flown by and the Thinkathon had to draw to a close. Delegates added the finishing touches to their ideas and – crucially – noted down the next steps they would each take to make their innovative systems a reality. Michalak summed up his key takeaways from the session, reiterating some of the most common concerns around plastic-free business models and how these can be overcome.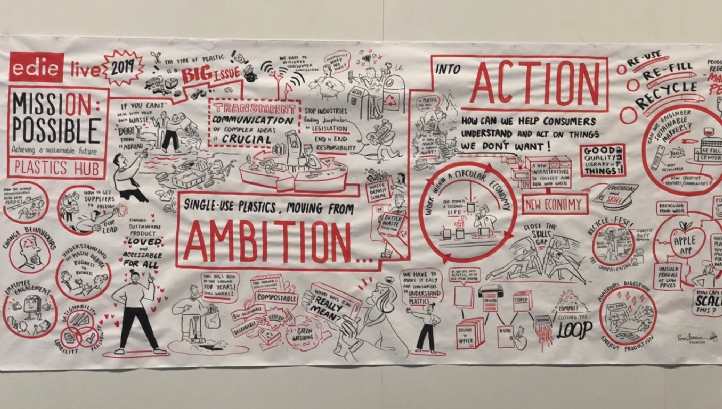 "From what I've heard, there is definitely a communications issue – it's very hard to get people to do what you want them to do with any plastic you put on the market," Michalak explained. "It's therefore clear that the brands need to make the change beyond just telling people what to do.
"But the brands can't do it alone – they need the experts to ensure that shifting away from plastic isn't just a string of conflicts between value, customer service and the environment. Doing something 'for the sake of the world' isn't going to cut it if it doesn't make money or keep people coming back to you. The good news is that we're at a point in time where it doesn't have to be a choice between people, planet and profit."
Summarising the Plastics Thinkathon, Mark Lancelott, plastics expert from the global innovation and transformation consultancy PA, said: "The impact of single-use plastics has captured the attention of consumers, who are rightly expecting businesses to respond. Finding ingenious solutions that don't create other problems – such as increased food waste or greenhouse gas emissions – is not simple. Getting bright and passionate people from different disciplines, organisations and industries to work together is critical, and it was great to see the ideas start to flow in the short time participants spent together.
"At PA, we believe in the power of ingenuity to build a positive human future. We're delighted to have been a part of edie's Plastics Thinkathon and look forward to creating enduring results for more companies in this space."
Sarah George
© Faversham House Ltd 2023 edie news articles may be copied or forwarded for individual use only. No other reproduction or distribution is permitted without prior written consent.