Energy management design sprint (Part Two): Using green ju-jitsu for behaviour change
How can you increase your sphere of influence and drive engagement on energy management and reduction; from the boardroom to the 'shop floor' and outwards to consumers? The question has been asked for decades, but in the second of our two-part special feature, we reveal some new answers...
---
READ THE FIRST PART OF THIS FEATURE HERE.
In the second of our Energy Leaders Club design sprints, hosted in association with Centrica Business Solutions, Terra Infirma's director Gareth Kane facilitated a group of 12 participants, including representatives from the likes of the BBC, Multiplex and Clarks – everyone keen to get started with the (sizeable) task at hand: solving the behaviour change challenge.
Kane began by getting the group to list some benefits of successful behaviour change schemes around energy. The usual suspects – reduced costs, empowering staff and embedding best practice – were quickly put forward. But Kane was keen to also emphasise the wider positive impacts of uniting workforces in, for example, turning their lights off and their heating down.
"Employee engagement is the mana of management," Kane said. "Your staff, and the millennial generation in particular, are looking for far more meaning in what they do, and they want to feel like their job is connected to – and making a positive change in – the wider world."
He encouraged the group to warn themselves of the consequences of not getting behaviour change right. Slow progress towards key environmental and financial goals; bad habits becoming engrained and stakeholders concluding that their organisation simply doesn't care about the planet are all raised. Kane admitted here that he himself had just been using the same psychology that he would like energy managers to use on their staff. He had not given the group any statistics or urged them to make any changes himself. PowerPoint was nowhere to be seen. We had sold the concept of behaviour change to ourselves. Kane called this concept "green ju-jitsu".
"By using older-fashioned methods like putting posters up which tell staff they are wasting the company money by wasting energy, you're being like a boxer, trying to beat them into submission," Kane said, turning many expressions in the room from confusion to agreement. "In ju-jitsu, experts adjust their techniques to match the strengths of their opponent and use that momentum to succeed."
Our live illustrator visualised this concept of 'green ju-jitsu' as a two-circle Venn diagram. The left circle, the "opponent", is the group of staff to be engaged, while the person on the right is the energy professional or team, hoping to drive positive change. The overlap is what Kane calls the "sweet spot" – a priority which both groups share (those that care least about sustainability included).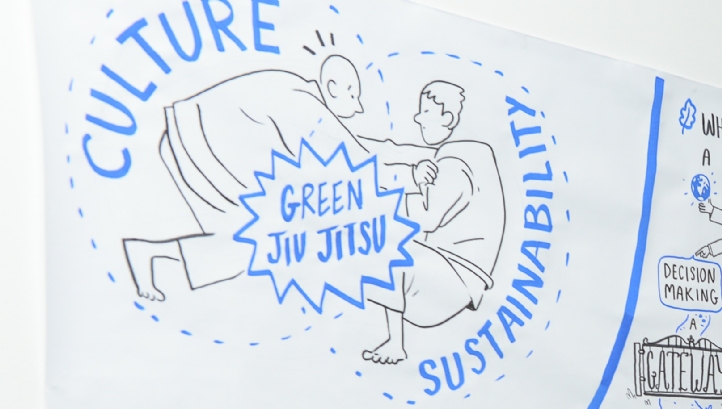 Tasked with identifying this overlap for several key sectors, the group came up with "problem-solving" for engineers; "patient satisfaction" for nurses; "customer service" for front-line staff in pubs and restaurants; and "health and safety" for chefs and bakers.
The elephant in the room
After taking some time to apply green ju-jitsu to their own organisations, the delegates gradually begin to be gripped by what is going on at the front of the room, where our live illustrator had begun covering most of the wall with a picture of an elephant. The creature has a woman riding on its back and is walking along a paved path. Before Kane has a chance to be asked what is going on, he asked attendees to list their biggest behaviour change challenges in a rapid-fire format. He then grouped these challenges them into five categories: funding; inertia (people being too busy, unwilling to take risks, or not believing their actions would make a difference); lack of understanding (whether through willful ignorance, apathy, laziness or a lack of access to information); differing priorities (people only wanting to do things with direct personal benefits); and external factors (poor policy landscapes, and so on).
Kane then directs the room's attention back to the (literal) elephant in the room. He explains that the rider of the elephant represents peoples' logical brains, which they think is making most of their decisions. The elephant represents peoples' emotional brains, or "gut instinct", which actually does. The path, meanwhile, represents the context they find themselves in, from company culture to national policy.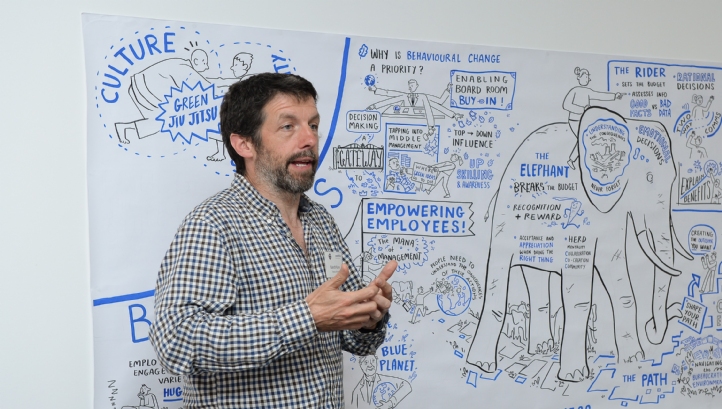 To overcome any of the challenges that the group had previously listed, Kane explained, we will have to address all three of these aspects. He argued that most failed behaviour change schemes are likely to have focused solely on convincing "minds" – the rider, the logical brain – without taking a holistic approach to "winning hearts", which are much more likely to drive tangible actions, or making positive actions any easier.
"We have to provide the right information, in the right format, in the right place and time, to the rider; to spark that emotional connection and avoid creating hoops for people to jump through, simultaneously," Kane said, before getting the group up on their feet and gathered along the back wall.
The group are asked to brainstorm ways of appealing to each of the three elements in the elephant model. For the rider, they list the inclusion of energy saving in job descriptions or company handbooks; training on best-practice methods; informational posters and numerical data. For the elephant, rewards for good performance; league tables; energy "champions" and multimedia storytelling are put forward. And for the path, the group agrees on fees for bad behaviours; simplified systems for achieving best practices and lobbying for policy change.
Real-world solutions
After a break for lunch, delegates were eager to get back to their tables and begin applying the elephant concept to some of their own organisations. They are tasked with doing just that within the space of two hours. One sub-group focuses on a participant's pub and restaurant chain, choosing to hone in specifically on kitchen staff – the company's kitchens are areas of low energy control (no automation or sub-metering, meaning no bonuses linked to energy use) and high energy cost.
When the group digs a little deeper, the pub company's energy lead explained that catering staff at many of the pubs are "stuck in the bad habit" of turning all their equipment on as soon as they start their shift, even when reminded that most kit has rapid heating times. He said this is driven by an overarching desire to provide good customer service (i.e. being able to provide any meal to standard, as rapidly as possible). Using green ju-jitsu, this sub-group quickly identifed the "sweet spot" – the overlap between the wants of the energy team and the kitchen staff, as pride in the pub and better workplace health and safety.
Building around those key factors, this group developed a scheme called "wise up to energy waste", to be complemented with a universal command on internal communications, aptly titled #PowerDown. The concept of this new programme would consist of the following aspects:
For the "rider":
Using catering language – translating energy waste and cost into "covers" (i.e. people served).
Making the impact of staff actions visible through an educational video and by investing in smart energy metering.
Training staff to reassure them that being energy-efficient won't impact the quality of the customer service they can provide.
Re-emphasising heat-up times through kitchen training.
Embedding energy saving in induction training and job responsibilities lists.
For the "elephant":
Establishing a set of league tables based on pub format (e.g. large restaurant, motorway facility) and use percentages to ensure fair comparisons. This will play on staff pride and competitiveness.
Offering teams who save the most energy new equipment.
Using communications which focus on climate change, building on the emotion generated by recent documentaries, activism and news.
For the "path":
Establish updated energy consumption baselines for each location.
Book more regular meter readings.
Visualise energy data through regular reports.
Embed energy management in the induction programme, discuss it in meetings as another waste stream, alongside food and recyclables.
Train catering developers, who front-line staff are keen to impress, as 'energy champions'. This responsibility currently lies only with regional area managers, in the operations team.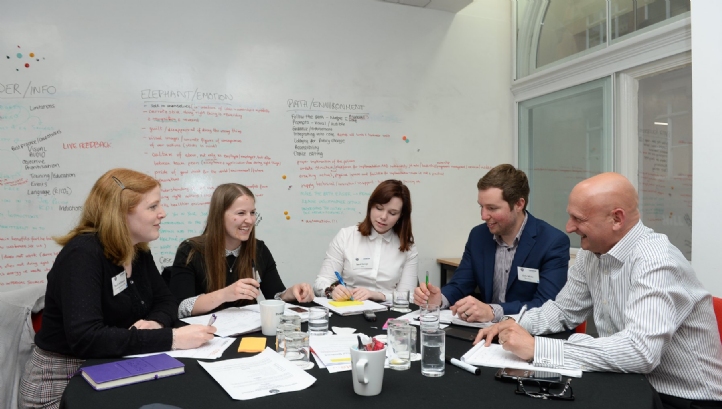 The sub-group presented this list to its counterpart and are met with a round of applause. The other sub-group, incidentally, had been working to develop a scheme for high-level staff working on large-scale construction projects across the UK. Their "sweet spot" had proven to be very different to the other group – saving money and complying with industry standards – and the scheme they had come up with revolves around data analysis, benchmarking and compliance rather than communications. 
Called the Construction Energy Benchmark and presented by Multiplex's sustainability manager Pavan Juttla, the scheme provided a tool enabling users to determine how much energy should be used during each phase of construction, based on their project's size, location, intended use and raw materials. This benchmark would be calculated using BREEAM and the UK Green Building Council's (UKGBC) database and arrange projects into league tables, gamifying energy saving. While the scheme would be voluntary, Juttla said that energy professionals in her sector could easily achieve boardroom buy-in for participation by emphasising investors' and communities' growing demands for low-impact projects. 
"In the built environment sector, there are so many different kinds of people, from different backgrounds, doing different jobs," Juttla said. "When we were tapping into the emotional aspect, we found it very difficult to come up with one solution, which is probably part of why construction is very compliance-led."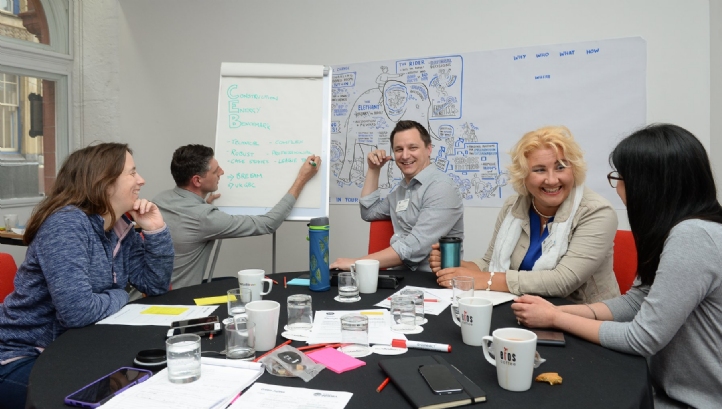 After a full days' worth of collaborative work and six hours of intense design thinking, the Energy Leaders Club Design Sprint came to a close. Miraculously, this group achieved in one day what many teams take four or five, or more, to complete. Thankfully, the concepts of green ju-jitsu and the elephant seem to have stuck with all the attendees, many of whom have admitted to me that their organisations' failed behaviour change schemes had been akin to what Kane had described at the beginning as "boxing" – hitting the target group into admission, rather than playing to their strengths and empowering them to sell positive action to themselves. 
With three decades left to limit the global temperature increase to 1.5C – beyond which, by even half a degree, millions of people are likely to die in droughts, floods, heatwaves and wildfires – and with just 11 years left to realise the visions of all 17 Sustainable Development Goals (SDGs), the timing of the event could not be more fitting. These challenges are simply too large to be solved by any one actor – hearts and minds across the world must be won, and the pathways altered dramatically to support them. That's why these 'co-creation' sessions are so important, making this the first of many edie 'design sprints' to come… 
Commenting on this Design Sprint, Centrica Business Solutions' head of solutions & optimisation Louis Burford said: "Harnessing people power and changing behaviour to improve energy performance is certainly one of the most cost effective methods of reducing costs and improving sustainability, but it's also one of the most difficult to implement and sustain.
"It quickly became clear that all the design sprint participants face common challenges in winning the hearts and minds of their employees. We discussed how advanced data analytics tools, such as Centrica's Panoramic Power, can quantify and visualise potential energy savings – to overcome the barriers of unlocking funding and improving understanding. The collective brain power of our sprint group found some ingenious solutions to the big behavioural change challenges and it will be fascinating to see these ideas put into action."
Sarah George
© Faversham House Ltd 2023 edie news articles may be copied or forwarded for individual use only. No other reproduction or distribution is permitted without prior written consent.