Five steps to building a resilient carbon strategy in a post-pandemic world
During edie's recent online masterclass, sustainability and energy specialists from Centrica and its Business Solutions arm discussed steps to building corporate carbon strategies while exploring how attitudes towards decarbonisation will change as a result of the coronavirus pandemic.
---
The long-term impacts of the Covid-19 pandemic are hard to predict, with much of the response rightly focused on short-term mitigation to limit the spread and impact of the disease. But in the climate sphere, government officials from the UK and EU have reiterated a desire to deliver a green recovery package that aligns economic growth to efforts to combat climate change.
The specifics of these recovery packages remain hidden and some bailout discussions run the risk of locking carbon into the future economy. However, with politicians, citizens and investors alike all calling for a low-carbon transition, businesses have a unique role in spurring decarbonisation, promoting green finance and shaping future markets.
During an online masterclass, Jim Rushen, group head of environment at Centrica and John Hartley, director of product management at Centrica Business Solutions outlined steps to building a carbon strategy on the road to net-zero emissions, while also examining how the coronavirus pandemic could shape corporate appetites for low-carbon technology and action plans moving forward. Here, edie rounds-up six top steps to building a carbon reduction strategy as nations seek to recover from the pandemic.
1) Gaining boardroom support
One of the major challenges that CSR and energy professionals are faced with is making the sustainability agenda a business-critical strategy, especially for SMEs and charities where resources and capital are already strained.
However, the rise of citizen activism on the climate crisis, the global focus on plastics and the emergence of green finance amongst the world's financial decisionmakers, has seen more doors opening to gain boardroom interest in the sustainable growth agenda.
Hartley noted that many business leaders had a "personal desire" to act on climate change, likely due to children or peers that were asking how organisations are responding to the looming crisis. While this provided a way in to the discussions, it would still largely have to be framed through more traditional business discussions, including aligning it to cost-savings or broader corporate strategies.
This sentiment was echoed by Centrica's Rushen who said: "There is normally a sweet spot between a carbon reduction strategy and the commercial objectives of the organisation."
Rushen noted the "Kodak moment" whereby some businesses are more open to responding to disruptive shifts – in this case, climate-related rather than technological – while others who fail to notice the looming trends are at risk of collapsing.
"It's not about whether you think we're going to achieve limiting emissions 2C or 1.5C," Rushen said. "It's about what you think governments will do to try and achieve [those levels of decarbonisation] and what do you think your customers will want from organisations?"
"If we believe that regulation is all going in the same direction to drive carbon out of the economy, and that customer preferences are becoming greener, then we have no choice but to respond to this. This is the direction of travel."
It may seem like an inappropriate time to go to the board to discuss carbon strategies during the midst of a pandemic, which is why aligning it to the wider business purpose is key to opening up that conversation.
2) Dispelling the finance myth
Framing the decarbonisation conversation as a direction of travel may get the business aligned on an end goal, ideally a net-zero strategy. However, there are still hurdles to overcome and financing the transition is still a common barrier.
Centrica Business Solutions' Hartley, however, believes this is one of the myths that can be "dispelled" because clean technologies have advanced and their markets have grown, which provides much shorter paybacks on upfront financial costs.
"There's not really any upfront cost to doing this," Hartley said. "You don't really need the upfront capital, you can get finance solutions where you pay over time, but let's dispel the myth you have to pay to reduce carbon."
Hartley also noted that for smaller companies, many of which will be located further down the value chain, the direction of travel means that many new business opportunities will open up if they can showcase the efforts they've taken to reduce emissions. This is largely because more corporates are now focusing on Scope 3 and value chain emissions (more on that shortly).
Access to external capital solutions is also growing. Green finance is on the cusp of becoming mainstream across Europe, while the UK Government's own Green Finance Strategy features investment and funding increases into green projects, infrastructures, while banks and lenders are offering more bespoke green finance solutions.
In the post-Covid-19, no matter how ambiguous it currently is, investors will certainly be taking proactive steps to de-risk their portfolios from future financial shocks, which will include further pandemics and the well-documented physical, strategic and reputational climate risks.
3) Departmentalising action
Measurement and data collection are huge parts of any carbon strategy. For Centrica, for example, 90% of the company's emissions fall into the Scope 3 category, notably the 126.8m tonnes of Co2e that is attributed to customer emissions.
The company has recorded an 85% reduction in overall carbon emission in the last 10 years and a 60% reduction of its internal carbon footprint through improved efficiency. This was driven by business mapping the carbon hotspots across its functions and service arms and then allocating ways to improve efficiencies from there.
This can be replicated across smaller businesses too. Many can calculate the carbon intensity of departments and functions and highlight areas of action accordingly. Even if some areas prove hard to decarbonise, knowing the data means that further efficiencies can be made elsewhere to compensate.
In the current working climate, many businesses are experiencing radical drops in emissions associated with travel and fleet use, while many are still trying to figure out the impact of retaliatory emissions in this area will be as journeys pick up post-lockdown, engaging with the heads of departments is a wise move.
"Parts of the business will have carbon-intensive assets, others won't," Rushen said. "Sit down with the leaders of the those functions to work up carbon roadmaps with those individuals, they are experts in those fields and if you look internally you'll likely find huge amounts of passion to decarbonise."
Centrica has taken steps to switch to electric vehicles (EVs). Centrica is aiming to switch the entirety of its fleet to EVs by 2030, five years ahead of the Government's ban on the sale of new petrol and diesel cars. Centrica notably operates the UK's third-largest commercial fleet, with 12,500 vehicles globally.
4) Innovating the energy supply
One of the "quick wins" when it comes to decarbonisation is to focus on the power supply. Spurred by Government legislation, low-carbon sources now account for more than 50% of grid electricity, and signing up to green contracts or pursuing onsite installations can deliver dramatic cuts in carbon.
According to Centrica's Distributed Energy Future Trends report, 67% of businesses are concerned about a lack of control and certainty of energy supply. Many businesses are taking steps to integrate onsite solar and battery technology, for example, in order to give their operations much more control and flexibility about how clean energy is procured, stored and used.
While the renewables market is quite mature, other clean sources, such as green gas, suffer from less sturdy markets. However, Hartley noted that it was still possible to navigate this "opaque market" by finding a provider that can offer green gas at a fixed price as a means to negate any future market volatility. This is being seen in the energy market, with multinationals like Nestlé signing long-term power purchase agreements at fixed rates. In fact, a study from Centrica Business Solutions found that more than £375m in cost savings can be made each year if the public sector upgrades its infrastructure to more green technology.
As Hartley showed during the masterclass there is a plethora of low-carbon solutions that can be explored, many of which integrate well with one another. LED lighting, EVs, heat pumps and energy insights are all operating in mature markets, while hydrogen, vehicle-to-grid and microgrids are being trialled at pace, but are perhaps not market-ready just yet.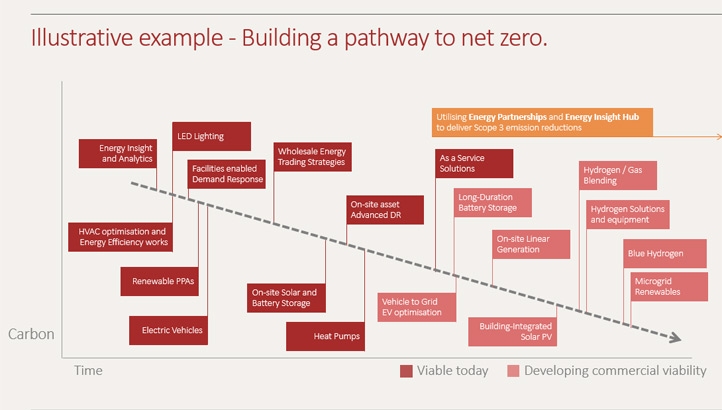 In a post-Covid-19 world how we interact with technology will change. Journeys may reduce and virtual meetings may well become the norm, this will impact a businesses energy footprint, but rather than waiting to see what trends emerge, Hartley warned against stalling progress while waiting for perfection.
"My worry is that you could always wait for the next technology solution to come along and never take action," Hartley said. "With payback as low as it is it pays to act now and add the viable solutions in later on using different commercial strategies."
5) Getting Scope 3 under control
Approximately 90% of companies with science-based targets have a Scope 3 target, for emissions outside of their direct control. It connotes that rising belief that businesses must look beyond their own operations to ignite long-lasting change that will push entire sectors towards net-zero emissions.
Engaging with suppliers to collect carbon data, let alone act on it is a difficult task. Fortunately, many third-party experts exist in this area and even just mapping tier-one suppliers will allow corporates to make a big dent in their supply chain emissions.
The coronavirus pandemic has shown the vulnerability of global supply chains, with manufacturing grinding to halt, up until recently, in China, for example. Whether or not businesses pivot to more localised supply chains is another discussion (one edie has explored), but global or local, engaging with suppliers on decarbonisation will be key to mitigating any challenges that are caused by climate change moving forwards.
There's no silver bullet to tackling supply chain emissions, with Hartley noting that it can be done "bluntly" through mandates or contractual obligations to act, or can form part of a much "softer conversation" that encourages suppliers to act on their own accord.
As with the boardroom, the conversation can be steered by noting the movement of markets and finance towards green business and solutions.
"It starts by being clear on the policy and what you want to do contractually with your key suppliers and materiality is key," Rushen added. "If you can footprint your Scope 3 you'll likely find key hotspots, and it allows focus on areas of material emissions and you can hold supplier days and workshops to talk about net-zeros and help them take their first steps on this journey."
One key fallout of the coronavirus pandemic will be the concept of resiliency rising up the corporate agenda, to ensure businesses are prepared and can adapt to future challenges, including those related to climate change. While decarbonisation may be your primary area of focus for the supply chain, Rushen notes that risk assessment will be a crucial tool moving forward.
The carbon reduction strategy masterclass was held on Wednesday 29 April. It is free to watch on-demand here.
Matt Mace
© Faversham House Ltd 2023 edie news articles may be copied or forwarded for individual use only. No other reproduction or distribution is permitted without prior written consent.