Global decarbonisation efforts 'stall', pushing climate goals out of reach
Global decarbonisation efforts will need to be seven times greater than current efforts, if the world is to stand a fair chance of limiting global warming to 1.5C, according to a new PwC report which found that the rate of global decarbonisation has slowed to its lowest level since 2011.
---
PwC UK's latest Low Carbon Economy Index (LCEI), published today (19 September), found that reaching the Paris Agreement's 2C limit for global warming would require the global economy to reduce its carbon intensity by 7.5% every year up to 2100. The report notes that this is five times faster than the current decarbonisation rate of 1.6% – less than half the decarbonisation rate witnessed in 2015 (of 3.3%), when the Paris Agreement was introduced.
In order to meet the more ambitious target of the Paris Agreement – limiting global warming to 1.5C which has been requested by the Intergovernmental Panel on Climate Change (IPCC's) special report – decarbonisation rates must reach 11.3% annually. That is seven times greater than the current rate, which has slowed to its lowest level since 2011.
Global emissions actually increased by 2% in 2018, due to a 2.9% increase in energy demand. The report warns that extreme heat and cold weather patterns contributed to this growth in demand, and will likely exacerbate decarbonisation efforts in the future. In total, 69% of the increase in energy demand was met by fossil fuel production.
PwC UK's director of climate change and co-author of the LCEI Jonathan Grant said: "It's worrying that progress on climate seems to have stalled. There's a huge gap between the rhetoric of the 'climate emergency' and the reality of policy responses around the world which have been inadequate.
"This is increasingly challenging for companies to manage, as they deal with both extreme weather impacts and growing climate policy risk. They are having to balance continued demand for business as usual as well as urgent calls for disruptive change."
The study notes the need for G20 nations to mobilise action to accelerate decarbonisation. In 2018, Germany was the best performer amongst the G20, with a decarbonisation rate of 6.5%. However, the analysis estimates that the average decarbonisation rate of the G20 in order to meet their National Determined Contribution targets (NDCs) to the Paris Agreement is 3% annually to 2030, almost double the global average.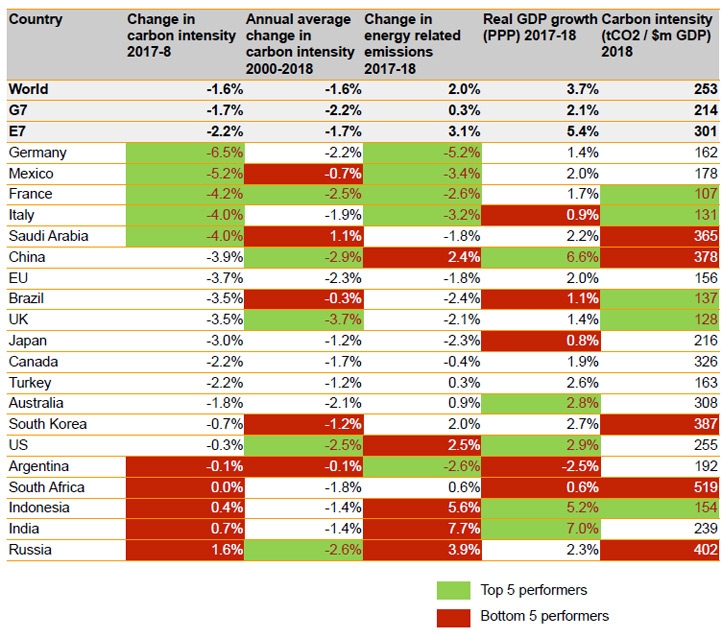 As for the UK, progress has faltered slightly with decarbonisation rates slipping from 4.7% in 2017 to 3.5% one year later. The UK still leads the G20 in terms of decarbonisation, having reduced its carbon intensity by 35% over a decade, but the slower progress puts future carbon budgets in jeopardy.
'Wake up call'
Overall, GDP grew by 3.7% last year, and the 2.9% increase in energy consumption was also amplified by the resurgence of previously struggling industries, such as steel, across industrialising economies like China, India and Indonesia.
In 2018, renewable energy growth reached 7.2%, its highest since 2010, but still accounts for less than 12% of the energy system.
PwC UK's global climate change leader, and partner Dr Celine Herweijer, said:"These results should be another wake up call. For all the progress that has been made recently in building public engagement, business leadership, and political commitments, decarbonisation has stalled. The speed of transformation that we need for our power and transport systems, our cities, the way we use land, and the way we produce and consume, is now that much more daunting. But it is possible.
"New technologies are already showing how they can accelerate change and reshape sectors: from enabling clean decentralised grids, to electrifying and optimising mobility, or increasing land productivity and protection. But we need ambitious policy to drive this change and investment, at pace and scale."
Last year, global non-profit Climate Transparency reported that 82% of the energy provided to G20 nations during the past 10 years was generated using coal, oil or gas. The report found that G20 nations collectively increased subsidies for fossil fuels from $75bn (£58bn) to $147bn (£114bn) between 2007 and 2016, despite pledges to phase them out completely being made more than a decade ago. 
Despite the need for urgent decarbonisation, G20 nations have almost tripled the subsidies they give to coal-fired power plants in recent years.
The figures, published in a report by the Overseas Development Institute (ODI), found that China and India give the biggest subsidies to coal. Despite the UK's own pledge and strong performance to phase-out coal from its own energy mix, a parliamentary report in June criticised the billions of pounds used to help to build fossil fuel power plants overseas.
Matt Mace
© Faversham House Ltd 2023 edie news articles may be copied or forwarded for individual use only. No other reproduction or distribution is permitted without prior written consent.