Heathrow court case and Mary Robinson's net-zero speech: The top 10 sustainability stories of February 2020
With spring now on the horizon, we take a look back at a February packed full of sustainability and energy news. This round-up includes all the highlights from edie's Sustainability Leaders Forum and recaps a bumper month for green policy.
---
February may be the shortest month of the year – but by no means does that mean it was a quiet month for sustainability news. From UN meetings to develop a 'Paris-style' biodiversity charter that responds to the risk of Earth's sixth mass extinction, to the launch of Bezos' $10bn climate fund and a new drive to help employees hold corporates to account over climate inaction, led by Facebook's former sustainability boss, there has never been a dull moment. 
We here at team edie have been squirrelling away to deliver the Sustainability Leaders Forum and Awards – an exclusive two-day event designed to ignite a decade of climate action and recognise excellence, attended by more than 600 leaders in the CSR, sustainability and energy professions.
The latter half of the month – aside from watching Love Island and Love Is Blind – has largely been spent preparing to unveil our 30 Under 30 Class of 2020. And keeping a close eye on domestic green policy announcements. 
This round-up highlights some of this news and explores – in brief- how businesses, NGOs and policymakers have been charging ahead with new sustainability ideas, frameworks and innovations during November. Take a look through all of the month's most-read stories and click the links in the descriptions below to read them for yourself.
Perhaps the biggest climate news story for the UK this month was the Court of Appeal's decision to uphold environmental groups' challenge of a third runway at Heathrow Airport. The Court ruled that the proposed expansion of the airport was unlawful" due to climate grounds, notably that it didn't align to the needs of the Paris Agreement or the UK's 2050 net-zero target. Since the ruling was made, the UK Government has said it will not appeal. 
For edie, the first week of February marked not only the end of what felt like a never-ending January, but the Sustainability Leaders Forum. Over the course of the two-day event at London's Business Design Centre, more than 600 sustainability and energy professionals came together to garner insight and inspiration – and to further their actuation against the world's most pressing environmental and social challenges.
So, who better to give the opening keynote speech than Chair of The Elders and former president of Ireland Mary Robinson – the woman credited with taking 'climate justice' from a niche theory to a global movement. Here, you can watch her rousing 23-minute speech in full.
Those wishing to find out more about Robinson's take on the state of sustainable business in 2020 are also encouraged to read the exclusive interview she gave at the Forum by clicking here.
As the Sustainability Leaders Forum continued, representatives from a range of the UK's largest industries gave their insight on how businesses and other organisations can align with the national 2050 net-zero target – and which should, given the scale of the climate and nature emergencies – be going further and faster.
This article rounds up seven key pieces of advice for organisations in the early stages of their net-zero transition, from experts at Vattenfall, Interface, the IFC, International Airlines Group (IAG) and Climate Care.
If you missed the Forum but are still keen to have some in-person, leadership-level net-zero discussions this year, we encourage you to attend Net-Zero Live at the Birmingham NEC this May. Full details and free registration can be found here.
As Day One of the Forum came to a close, 11 experts from an array of sectors gathered to discuss how they could – with ten years left to achieve the sustainable development goals (SDGs) and to reduce global emissions by 45% – ignite a decade of transformation.
With the transformations that businesses themselves will need to go through in order to meet these global challenges having been well documented , the conversation centred around how those that will be leading these changes – the sustainability teams – will need to change their remits, skillsets, sizes and structures. 
The conversation came as edie published the results of its Sustainable Business Leadership Survey, revealing how hundreds of sustainability, CSR and energy professionals across the UK are redefining what it means to be a leader. You can read the findings in full here.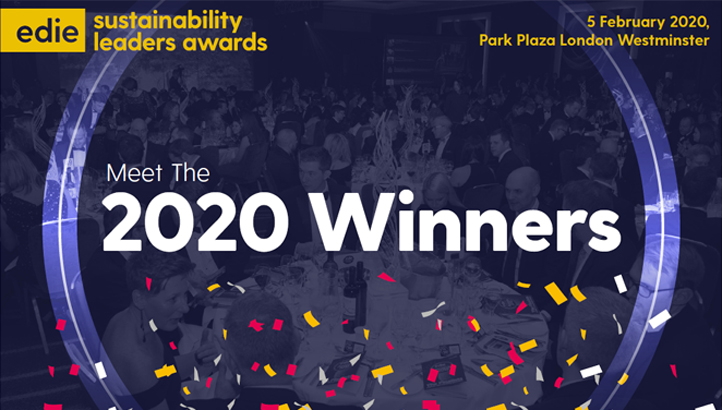 After the Second Day of the Forum came the 2020 Sustainability Leaders Awards – a glittering ceremony in which excellence was recognised across the spectrum of sustainable business; from the best efficiency programmes through to product innovation, from stakeholder engagement and CSR initiatives to the people making it happen.
In this report, you'll find in-depth profiles of each of the 2020 Sustainability Leaders Award-winners, detailing the people, products and initiatives that have stood out from the crowd, plus exclusive comments from the esteemed judging panel.
While all eyes this week may have been on the Environment Bill reading, the biggest green policy-related announcement of the month was undoubtedly Boris Johnson's cabinet reshuffle.
Coming around two weeks after Johnson sacked former Energy Minister Claire O'Neill from the COP26 presidency and less than a month before the promised 'green' Budget, the reshuffle was a case of 'all change, please' for the Treasury, Defra and BEIS. This article summarises all the key sackings and appointments and outlines what they could mean for the UK's net-zero transition.
Across the pond, the big climate announcement of the month came from the world's richest businessman Jeff Bezos.
In a mid-month Instagram post, Bezos pledged to funnel $10bn (£7.7bn) of his personal fortune into a new fund aimed at tackling climate challenges. Read this article to find out more about how and when the money could be allocated, and how the fund stacks up against Bezos – and Amazon's – climate actions to date. Image: Seattle City Council, CC BY 2.0
In response to the accelerated pace at which corporates are examining and setting net-zero targets, edie has launched a new spin-off of the Sustainable Business Covered podcast. Each episode of the Net-Zero Business Podcast takes a deeper dive into the net-zero strategy of one particular organisation, while also summarising other key net-zero policy and business announcements.
In this first episode, we speak exclusively to the National Trust's head of environmental practices Lizzy Carlyle to get under the skin of the Trust's plan to become net-zero carbon by 2030, which features one of the UK's biggest forest expansion projects.
Storms Dennis and Ciara have re-ignited the debate around flood resilience here in the UK. With the IPCC predicting that the UK will likely see a 10% annual increase in rainfall every year between 2030 and 2100 as global temperatures rise, the issue will only become more of a concern for UK homeowners and businesses in the coming years.
This feature, including insight from engineering firm Ramboll's climate resilience specialist Sarah Winne, Ramboll explores how businesses – beyond decarbonising their own operations – need to invest in climate adaptation and lobby for policies that help avoid physical climate risk.  
Let's end this roundup on a high note: Aspiring young sustainability, CSR and energy professionals from the likes of Unilever, Marks & Spencer and Hammerson have this week been unveiled as members of edie's 30 Under 30 initiative for 2020.
In order to be selected for the Class, professionals needed to show fantastic promise for the coming years or provide evidence that they have already achieved great impacts. Promisingly, more than three people applied per place available. This article highlights those who made the cut.
Over the next 12 months, the members of this exclusive, nomination-based community will develop their skills, network and knowledge through a string of events and content – so watch this space.
edie Staff
© Faversham House Ltd 2023 edie news articles may be copied or forwarded for individual use only. No other reproduction or distribution is permitted without prior written consent.