Heavy-emitting firms 'off-track' to deliver low-carbon world
More than 80% of the highest-emitting listed companies are failing to deliver emissions reductions aligned to the Paris Agreement's 2C global warming limit, with many companies also failing to account for climate mitigation and risk strategies.
---
The Transition Pathway Initiative's (TPI) annual report assessed 238 energy, industrial and transport companies on projected emissions intensity and found that just 18% (43 companies) are on course to deliver emission reductions that are aligned to climate science. While this is a 2% improvement on last year's benchmark, the oil and gas industry is lagging behind the rest of the sectors.
The report found the electric utilities and paper companies that have set 2025 targets are reducing emissions intensity by an average of approximately 4% each year, a trajectory that would surpass targets set by businesses in those sectors. However, steel and cement companies with 2025 targets in place are actually increasing emissions intensity, while the oil and gas sector is not reducing emissions fast enough to meet their targets.
TPI's co-chair and chief responsible investment officer at Brunel Pension Partnership Faith Ward said: "The IEA has warned that, while carbon emissions will likely decline this year, in the medium term the coronavirus outbreak could slow down the low carbon transition, as green investments are put on hold by cash-strapped governments and businesses.
"It is therefore of deep concern that so few companies were on the right path before the virus struck. Investors must now use their influence to ensure that climate commitments are ramped up, not discarded in the face of short-term financial pressures."
While companies like Daimler have set new emissions targets in the last year, the report found that heavy emitting companies in sectors like aluminium, steel and shipping are failing to disclose, or simply don't have, emissions reduction data aligned to the Paris Agreement.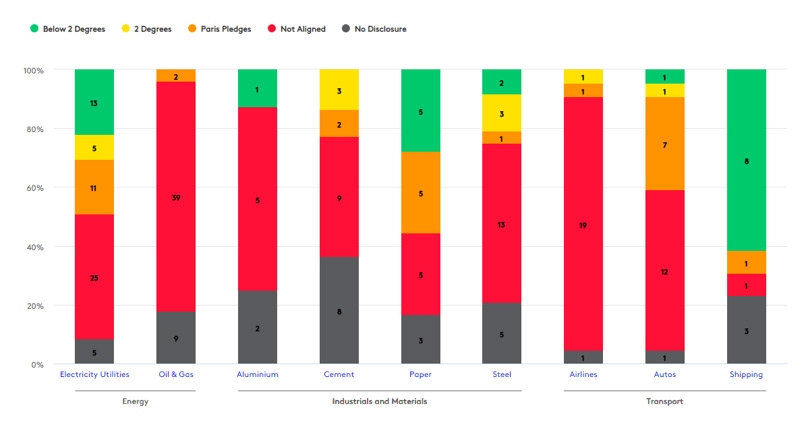 The report also found that 31% of the companies have disclosed an internal price on carbon and 26% have disclosed climate scenario analysis as recommended by the Task Force on Climate-related Financial Disclosures (TCFD). The recommendations from the body are currently publicly supported by more than 1,000 organisations globally.
Companies are performing slightly better on the governance of climate-related risks, with 62% of assessed firms satisfying a selection of 19 indicators of management quality. While seven companies including E.ON, Unilever, BHP Billiton and Equinor meet all the ranking criteria, 38% of companies were deemed "unprepared for the transition".
Professor Simon Dietz, research lead for TPI and Professor of Environmental Policy at the LSE's Grantham Research Institute on Climate Change and the Environment, said: "Our analysis shows that, not only have relatively few companies set emissions targets aligned with the Paris Agreement goals, not all of the companies that have done so are actually on track to meet those targets.
"Particularly in the cement, oil and gas and steel sectors, few companies are reducing their emissions fast enough to deliver their targets. In some cases, companies with targets actually saw their emissions intensity go up in recent years. This shows that investors must not only look at what targets companies have set, but also at what those companies are doing on the ground and in the boardroom to deliver them."
Climate resilience is becoming a much more focal business consideration as the impacts of climate change become more profound. A group of 215 of the largest companies in the world risk collectively losing up to $1trn to climate impacts, with most of this risk set to hit within the next five years, CDP has found.
The increased impacts of climate change coupled with rapid growth of alternative proteins will put "billions of dollars at risk" in the meat sector, while the world's largest oil and gas firms are also risking economic loss by failing to disclose climate-related data.
Matt Mace
© Faversham House Ltd 2023 edie news articles may be copied or forwarded for individual use only. No other reproduction or distribution is permitted without prior written consent.