Horizon scanning: Eight green innovations set to shake-up sustainability in 2021
Over the past 12 months, countless innovations which could help businesses and nations deliver a green recovery. Here, edie rounds up nine key products and concepts that could transform sustainability in 2021.
---
2020 was the year that none of us expected. In environmental terms, while lockdown measures led to emissions reductions, emissions are likely to rebound. Moreover, the financial crisis has disproportionately affected marginalised communities and set global progress on issues like gender equality and public health back. Investment in renewable energy generation and related technologies has also slowed. 
Through the highs and lows, innovators have continued to develop solutions to some of the most pressing sustainable development challenges in the world. While keeping one eye on the present, edie has scanned the horizons to identify eight broad innovation areas that could be set to ignite in 2021. 
1) Hydrogen planes
Aviation is responsible for around 3% of global emissions on an annual basis and has, pandemic aside, been growing rapidly. It is also one of the hardest-to-abate sectors, given that sustainable aviation fuel, electric aircraft and hydrogen planes are not yet mature.
2020 saw huge strides in the latter of these spaces, though. Airbus outlined plans to bring a hydrogen-powered passenger plane to the general public by 2035, showcasing three potential designs. The largest model could carry 200 passengers up to 2,000 nautical miles. Also, UK-based scale-up Zero Avia completed the first flight of a commercial-grade, hydrogen-powered plane. The model can only carry six passengers but there are hopes the technology could be scaled up;  the Government recently allocated £12.3m to help the development of a 19-seater model.
Of course, more hydrogen production will need to be renewably powered for this to be a sustainable solution. More than 99% of the hydrogen produced globally in 2019 relied on fossil fuels in some form, according to Wood McKenzie.
Image: Zero Avia
2) Solar-powered desalination systems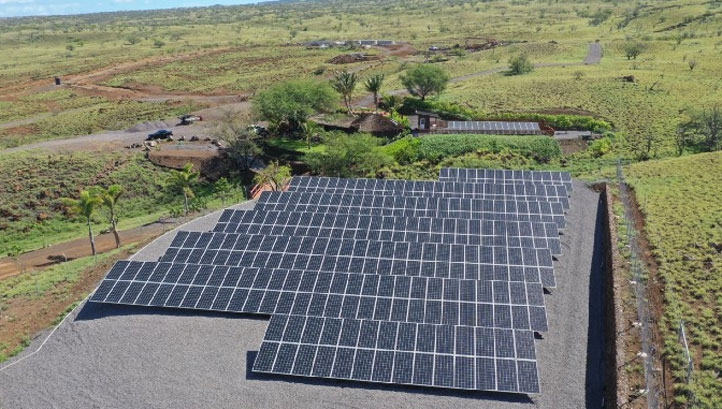 The UN estimates that more than two billion people do not have access to clean water and that a further two billion live with poor access to sanitation. The problem is most pronounced in developing regions across Asia and Africa. Yet many of these regions rely on agriculture for employment – and this is a sector which accounts for 70% of freshwater use globally.
A potential solution to both this issue comes in the form of solar-powered desalination. Not only does this technology help to alleviate water stress, it mitigates the need for diesel-powered desalination, which contributes to global warming and to air pollution. According to the Solar Impulse Foundation, solar desalination projects are underway in dozens of countries spanning every continent except Antarctica.
Among the operators of these arrays are Terraformation, which has installed 128kW of solar and 300 kWh of batter storage to power an off-grid facility on Hawaii's Big Island, and Desolenator, which id bringing its biggest facility to date online this year in partnership with Carlsberg.
Image: Terraformation
3) Satellite mapping
As the fruits of the Fourth Industrial Revolution continue to change how the business community interacts with wider society, businesses are seeing an uptick in demand for transparency about their supply chain operations. New legislation is also being developed at a pace to tackle longstanding environmental and ethical issues like deforestation on a more international basis.
Satellite mapping gives businesses and governments the opportunity to, quite literally, take a 'bird's eye view' of supply chains and regions – and related technologies have been improving rapidly in recent years. As such, they have been adopted by corporate giants including Unilever and Mondelez.
The technology can also be applied by governments and NGOs looking to implement climate adaptation infrastructure or develop meaningful restoration projects without unintended negative consequences. 2020 saw Microsoft debuting a 'planetary computer' which combines satellite imagery and AI to inform the development of such projects. Similarly, newly-launched Cultivo helps investors contribute to natural capital projects implemented by NGOs and landowners with information garnered from remote sensors. It is targeting $1bn of investment – enough to restore 3.5 million hectares.
 4) Smart farmland and forestry tracking
Of course, satellites aren't the only way to monitor land-use and forests. The UK's Department for Environment, Food and Rural Affairs (Defra) is working with Vodafone to apply Internet of Things (IoT) technology to woodland conservation, for example, tracking tree growth and modelling ideal conditions.
And, in India, Nokia is working with the Vodafone Foundation to apply IoT across the farming sector, starting with soy and cotton. More than 400 sensors have been deployed over 100,000 hectares of farmland, collecting environmental data that is analysed by a cloud-based app. The app relays findings, in simple terms and local languages, to farmers, along with weather forecasts. It also provides tips on smart irrigation and pesticide control.
Another solution is acoustic monitoring – tracking the sounds in a particular habitat to identify deforesters and other processes which degrade biodiversity. Non-profit Rainforest Connection has installed many recorders in the canopies of the Amazon to pinpoint sounds like chainsaws, but outdated technologies meant it could take up to 14 days for rangers to arrive. To that end, Hitachi Vantara recently used analytics to build a more detailed "baseline" of forest sounds – and even slight deviation is fluffed to rangers in real-time. This tips them off to location scouters before they can cut down trees.
With nations and businesses increasingly aware of the possibility of Earth's sixth mass extinction, efforts to apply 'smart' tech in conservation and restoration are likely to expand and accelerate.
Image: Vodafone
5) Vertical farms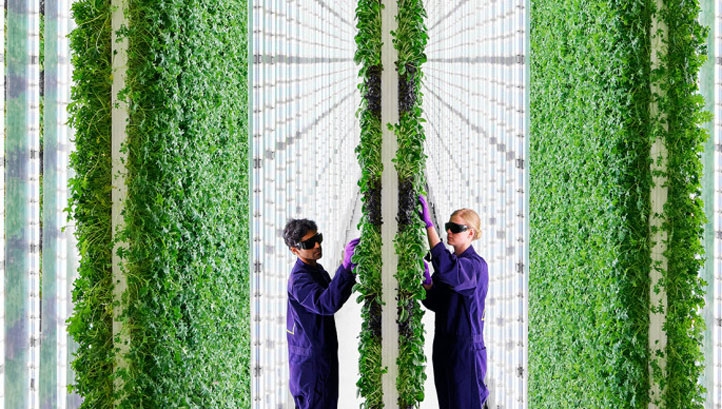 The ways in which humanity currently uses land is a major contributor to climate change and biodiversity loss. According to the IPCC, land use accounts for 23% of man-made GHG emissions, with the majority attributable to agriculture. It is unsurprising, then, that the green agritech market is thriving. Innovations range from blockchain trails of audit to solar-powered robots capable of weeding and planting.
But one solution that has been proven at scale is vertical farming. Vertical farms typically stack several layers of produce on top of each other, minimising runoff and reducing the amount of space needed to grow fresh fruit, vegetables and grains. Because the farms are usually kept either indoors or under a cover, the need for pesticide use is also reduced or eliminated altogether, with most vertical farms equipped with low-carbon heating technologies and energy-efficient LED lighting. Many innovative vertical farms are also designed to use aeroponics or hydroponics – a growing process which eliminates the use of soil and therefore prevents any soil degradation.
In 2020, a two-acre vertical farm in California produced more food than a traditional 720-acre farm, despite using 95% less water. And, after M&S trialled vertically-grown salad in 2019, it is now also offered at Selfridges and Whole Foods.
Image: Plenty 
6) Alternative animal feed
Much farmland is used not to produce food for human consumption, but to produce animal feed. Between 85% and 99% of all soybeans produced go to animal feed, for example, and the commodity bears a high deforestation risk.
Aside from making farming more efficient – as the vertical farms do – much work has gone into developing and scaling up alternative proteins to displace those with environmental risks in animal feed. In 2019, edie's Product Innovation Award went to Nutreco and Skretting, which are developing plant-based salmon feed to help tackle the overfishing linked to fishmeal.
Other firms have sought to replace environmentally problematic feed ingredients with insects and captured carbon. London-based Entocycle recently received £10m in Government funding to build a second facility for producing black soldier flies for animal feed. The firm feeds the insects using food waste from local businesses. The Government has also backed Deep Branch Technology, which is using carbon captured at Drax's biomass plant in Yorkshire to make animal feed ingredients.
image: NTU 
7) Chemical plastics recycling
Public awareness of the fact that just 9% of all plastic ever produced has been recycled has been rising ever since Blue Planet 2 aired in 2017. People are also increasingly skeptical of the drawbacks of traditional mechanical plastic recycling. Items like black plastic and flexible film, for example, are hard to process, and even recyclable items can only complete a few cycles before material quality deteriorates significantly.
In tandem with the scaling up of plastic-free single-use packaging and of reuse and refill, chemical recycling innovations have been gaining traction. Lux Research has dubbed chemical plastic recycling a 'top emerging technology to watch' in 2021 after 155 startups were founded in the space between 2010 and 2020.
These startups are receiving attention from big businesses and from governments. Corporates approaching chemical plastics recycling as part of their materials approach include Nestle, Unilever, Tesco and Henkel. Most technologies work my breaking polymers down into monomers, ready for purification and then making new materials and products.
Image: Carbios 
8) Lab-grown meat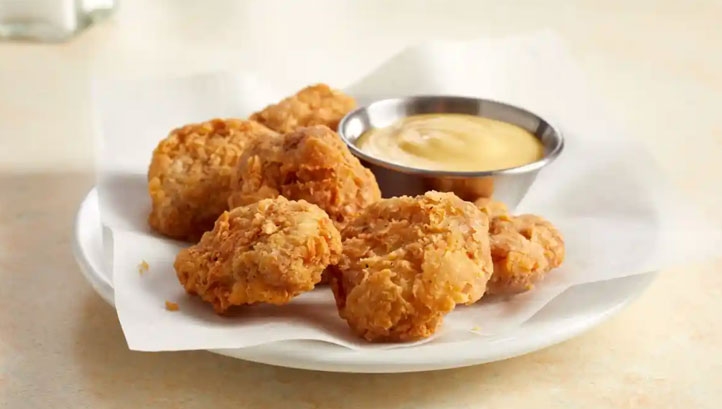 In the same week that the first Covid-19 vaccine was given the go-ahead in the UK, the science section of the national papers also carried news of lab-grown meat being approved for sale for the first time.
By approving Eat Just's lab-grown 'chicken bites' for public sale, Singapore's food regulator opened the discussion on the future of ethical and low-carbon food – and provided hope for the dozens of other companies developing lab-grown beef, pork and poultry. The cells used to produce the bites come from the biopsies of live animals and do not require slaughter. They are then supplied with nutrients from plants to stimulate growth.
Of course, the process of producing lab-grown meat is significantly slower and more expensive, as it has not scaled up. The bites will be sold at one restaurant to begin with. The sector could see rapid growth in the coming years, however, as large businesses and investors continue to ride the alternative protein wave.
Image: Eat Just/ Hampton Creek
edie Staff
© Faversham House Ltd 2023 edie news articles may be copied or forwarded for individual use only. No other reproduction or distribution is permitted without prior written consent.