How employee engagement has pushed Henkel's sustainability ambitions to new heights
EXCLUSIVE: Henkel's decision to bolster its sustainable packaging strategy last year was largely driven by the ambitions of a workforce of 'sustainability ambassadors', the company's director of sustainability management has revealed.
---
Amid growing public and policymaker concerns surrounding plastic pollution, consumer goods giant Henkel announced last September that it would re-design its packaging in a bid to ensure consumers are able recycle, reuse or compost its packaging by 2025.
Less than four months later, the parent company of Persil and Schwarzkopf has managed to achieve this target for 80% of its packaging portfolio, the firm's sustainability report, released last week, reveals.
The 165-page document also highlights strong progress towards the company's wider sustainability targets, recording a 25% reduction in carbon emissions per tonne of product and a 24% reduction in water use per tonne of product against a 2010 baseline, despite a 6% year-on-year growth in net sales.
Speaking exclusively to edie, Henkel's director of sustainability management Uwe Bergmann explained that the company's employee engagement activities, which include a headline aim of training all staff to become 'sustainability ambassadors', had been a "key driver" of this progress.
"We know that our people make all the difference to our business and have always seen our culture as a strong asset, so our employees have formed the basis of a lot of the drive and initiative that we have seen [on sustainability]," Bergmann explained. "Our initiatives on packaging recycling and sourcing recycled content, for example, were all employee-led.
"Before we launched our sustainability ambassador scheme, there was this idea that unless you were working in packaging, product design or manufacturing, it was hard to see how you could contribute to sustainability. Now, people know not only what we are doing, but why we are doing it and how important it is that they are willing to support us."
Under the engagement scheme, all staff receive mandatory online and in-person training modules covering what the company's sustainability targets are, and how each person has the capability to drive progress towards these goals within their day-to-day tasks. They are also told that, no matter where they sit within the business, they are welcome to pitch new sustainability ideas to the board or to ask the company to set more ambitious targets.
Spreading the 's' word
Launched in 2012 at Henkel's headquarters in Düsseldorf, the sustainability ambassador scheme has since been expanded to cover 50,000 employees – with 40,000 having been trained since 2016.
The scheme began life as PowerPoint presentations at Henkel's German sites, which were presented to select groups of its 53,000-strong workforce, but quickly scaled up to a webinar format.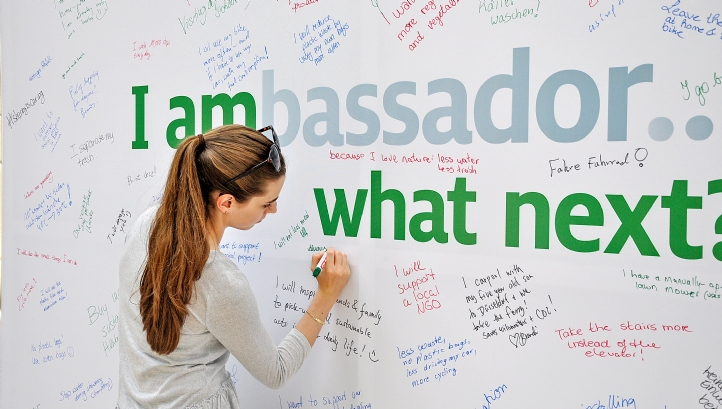 Sustainability ambassador modules are now a mandatory part of the company's digital corporate training. This digital resource has been translated into more than 30 languages to date, and is complemented by regular, team-led training sessions, pop quizzes and teambuilding events.
Bergmann explained that delivering the training across such a wide geographical spread and across all departments had required "the broadest possible effort" but had been "key" to bolstering the company's sustainability ambitions and spreading its purpose – to create sustainable value for all stakeholders. 
As sustainability ambassadors, Henkel employees are encouraged not only to use best practice in the workplace, but to spread information on the importance of carbon reduction, water conservation and resource efficiency in their local communities.
A key part of this is the company's school projects, which see staff teaching primary-aged children how they can foster sustainable behaviour in the home – from turning the heating down and installing LED lighting, to taking shorter showers. To date, more than 150,000 children have received a lesson from one of Henkel's employees.
"We wanted our employees to understand the topic and take action at work, but also to have a positive impact on the wider environment and drive change within their local communities," Bergmann said.
"The school scheme, therefore, has multiple benefits: you influence future consumers for one and, often, by going out and talking about something with another group, you reach a new level of clarity and knowledge."
A look to the future
In the coming months, Bergmann believes that Henkel will strive to ensure that all of its staff receive sustainability ambassador training.
But as the scheme expands, another key focus for the company is to make sure that employee engagement drives "joined-up" progress and that ambition is directed in a way which avoids unintended consequences. In order to do this, Henkel is developing frameworks which tell specific teams – like packaging purchasing or product formula design – how they should approach their daily tasks in order to achieve results with wide-ranging sustainability benefits.
"Employee engagement and awareness programmes are an important initiative, but the next step is always to work on the concrete processes and tasks staff are involved with," Bergmann concluded.
"It's important to create a culture where people feel empowered to take initiative and propose projects that can drive progress, but projects have to be connected."
---
Learn more about sustainability communications at ENGAGE
Sustainability and energy professionals keen to find out how they can tell powerful stories, inspire action and take stakeholders on their organisations' sustainability journeys are invited to attend ENGAGE – edie's two-day conference covering sustainability communications and reporting.
Taking place at 99 City Road in London on 2-3 May 2019, the event will see expert speakers share their best-practice advice and real-life case studies. It will also involve live polling and interactive question sessions, giving YOU the chance to shape the debate. Full information and details on how to register can be found by clicking here.
Sarah George
© Faversham House Ltd 2023 edie news articles may be copied or forwarded for individual use only. No other reproduction or distribution is permitted without prior written consent.