How sustainable is Wimbledon 2021?
With the summer's biggest tennis event set to conclude on Sunday (11 July), edie explores whether the Wimbledon organisers have aced their environmental sustainability efforts for 2021.
---
Over the past fortnight, 128 singles players have taken to the courts at Wimbledon and millions of us have tuned in to watch their games. Back in 2019, the event drew more than 500,000 attendees and, while physical audiences are smaller this year due to Covid-19 restrictions, the tournament will still carry a sizeable environmental footprint.
The organisers of Wimbledon – the All England Lawn Tennis & Croquet Club (AELTC) – first enlisted the help of sustainability consultants to measure and reduce the environmental footprint of the event back in 2009. In 2018, a further review of business practices across the themes of energy, transport, waste and food and drink was conducted, as the AELTC signed up to the UN's Sports for Climate Action Framework.
Now, the overarching aim of that Framework, carbon neutrality, has become a public, time-bound target for the AELTC. The Club announced a 2030 net-zero goal for Wimbledon back in February 2020, alongside other 2030 commitments to zero-waste status and biodiversity net-gain.
At the time, the Club said in a statement that the 2030 targets were designed to "stretch" the organisation and represent a "significant milestone" on its sustainability journey.
With this year's Wimbledon being the first since these commitments were outlined, this round-up explores that action the Club is taking to create a sustainable future for its flagship Championship – while coupling environmental action with the need for a strong economic recovery from Covid-19.
All images: Wimbledon
Energy and carbon: Acing net-zero?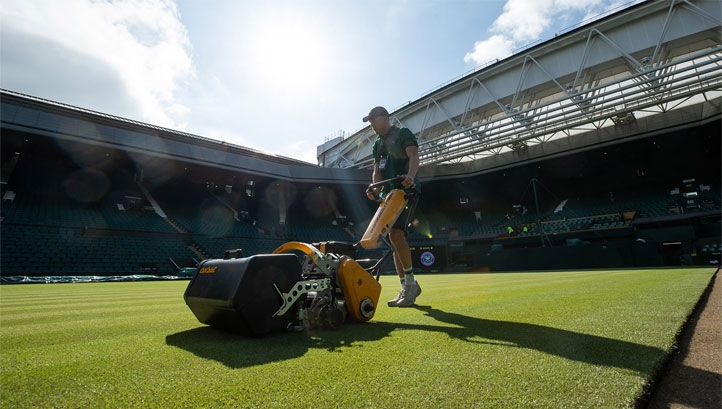 In 2019, Wimbledon used 100% renewable electricity for the first time in the Championship's history, after AELTC signed a supply contract with E.ON covering the venue and the Club's vehicle charging needs. This contract continued for 2021 and Wimbledon has pledged to continue sourcing 100% renewable electricity for all future Championships.
Aside from procuring renewable electricity, energy efficiency has been a focus for decarbonisation. A lighting upgrade scheme that will see all lights replaced with LEDs is underway and, considering reduced visitor numbers and planned future changes to the estate layout, a programme has begun with the aim of "mothballing" under-utilised areas. The AELTC has also already begun introducing improved energy meters and monitors.
Looking to the future, the AELTC has stated that it will develop plans to replace diesel generators with low-carbon alternatives; install renewable electricity generation arrays on-site and reduce its dependence on gas for heating, hot water and cooking. In the absence of the Heat & Buildings Strategy, which has now been delayed for more than six months, many organisations are awaiting clarity on the direction of travel in terms of technologies before publicly announcing plans for decarbonising heat.
Transport: Eliminating unforced errors?
At the tournament site, Wimbledon only uses 100% electric lawnmowers and visitor transport buggies charged using 100% renewable electricity. It is also striving to convert to a fully electric vehicle fleet this decade and integrated its first pure EVs – ten Jaguar iPace vehicles – in 2019. Further EV orders will be announced ahead of the 2022 event.  
However, as with any major sporting event, a significant portion of the overall emissions footprint of the Championship will be attributable to players, staff and fans travelling to and from matches.
While Wimbledon does report on emissions from flights taken by staff, players and officials (around 2,500 tonnes of CO2e in 2019), it has not yet disclosed emissions associated with road or rail transport for these groups – or any emissions relating to fan travel. It has also not announced plans to do so.
However, it has conducted visitor research proving that, pre-Covid-19, some 80% of visitor journeys were undertaken using public or active transport. The AELTC attributes this trend to ongoing behaviour change and communications initiatives designed to discourage people from travelling by car and taxi.
Food and drink: Serving up sustainably?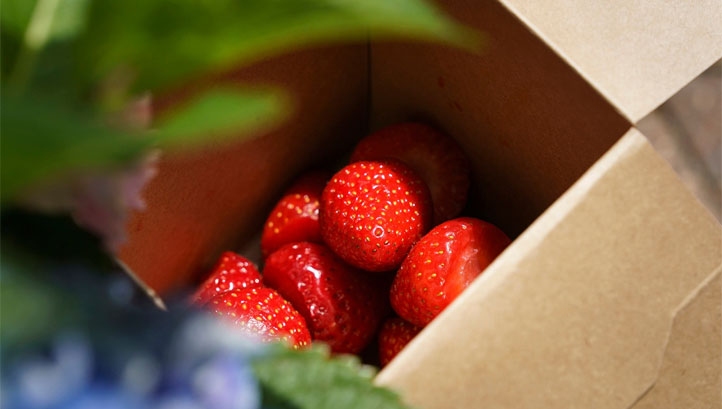 Food and drink packaging is perhaps one of the areas where sustainability-related changes are clearest to see for Wimbledon 2021.
All strawberries are now being housed in plastic-free cardboard boxes, made using 100% certified card. This packaging format is recyclable. Additionally, all cold beverages are being handed out in reusable, rigid plastic cups rather than disposables. Visitors are instructed to return the cups at dedicated points for washing. These moves build on a ban on plastic straws.  
Nonetheless, players are still using the usual plastic water bottles from sponsor Evian on the pitch – a fact that has frustrated TV presenter and environmental advocate Hugh Fearnley-Whittingstall.
I'm really enjoying all the @Wimbledon action but wouldn't it be refreshing to see a player turn up on the centre court with their own refillable water bottle? And give us a break from the relentless @evianwater plastic bottles. 💦🎾@Refill #Wimbledon2021 #plastic pic.twitter.com/OXQ7JpyrSq

— Hugh Fearnley-Whittingstall (@HughFW) July 6, 2021
Evian has largely focused on recycled content and recyclability in its sustainability approach. Its overarching targets are to reach 100% recycled content; ensure that all plastic packaging is recyclable and recycled in practice, and to remove plastic that is already polluting nature, putting it back into the recycling system.  To these latter two points, Evian has partnered with Hubbub during Wimbledon to improve on-the-go recycling for people travelling across the surrounding area.
Evian is also foraying into reuse. Its reusable 're-new' device was recently launched in UK retailers and is being used at its VIP Lounge at Wimbledon.
As for the footprint of the food and drinks products themselves, Wimbledon does not publicly disclose information on the carbon generated by its upstream supply chains. It has commitments to showcase "heritage" ingredients where possible and to increase the number of plant-based options available, but there are not yet time-bound, numerical commitments.
Waste: Drawing a line under landfill?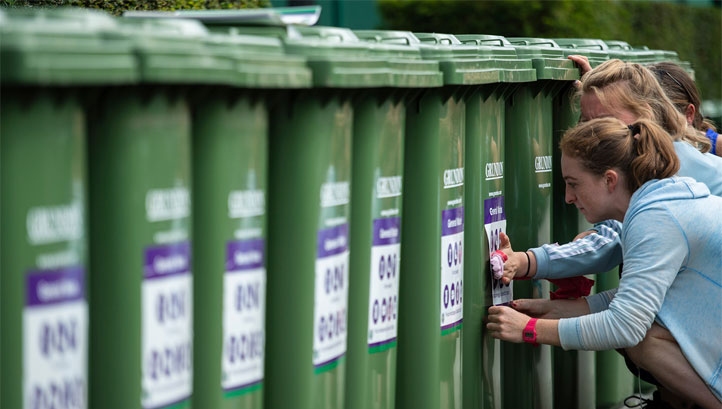 Wimbledon does not publicly publish its waste and recycling figures and does not have any public numerical targets for reduction. The AELTC achieved zero-waste-to-landfill status for the Championships and its day-to-day business in 2018. This was maintained in 2019 and the hopes are that the 2021 event will also meet this standard.
Going forward, the Club's focus will be on reducing waste generation, through initiatives like cup reuse, and shifting non-recyclable items, which are currently used to generate energy from waste, to recyclable alternatives. Changes for 2021 include ditching plastic liners for food trays, introducing a take-back scheme for staff uniforms and removing plastic bags given to stringers with racket bags.
Aside from the waste generated during the Championships, one of the AELTC's major challenges is construction waste. It claims to have achieved a 95% waste diversion from landfill rate in this area but is working to update design requirements for estate development projects, which should improve recyclability and also see the Club procuring more recycled materials.
Biodiversity: A wildcard for wildlife?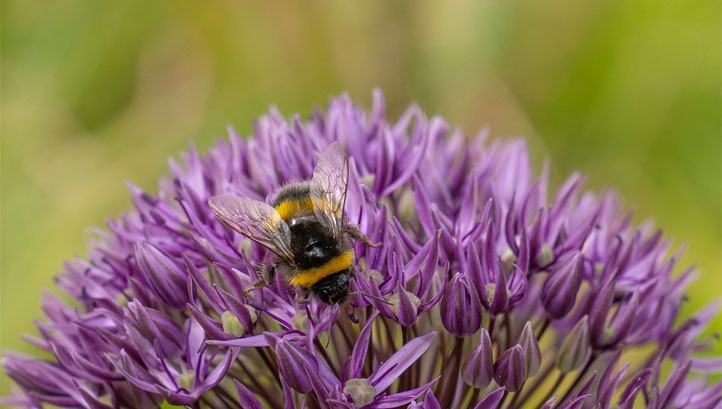 The AELTC introduced its first living wall in 2019, on the No.1 Court. It incorporated flowering plant species alongside grasses, in a bid to attract pollinators, serving as a sister project to a wildflower bank behind the player practice courts. With biodiversity having risen rapidly up the sustainability agenda over the past two years, Wimbledon is now going further and developing an overarching strategy.
A local biodiversity net-gain target is yet to be announced, as the Club is currently conducting a baseline survey of site ecology. However, it has already outlined plans for meeting such a target, including installing additional living walls and roofs; planting additional trees for shade and forging a partnership to establish its first "proprietary woodland scheme" in the UK. This scheme will be in addition to the Wimbledon Park Project, which will see 1,500 new trees planted and Wimbledon Park Lake restored.
Looping back to the commitment to net-zero, the AELTC has said that it will compensate for "unavoidable" emissions through investing in carbon offsetting projects, with a focus on projects that protect forests. Further details on the amount of offsetting and the location of the chosen projects are yet to be revealed.
Sarah George
© Faversham House Ltd 2023 edie news articles may be copied or forwarded for individual use only. No other reproduction or distribution is permitted without prior written consent.