HP unveils revised science-based targets, 100% renewables aim and 35% sustainable revenue growth
Revamped science-based targets, a 35% year-on-year growth in revenue through sustainable impact and commitments to source more recycled plastic content and 100% renewables have all been outlined in HP's latest sustainability report.
---
According to HP's 2018 sustainability report, "Sustainable Impact" programmes drove more than $977m (£770m) of new revenue last year, representing a 35% increase on 2017 levels. In 2017, the company delivered a 38% year-on-year growth where sustainable impact was a key differentiator, generating more than $700m (£556m) in new business revenue.
The figures, which are supported by HP's Sustainability and Compliance organisation, showcase the growing value of corporate sustainability. HP joins the likes of Unilever, Ikea and Kingfisher in delivering impressive financial results from sustainable products, services and initiatives.
"Companies have critically important roles to play in solving societal challenges, and we continue to reinvent HP to meet the needs of our changing world," HP's chief executive Dion Weisler said.
"This isn't a nice to do, it's a business imperative. Brands that lead with purpose and stand for more than the products they sell will create the most value for customers, shareholders and society as a whole. Together with our partners, we will build on our progress and find innovative new ways to turn the challenges of today into the opportunities of tomorrow."
New goals
HP's sustainability report also outlines new goals related to renewables, emissions reductions and increased use of recycled plastic content.
The technology company has pledged to increase recycled content plastic in its Personal Systems and Print hardware and supplies to 30% by 2025. In 2018, HP used 21,250 tonnes of recycled plastic in HP products – including more than 8,000 tonnes in its Personal Systems products (a 3.5% increase from 2017), more than 4,700 tonnes in its printing products (a 280% increase from 2017) and more than 8,000 tonnes in Original HP ink and toner cartridges.
As part of this commitment, HP will continue to incorporate ocean-bound plastic materials into its products. The company has already sourced approximately 700,000 pounds of ocean-bound plastic materials—or more than 25 million bottles—upcycling this material into HP cartridges and hardware.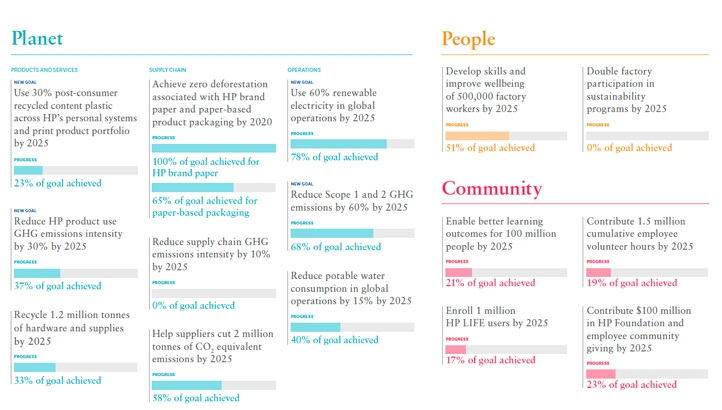 The company is also partnering with the University of Georgia to sponsor research on women working in recycling and waste management for ocean-bound plastics. This research is underway now and is scheduled to be released by early 2020.
For emissions, the company has pledged to reduce the emissions intensity of its products by 30% by 2025 against a 2015 baseline. As of 2018, the company has achieved an 11% reduction.
HP has also revised its science-based targets, increasing the reduction target of Scope 1 and 2 emissions from global operations from 25% by 2025 to 60% by 2025, again compared to 2015. HP has reduced operational emissions by 41% since 2015.
A big driver in operational emissions reductions is the use of renewable energy sources and HP has powered 100% of its US operations with renewable electricity. The company has now set a time-based goal to power its global operations with 100% renewable electricity by 2035.
Matt Mace
© Faversham House Ltd 2023 edie news articles may be copied or forwarded for individual use only. No other reproduction or distribution is permitted without prior written consent.