Hydrogen-fuelled steel manufacturing and China's greenest office: The sustainability success stories of the week
As part of our Mission Possible campaign, edie brings you this weekly round-up of five of the best sustainability success stories of the week from across the globe.
---
Published every week, this series charts how businesses and sustainability professionals are working to achieve their 'Mission Possible' across the campaign's five key pillars – energy, resources, infrastructure, mobility and business leadership.
As the football Super League dominates headlines, projects and initiatives which empower businesses to play their part in achieving a sustainable future, today, continued to launch and scale-up. Of course, this week has also marked Earth Day, with dozens of businesses making new climate commitments or launching new products that are more circular and nature-friendly. 
Here, we round up five more top announcements. 
ENERGY: Hydrogen-fired steel production backed by Kingspan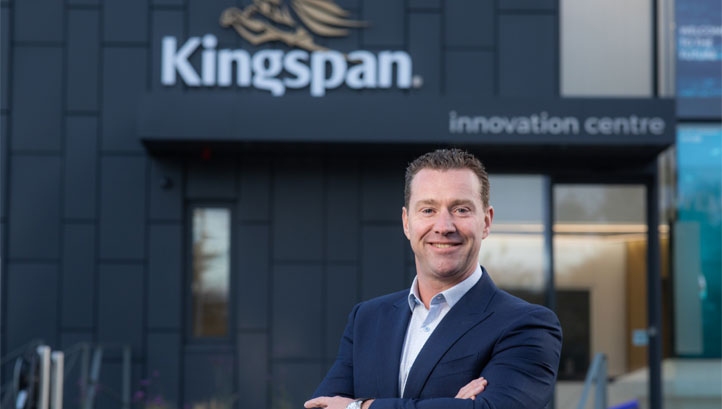 Steel is a notoriously high-emission material and a hard-to-abate sector. More than 90% of metal produced in the world is steel, and the sector is accountable for around 7% of global emissions from fuel use. Hydrogen, along with other alternative fuels, electrification and circular economy models could hold the key to delivering a net-zero transition.
Building materials giant Kingspan has this week invested in H2 Green Steel, a firm developing hydrogen-fired steel production processes. The process replaces all coke and coal with hydrogen generated using renewable electricity. Overall, it is estimated to emit 95% less carbon per tonne of product than traditional blast furnaces.
Kingspan has not disclosed the amount invested but has stated that it wants to be a single-digit minority shareholder in H2 Green Steel. The first phase of H2 Green Steel's first commercial-scale project, in Sweden, has a total upfront cost of €2.52.5bn, with production expected to start in 2024.
"We have set ourselves the challenging target of reducing emissions from the primary raw materials we use in manufacturing by 50% by 2030, and H2 Green Steel offers a compelling route to achieving this goal," Kingspan chief executive Gene Murtagh said. "We recognise that for companies to make a meaningful contribution to address the climate crisis they need to be prepared for radical thinking and actions, and our determination to transform our supply chain reflects this."
RESOURCES: Bulldog debuts recycled glass razors in plastic-free packaging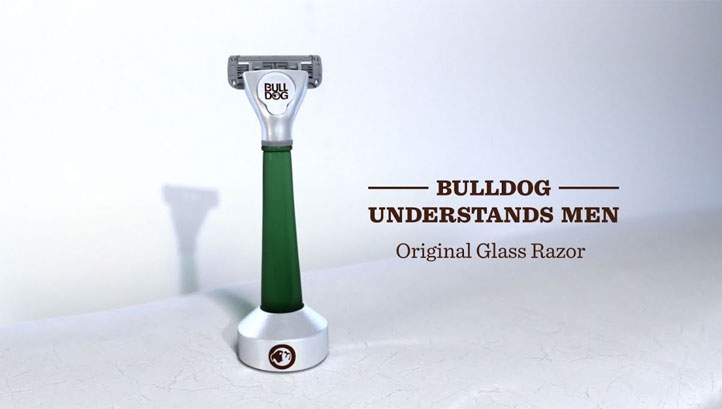 Think tanks have estimated that the global cosmetics and toiletries sector is producing 120 billion units of packaging a year – despite the fact that shoppers have increasingly plumped for plastic-free in recent years.
Another success story in this space comes from Bulldog, the UK-based brand making health and beauty products for men. The brand has launched a glass version of its original razor, consisting of a handle comprising 70% recycled content from beer bottles. As with all razors from Bulldog, it is housed in a plastic-free package comprising card-based components.
Bulldog said in a statement that the razors have been "crafted with recyclability in mind". The glass handles can be recycled again at kerbside, as can the metal stand. The blades can be processed using specialist collection services. Bulldog has set the RRP for the razors at £15 and has deals to sell through stockists including Boots and LookFantastic.
MOBILITY: Riverford launches first electric vans as Mitie expands e-fleet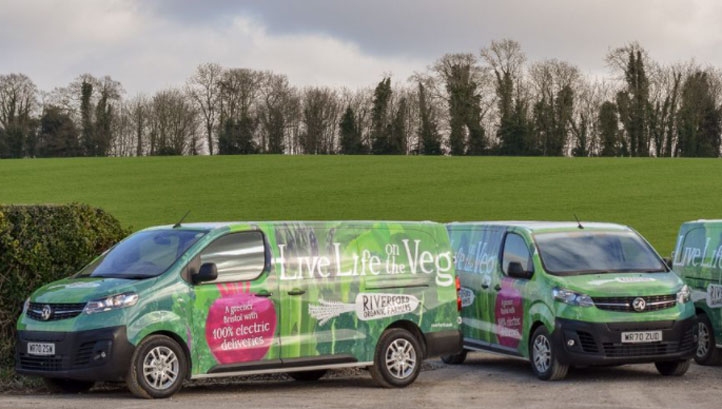 Mitie has regularly featured in edie's news coverage since the facilities management major set its 2025 net-zero target last year. The target includes a mission to transition all 7,000+ fleet vehicles to pure electric models and, this week, the business added the first Vauxhall Vivaro-e models into its fleet.
Vauxhall claims that the 75kW Vivaro-e has a range of up to 205 miles and that it can reach 80% of this range with a 45-minute session at a rapid charging point. The model is eligible for the UK Government's grant scheme. Other firms using this model include British Gas. With the new vans, Mitie now operates more than 1,000 electric vehicles (EVs).
In related news, organic food delivery service Riverford has launched its first electric vans this week.  The ten Vauxhall vans will be integrated into all Bristol delivery routes by the end of April. Riverford expects the EVs to reduce its annual carbon footprint by 68 tonnes.
Riverford's head of logistics Jason Holt said: "Diesel exhausts are a major contributor to poor health and climate change. EVs are an absolute no-brainer for all delivery businesses, especially Riverford where we pride ourselves on being environmentally conscious."
THE BUILT ENVIRONMENT: New office striving to become China's most sustainable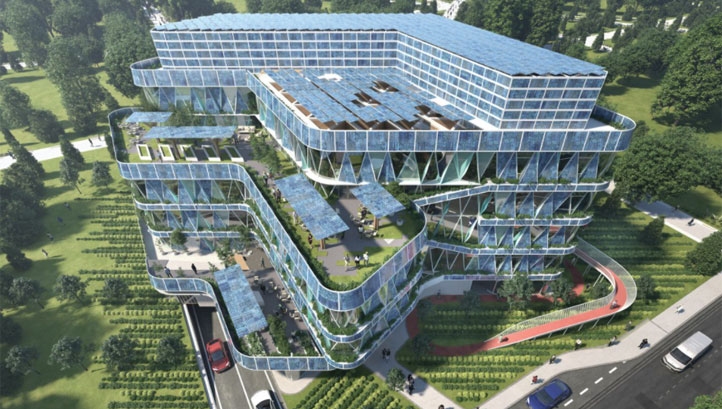 China announced a 2060 carbon neutrality target last year and, since then, all eyes in the sustainability space have been on updates on delivery.
After a recent analysis outlining how the nation's energy sector will need to be transformed, construction began on an office block which developers are hoping will be the most sustainable in China. Located in Shanghai, the SDGZero+ building will produce no net carbon, energy, water waste, other waste or formaldehyde in operation.
Designed by Decibel Architecture, the development is striving to achieve the highest levels of certification for the LEED, BREEAM and Green Star schemes. Applications have also been made for WELL, Passivhaus and China3Star certifications. Construction is due for completion next year.
BUSINESS LEADERSHIP: CACTO becomes carbon negative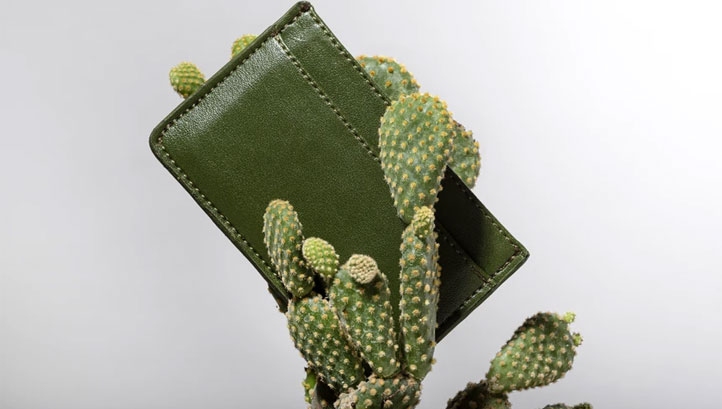 Against the backdrop of the growing net-zero backdrop, many big brands feel it is their responsibility to go further, offsetting, insetting or sequestering more carbon than they generate. Businesses with such commitments include Microsoft, Velux and Interface.
Now, Mexican-American SME CACTO, which makes fashion accessories from a cactus-based leather alternative, has announced that it has achieved carbon negativity. The brand has worked with Switzerland-based On A Mission to measure and offset 150% of its emissions through reforestation projects. Going forward, measurements and offsetting renewals will take place every six months. At the next date, CACTO will offset 1000% of its 2021 emissions.
CACTO founder Jesus Chavez said that "climate neutrality is no longer enough" to deliver the best chance of a net-zero world. He added: "Industries across the board need to benefit from existing technology and offsetting programs to become carbon negative and invest in new research and innovation to reach that goal faster. The decisions we make this decade will determine the fate of humanity for centuries to come. We are the ones we've been waiting for. It is up to us now."
Sarah George
© Faversham House Ltd 2023 edie news articles may be copied or forwarded for individual use only. No other reproduction or distribution is permitted without prior written consent.