Ikea's forest protection and Dove's refillable deodorant: The sustainability success stories of the week
As part of our Mission Possible campaign, edie brings you this weekly round-up of five of the best sustainability success stories of the week from across the globe.
---
Published every week, this series charts how businesses and sustainability professionals are working to achieve their 'Mission Possible' across the campaign's five key pillars – energy, resources, infrastructure, mobility and business leadership.
In a week dominated by coverage of President Biden's inauguration and the UK Government backtracking on its post-Brexit environmental pledges,  projects and initiatives which empower businesses to play their part in achieving a sustainable future, today, continued to launch and scale-up.
ENERGY: Ibstock switches to 100% renewable electricity
Last year, Ibstock announced plans to become the first major business in the building materials sector to pilot a net-zero factory. This week saw edie hosting a webinar featuring the firm's group sustainability manager Michael McGowan, who outlined how a combination of energy efficiency improvements, new technologies and green energy procurement could deliver this vision.
McGowan's presentation came in the same week that Ibstock confirmed that it has switched to 100% renewable electricity across its operations, by signing a contract with Total Gas & Power's Pure Green tariff. The tariff matches energy consumption with equivalent Renewable Energy Guarantee of Origin (REGO) certificates from solar, wind and hydro sources. Ibstock sees the tariff playing a role in reducing Scope 2 (power-related) emissions, alongside onsite solar generation, energy efficiency technologies and low-carbon heat.
"We are a market leader in an energy-intensive sector, and we believe it is vital that we demonstrate that leadership in terms of reducing carbon emissions and supporting the market for renewable energy," Ibstock's chief executive Joe Hudson said.
RESOURCES: Dove launches refillable deodorant to US market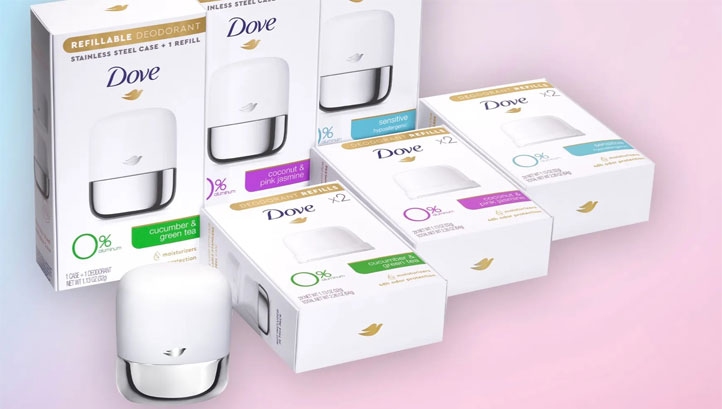 Refill and reuse are fast becoming major considerations for large businesses. Once limited to small eco-lifestyle stores, refillable health and beauty products are now made by the likes of Colgate Palmolive, Molton Brown, Nivea, P&G and Unilever-owned Love Beauty and Planet, as consumers become increasingly aware of the global plastic pollution problem.
This month, Unilever expanded its refillable product offering with the launch of Dove roll-on deodorants in US-based Target and Walmart stores. Called the Dove Zero Stick, Unilever claims that the format uses 54% less plastic than regular stick deodorant packaging, as it mainly consists of stainless steel. The components that are plastic are made with recycled content.
The move from Dove comes as it strives to reduce its annual plastic footprint by more than 20,500 tonnes by 2025. The brand worked with Dutch design consultancy VanBerlo and campaign group A Plastic Planet – which invested the Plastic-Free Mark for packaging – to design Dove Zero Stick.
MOBILITY: First Bus retrofits 1,000 buses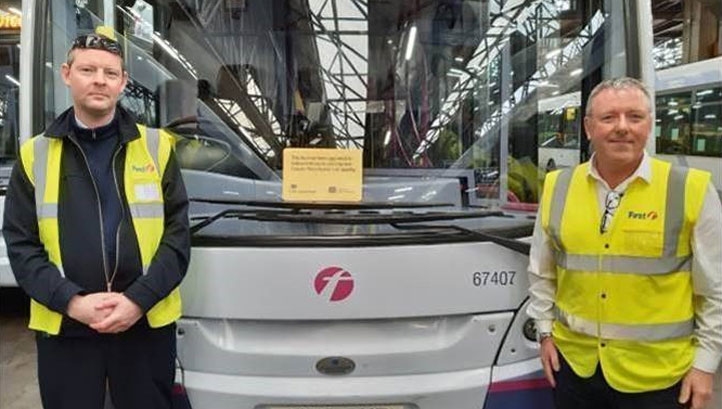 Often, the edie team uses this part of the roundup to showcase a new electric car model or an innovative aeroplane. But public transport will play a key role in the net-zero transition in the UK and beyond, with modal shift and shared mobility having roles to play alongside electrification.
This week saw one of the UK's largest bus operators announce that it has retrofitted more than 1,000 buses with new exhaust systems that reduce emissions. The retrofitted technologies ensure that the buses comply with Euro VI emission requirements, as many of the regions in which First Bus operates explore low-emission zones. First Bus claims that the process can reduce air pollutants by 95%.
Defra and the DfT's joint Air Quality Unit helped First Bus finance the £16m retrofitting scheme, which comes as the firm strives to transition to a zero-emission fleet by 2035.
"The retrofitting milestone is a great reminder that the environment is an ongoing focus for the business… [it] is one way in which we can significantly reduce harmful emissions on our roads," First Bus's new head of environment Jon Tivey said. Tivey recently joined from real estate consultancy Turner & Townsend.
THE BUILT ENVIRONMENT: Plans unveiled for a zero-carbon hotel in York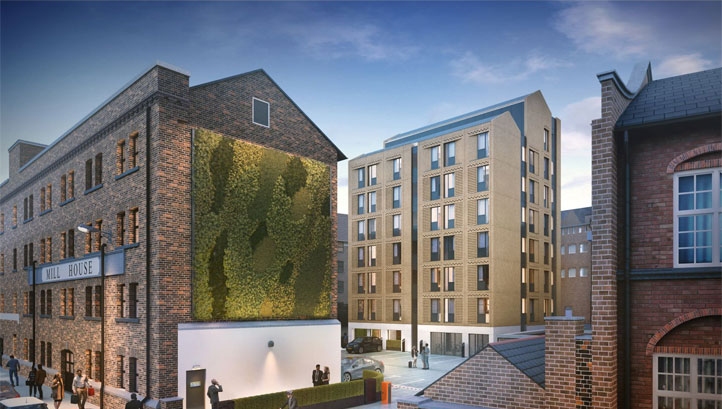 The built environment sector will need to rapidly mainstream zero-carbon developments if the UK is to meet its 2050 net-zero target – as the facilities constructed today will still be standing at that time. Last year, we saw announcements around the UK's first zero-carbon office developments. Now, plans have been submitted for what the developers claim will be the nation's first zero-carbon hotel.
Property investment firm Helmsley Group has submitted a planning request to the City of York Council, seeking the green light to build the 99-room hotel on a derelict former car park. The documents outline an ambition to achieve BREEAM 'Excellent' or 'Outstanding' for the hotel by procuring low-carbon materials and building in features that boost energy and water efficiency. Air-source heat pumps, a green wall and rooftop solar PV are also planned.
Consultancy Turley is helping Helmsley Group with the application and expects a decision from the Council in the first half of 2021.
"In line with the UK Green Building Council Net Zero Carbon Framework, the development will offset its construction carbon and is reducing operational emissions by almost 50% using the latest carbon factors," Turley's senior consultant Fiona Lomas said. "Remaining operational energy demands can be met using appropriate off-site renewable energy supplies procured by the operator so that the development achieves net-zero carbon in operation."
Image: Turley
BUSINESS LEADERSHIP: Ikea buys protected 11,000-acre forest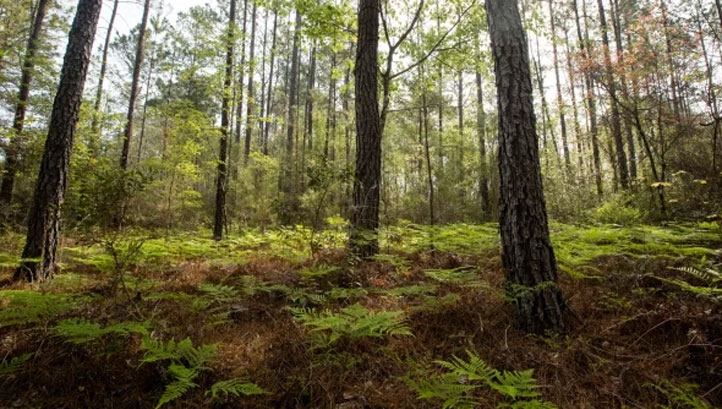 Ikea's 'People and Planet Positive' sustainability strategy is widely regarded as one of the boldest in the private sector. Headline commitments include eliminating more greenhouse gas emissions than its value chain emits and generating more renewables than it consumes. Between September 2020 and September 2021 alone, the firm is planning to invest €600m in sustainability.
In its latest step towards this vision, the furniture retailer's parent company Ingka Group has purchased almost 11,000 acres of forest in Georgia from the Conservation Fund. The non-profit purchases "working forests" – i.e. those that are being used to produce forestry products – and implements permanent protections to stop excessive logging and prevent the land being split up for resale. It then sells them on to organisations that commit to conservation and restoration.
Ingka Group now owns more than 136,000 acres of forest in the US. It states that "no significant amount" of wood from these locations is used in products. Instead, its primary focus is to finance nature restoration practices which help the forest to sequester more carbon, so it can add this to its climate accounting.
Image: Stacy Funderburke/Ikea
Sarah George
---
Join the conversation at edie's Sustainability Leaders Forum 
From 2-4 February 2021, edie's award-winning Sustainability Leaders Forum event is returning in a brand new virtual format. This year, we are delighted to bring you speakers including former Energy Minister Claire O'Neill and World Green Building Council CEO Christina Gamboa. 
This event will allow you to be connected with peers via face-to-face via video chats; be inspired by high-level keynote talks from industry leaders; be involved in a series of interactive panel discussions and live audience polls; and be co-creative in our interactive workshops, whilst also meeting leading technical experts in our dedicated virtual exhibition zone. Rooms, expo booths, private chats, bespoke stages and backstage passes – it's all possible. 
For a full agenda and to register now, visit: https://event.edie.net/forum/ 
---
© Faversham House Ltd 2023 edie news articles may be copied or forwarded for individual use only. No other reproduction or distribution is permitted without prior written consent.