Ikea's solar blockchain and autonomous electric trucks: The best green innovations of the week
Every week, numerous eye-catching and potentially transformational innovations are being developed to help businesses and nations turn energy and sustainability ambitions into actions. Here, we round up six of the best.
---
Here in the UK, the political landscape has only become more tumultuous over the last few days, with MPs voting on critical Brexit amendments as the 29 March deadline looms closer. After Theresa May's Brexit withdrawal agreement was defeated in the Commons by 149 votes on Tuesday (12 March) and MPs rallied behind taking 'no-deal' off the table on Wednesday (13 March), the fate of the UK's future – and its green economy policies – still hang in the balance.
And between these two key votes, Chancellor Philip Hammond unveiled a Spring Statement which, for the first time in the announcement's history, included a review into the economic benefits of environmental conservation.
But the atmosphere in the House of Commons is not the only thing that's been heavily charged this week, with businesses and governments moving at a pace to launch new products, concepts and systems which could help pave the way to a more sustainable future. Here, edie rounds up six of the best.
Autonomous electric trucks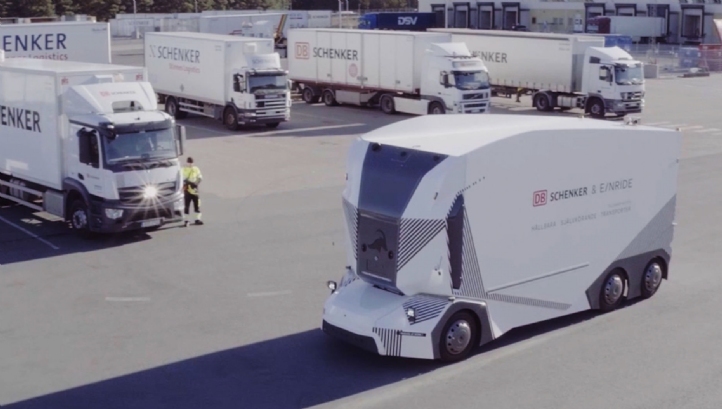 While the electric revolution is gathering pace within the UK's passenger vehicle market, emissions from the wider transport sector continue to rise steadily. In response to the issue, the business community is beginning to make its first forays into low-carbon heavy goods vehicles (HGVs), with companies such as Volvo and Nikola Motor having developed innovative alternatives.
A further success story in this space comes from German logistics giant DB Schenker, which this week received clearance to test a full-scale prototype of its autonomous and fully electric truck on public roads in Sweden. The vehicle, called T-Pod, is fitted with a 200kWh lithium-ion battery pack and has a range of 200km per full charge.
After being programmed with a route ahead of its journey, the 26-tonne vehicle uses radar, lidar and camera technology to monitor its surroundings and react to factors such as traffic, roadworks and animals or people crossing the road. If the trial proves successful, DB Schenker will scale up trials and seek permission to carry them out on busier roads.
Outdoor air purifiers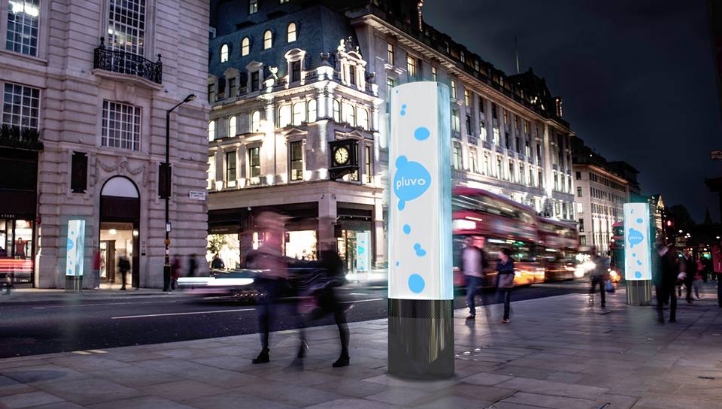 With London having been put on high air pollution alert last month and air quality seemingly worsening in urban regions outside of the capital, technologies which aim to clean air in towns and cities are widely sought after.
One potential solution comes in the form of a cylindrical advertising stand which uses an enclosed stream of water mist to trap airborne pollutants. Developed as part of a partnership between startup incubator KineticX and environmental media startup Pluvo, the technology is designed to be used in outdoor settings and trap particulates such as nitrous oxide (NOx) as they are emitted on highly polluted roads.
The first batch of the units will be installed across areas of central London which experience high levels of footfall over the coming months. Pluvo and KinteticX claim they are already in talks with several councils outside of central London to roll the solution out by the end of the year.
Closed-loop gin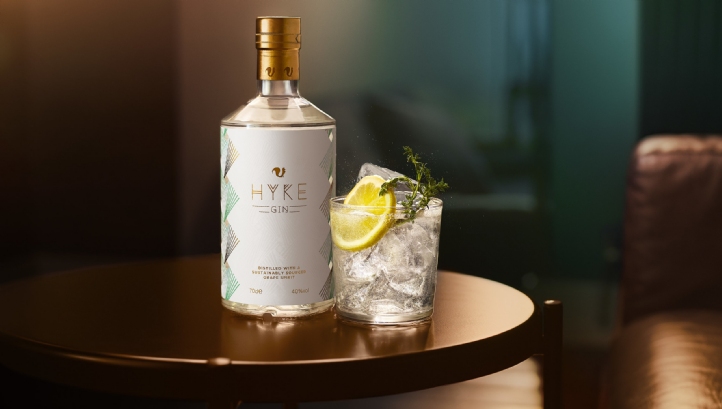 Supermarkets have previously been criticised for contributing to the UK's food waste mountain by sticking rigidly to quality specifications, and routinely rejecting "ugly" or misshapen, but edible, fruit and vegetables grown by suppliers. This has paved the way for a string of closed-loop solutions to grocery waste, including juice made from "wonky" produce and hyper-local distribution schemes.
Continuing this trend, Tesco has this week signed a deal to stock gin made using surplus supermarket grapes across 300 of its UK stores. The beverage, called Hyke Gin, is made by pressing surplus grapes whole and extracting the juice for fermentation into wine. The wine is then distilled to produce a grape spirit, to be mixed with natural grain spirits and botanicals, while waste skin, pulp and pips are sent for anaerobic digestion.
Given that 2-3% of all grapes grown for human consumption globally are wasted before they reach consumer homes, the resource stream to produce the gin is ample. It is being directed and regulated under a partnership between Tesco, distiller Foxhole Spirits and fruit supplier Richard Hochfield.
Blockchain-enabled deposit return schemes
The UK Government recently announced plans to drastically modify waste management systems through a new consultation, with a key focus being on the approach it should take when developing a nationwide deposit return scheme for plastic bottles.
It is timely, then, that environmental blockchain startup Cryptocycle has unveiled what it claims is the world's first deposit return system which does not rely on reverse vending machines or in-store returns. Called Reward4Waste, the scheme involves drinks firms placing a unique, encrypted code on each of their bottles, with local authorities placing the same kind of markers on their recycling bins. Once the bottles are empty, consumers can scan the codes on the bottles and bins using their smartphones, creating a digital ledger to prove they have deposited their waste for recycling.
Through the app, local authorities, food and drinks brands or even central Government would be able to offer consumers rewards for their recycling efforts, in the form of a digital money transfer or a voucher. Cryptocycle is currently crowdfunding to launch a real-world trial of the system.
Ikea's blockchain-based solar microgrid
Also on the topic of blockchain, furniture giant Ikea's innovation lab Space 10 this week unveiled plans to develop a solar microgrid which allows users to trade renewable energy using blockchain technology.
Called SolarVille, the concept enables businesses and members of the public to generate excess energy by either consuming less or by installing more solar panels, with the blockchain platform then allowing them to sell it to their neighbourhood – without any third-party involvement. Energy transactions between neighbours would be logged on a secure and transparent ledger.
The innovation is currently at the modelling stage, with Space 10 using an interactive miniature wooden village to showcase how the concept could look in reality. All of the buildings within the village are hardwired together, with the lab claiming this connection method is "fully scalable" for towns and cities of all sizes.
Its unveiling builds on Ikea's foray into the solar market – the retailer is aiming to generate more renewable power through onsite installations than it consumes worldwide and recently began offering domestic solar solutions to customers.
Hydrogen-generating solar panels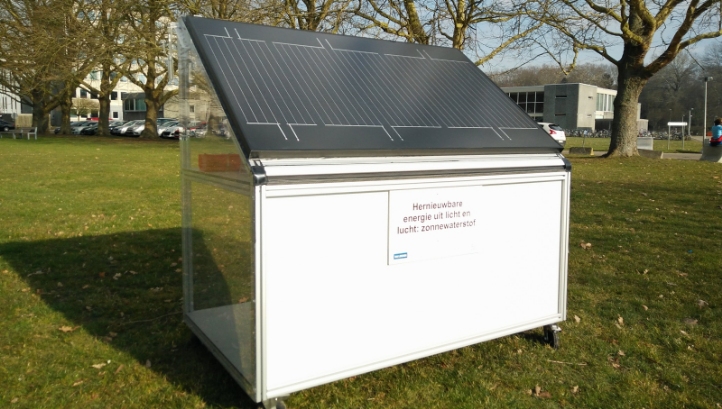 Another solar innovation to have hit the headlines this week comes from Dutch university KU Leuven, where researchers have successfully developed a solar panel that can capture light energy and moisture in the air to create hydrogen.
The device, unveiled after ten years of research, uses photovoltaic (PV) panels to capture light energy and zirconium and acid structures to trap water vapour. The energy and water are then combined in a box below the panel, where a controlled chemical reaction is initiated and hydrogen is produced. 15% of the sunlight captured by the panel goes straight into this reaction, with the rest being used to generate electricity.
The research team behind the technology claim that one 1.62-metre panel can produce up to 250 litres of hydrogen daily, ready for use in low-carbon heating and transport applications.  
Sarah George
© Faversham House Ltd 2023 edie news articles may be copied or forwarded for individual use only. No other reproduction or distribution is permitted without prior written consent.