In charts: How coronavirus is impacting sustainability professionals across the UK
EXCLUSIVE: An edie survey of more than 100 sustainability professionals across the country has revealed exactly how the global pandemic of Covid-19 has impacted day-to-day working for those leading the CSR agenda for their organisations. Here are the results...
---
edie's coronavirus survey, conducted online from 23 March to 2 April, provides a snapshot of how the economic and social impacts of coronavirus are affecting sustainable business.
From the pubs, bars and leisure centres ordered to close; to manufacturers facing supply chain disruption and ever-changing sales forecasts; to the utilities, healthcare providers and grocery retailers tasked with keeping the nation running – the pandemic has impacted every business in the UK.
Equally, those responsible for driving the transition towards low-carbon, resource-efficient, socially-equitable models of operation in all sectors – the sustainability, CSR and energy professionals – have faced significant disruptions to their roles, remits and ability to deliver key projects.
In total, 101 sustainability and CSR professionals responded to the survey, with jobs functions ranging from in-house CSR/sustainability management (48 respondents) environmental consultants (20 respondents) and communications and marketing specialists (7 respondents) amongst other roles.
The businesses represented by respondents spanned all major sectors, including environmental products and services, the built environment, retail, manufacturing and the public sector. Just under 10% of respondents worked for SMEs with fewer than 10 people employed, while 27 respondents worked for large companies with 5,000+ staff. As such, this survey represents a broad spectrum of businesses.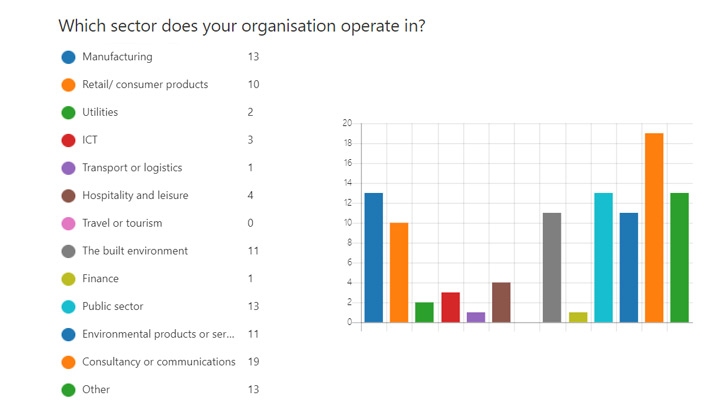 1) Working from home has become the new normal for practically everyone
In response to the disruption caused by Covid-19, 84% of respondents noted that their organisation had implemented a Coronavirus management strategy, compared with 9% that hadn't – the remaining respondents were unsure about this.
It also seems that CSR professionals are largely well-equipped to work from home without any major disruptions. When asked if they could still carry out their role from home, 78% answered: "yes, I can do so relatively seamlessly". An additional 20% claimed that they could work from home, but that their was somewhat limited; while just two out of the 101 respondents claimed they were unable to work from home.

2) Coronavirus is clearly stifling sustainability progress
More than half of respondents confirmed that their organisation was having to postpone sustainability-related announcements in light of the impacts of coronavirus, although it varied as to whether "all" or "some" announcements would be paused. A quarter weren't sure whether announcements would be paused, while 20% claimed they planned to carry on with business announcements related to sustainability practices, goals and progress.
A knock-on effect of those postponements is highlighted by responses to the question "what is the biggest challenge you are now facing as a result of Coronavirus?" Almost half (44%) of respondents listed project and strategy delivery as the main challenge, while 19% listed supply chain disruption and 16% noted engagement as the main challenge to overcome. For companies that are struggling to engage with stakeholders, colleagues and staff during the impacts of coronavirus, edie is running a dedicated week of action focus on engagement. Click here for details.

3) Investment in sustainability and energy projects has been paused by many
Next, a worrying yet perhaps understandable survey result: only 30% of respondents claimed that their organisation wasn't planning to pause or postpone investment into sustainability and energy solutions, although 34% weren't able to provide a clear yes or no.

4) Net-zero remains the top green policy priority
While just four of the 101 respondents listed policy uncertainty as their major Coronavirus challenge, all respondents were asked to name their top priority for green policy in the coming six months. The result was pretty resounding: 39% cited the net-zero roadmap as their main priority for Government to publish; receiving almost double the votes of the second-placed answer of implementing the Resources and Waste strategy.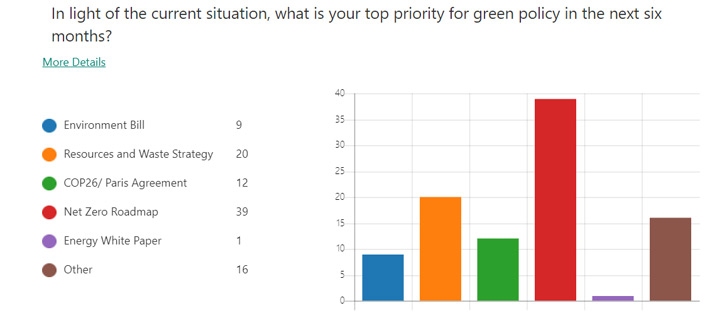 Matt Mace
© Faversham House Ltd 2023 edie news articles may be copied or forwarded for individual use only. No other reproduction or distribution is permitted without prior written consent.