2005
,
2004
,
2001
,
1996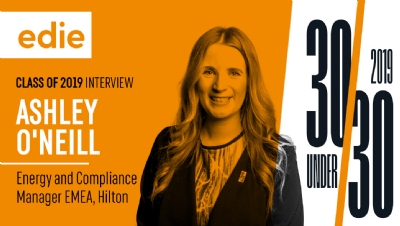 This series profiles the members of edie's 30 Under 30 - a nomination-based community of 30 hugely talented young sustainability and energy professionals who have already achieved great things or are showing fantastic promise. Next up: Ashley O'Neill, senior energy and compliance manager at Hilton.
With Google announcing a new £19m fund for businesses using Artificial Intelligence (AI) to address environmental and social issues, edie looks at nine projects that have already delivered notable benefits for business.
Meet edie's 30 Under 30 class of 2019: Matt Manning, Dixons Carphone
»
Meet the Sustainability Leader: Sustainable Building of the Year - UBS
»
Net-zero cities: Leeds's mission to be carbon neutral by 2030
»
Meet edie's 30 Under 30 Class of 2019: Joshua Davies, Multiplex
»
Meet edie's Sustainability Leader 2019: Janice Lao, The Hongkong & Shanghai Hotels
»
Meet edie's 30 Under 30 Class of 2019: Agnes Altmets, Auto Trader
»
Better Beer: Inside Molson Coors' $20m mission to climate-proof its supply chain
Recycling equipment leased through WRAP's RVG scheme
»
Gulliver's builds on established base
»
Confronting corrosion issues
»
Bio-power fuels - an expanding bio-industry that challenges the Environment Agency. By John Nicholson of Bio-Power Ltd.
»
Hitting ammonia consent levels
»
Improving lifetimes of pumps
»
Energy Storage - a distraction for renewable energy? By David Milborrow
Canada-based Trojan Technologies Inc. (TSE/TUV) has entered into an agreement with N.V. PWN Water Supply Company North-Holland (PWN) to collaborate in the research, design, optimisation and installation of ultraviolet (UV) treatment systems.
The color of money
»
Bio-test monitors benzene emissions
»
Energy management steps forward
»
Sustainability: spotlight on construction
»
Changing chromatographer
»
Time to take the test
»
What do you know?