edie feature articles on this day... for October 2009, 2008, 2005, 2000
Take a trip into the past and see what feature articles were in published in October 2009, 2008, 2005, 2000
October 2009
Landfill tax credits have a valuable role to play in protecting the rich and beautiful woodland heritage around us, so make sure yours are put to good use before it's too late. Maxine Perella reports
Read more
A team of specialist divers - working in a cramped, water-filled tunnel 20 metres beneath the surface of a reservoir in Lancashire - has just completed a challenging project to install an eccentric plug valve to control water flow.
Read more
Water companies are increasingly switching to electronic tendering to save time and improve tracking and transparency. Dean Stiles considers the pros and cons of the hi-tech auction system for the industry's buyers and suppliers.
Read more
· Government 'must not rush' flood bill

· Stars of the water industry set to shine at ceremony

· Getting bad vibes from recycling?

· My next holiday apartment must have solar water heating

· DNA detectives tackle beach water pollution

· Finning for the Fens project

October 2008
Offshore operator Amoco (UK) Exploration has succeeded in its bid to have its conviction under the Oil Pollution Act 1971 quashed.
Read more
The Court of Appeal has dismissed an action challenging the grant of planning permission to build a wind farm in Emberton, Olney, Milton Keynes.
Read more
Recent changes to legislation which will impact on the environmental sector come under the spotlight in this Semple Fraser and Edie News monthly round-up of new law and policy.
Read more
· Technology revolution that can take on climate change impact

· Aluminium looks to score away from home

· Mint solution right on money

· Ireland found in breach of wastewater regs

· As serious 'as a terror attack'

· Italy falls foul of ship waste laws

October 2005
With entries closing this week for edie's revamped 2019 Sustainability Leaders Awards, this new feature series will showcase the achievements of the 2018 winners, revealing their secrets to success. Up next: our 2018 Sustainable Supply Chains winners, TerraCycle, P&G and SUEZ.
Read more
As part of a running content series to mark edie's 20th anniversary as a sustainable business media brand, we have produced an infographic which explores the transformation of the global energy system over the past two decades.
Read more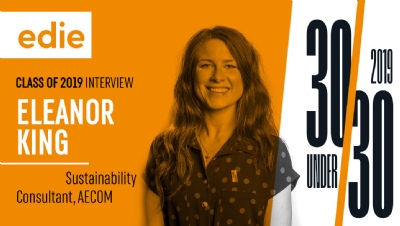 This series profiles the members of edie's 30 Under 30 - a nomination-based community of 30 hugely talented young sustainability and energy professionals who have already achieved great things or are showing fantastic promise. Next up: Eleanor King, sustainability consultant at AECOM.
Read more
· Three years on: How the Modern Slavery Act has reshaped best practice for sustainable business

· edie's Plastics Thinkathon results (Part One): The Lazy Lunch and shampoo bars

· What makes a sustainability leader? Meet consumer engagement champions City to Sea

· Meet the Sustainability Leader: Waste Management - Canary Wharf Group

· Meet edie's 30 Under 30 Class of 2020: Abigail Smith, Linbrooke Services Ltd

· Edie environmental case law summary October 2005

· GE TIP Tanker Services invests in Whale tankers

October 2000
Despite a wealth of projects and a lot of money, Britain's bathing waters are still falling foul of EU law. Chris Webb looks at what has been done and what work needs to be undertaken
Read more
Last month, Dr Mark Everard, Director of Science at the UK office of The Natural Step (TNS), described how the TNS framework had been used to evaluate the sustainable development implications of PVC. Here he describes a smaller study, again in association with the Environment Agency, applying the TN
Read more
Michael Scott on a new control gear and kit to record and transmit data
Read more
· Is the industry taking liberties?

· Guidance signposts improved methods of managing healthcare waste disposal

· Contract hire offers flexible solution