Liverpool FC's recycling scheme and a new record for offshore wind: The sustainability success stories of the week
As part of our Mission Possible campaign, edie brings you this weekly round-up of five of the best sustainable business success stories of the week. In this week's edition, record-breaking generation from offshore wind in the UK, and much more.
---
Published every week, this series charts how businesses and sustainability professionals are working to achieve their 'Mission Possible' across the campaign's five key pillars – energy, resources, infrastructure, mobility and business leadership.
Across the UK and across the world, leading businesses, cities, states and regions are turning environmental ambitions into action. Here, we round up five positive sustainability stories from this week.
ENERGY: UK's offshore wind generation reaches record high
The Crown Estate has this week revealed that offshore wind turbines in UK waters generated a record 45TWh of electricity in 2022, up from 37TWh in 2021.
45TWh is enough electricity to meet the needs of 41% of the UK's homes. In 2023, the Crown Estate estimates, the proportion will increase to 47%.
The year-on-year increase for 2022 is partly attributable to Hornsea 2 (pictured above) and Moray East entering full operations. In 2022, UK offshore wind capacity accounted for 24% of global capacity, second only to China.
The Crown Estate's managing director for marine, Gus Jaspert, said: "This success comes from years of hard work, collaboration and innovation across an extraordinarily diverse range of partners and industries. But we can't stop there. We need to achieve more in the next decade than we have in the last two if we are to help the UK meet its clean, secure energy ambitions."
RESOURCES: Recycling rates at Liverpool Football Club surge
Liverpool FC has revealed that fans have recycled more than 90% of their waste at all home games this year, compared to just 25% at the start of the season.
The Premier League side has been working with SC Johnson to help encourage recycling at games; the two organisations are running a '£10k penalty challenge' that will see one fan rewarded with a £10,000 cash prize for using on-site recycling bins. Additional bins have been added to every concourse at Anfield ahead of this season to make participating in the challenge easy.
PET bottles collected in recycling bins at Anfield are being used by SC Johnson to manufacture new Mr Muscle packaging.
Liverpool FC's commercial director Ben Latty said: "We're incredibly proud of the work that has been done this season to reduce, recycle and reuse waste at Anfield.  We cannot thank the fans enough for supporting this mission, which is a first in world football."
MOBILITY: Biffa to retrofit bin lorries with electric technology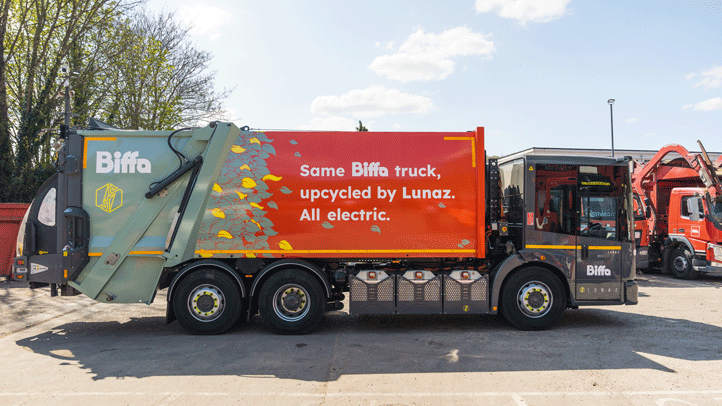 Waste management major Biffa is set to retrofit ten of its 26-tonne lorries with electric technologies, which will cut tailpipe emissions and also save 210 tonnes of embodied carbon compared with purchasing new electric vehicles (EVs).
Biffa has partnered with Silverstone-based EV technology firm Lunaz to carry out the retrofitting. Retrofitted trucks will operate out of Biffa's High Wycombe depot and their first journeys will take place before the end of 2023.
As well as saving carbon, there are significant cost savings. Lunaz claims that retrofitting 10 vehicles can result in savings of around £500,000 compared to purchasing new.
Biffa's chief operating officer Maxine Mayhew said: "We are proud to work with an innovative UK company to realise the transformational power of upcycling to save thousands of tonnes of embedded carbon in our transition to clean-air refuse truck fleets."
THE BUILT ENVIRONMENT: Landsec opens its first net-zero office
Real estate giant Landsec has officially opened its first net-zero carbon office development, the Forge, in London. The development was opened on 20 April at a ceremony attended by Net-Zero Review author Chris Skidmore MP.
The Forge is the UK's first commercial development to be designed in line with the UK Green Building Council's (UKGBC) net-zero buildings framework and energy performance requirements. This framework covers both embodied and operational carbon.
Skidmore said: "Transitioning to a net-zero economy will require innovation, collaboration, and a willingness to take risks.  By pioneering different approaches and taking learnings from other industries, Landsec has been able to create new construction techniques that can be applied across the entire industry."
At the same time, Landsec unveiled details of a new £20m social impact fund, developed with the aim of creating "a fairer, more equitable real estate industry that better reflects the communities it invests in". You can read edie's full story here.
BUSINESS LEADERSHIP: Bettys & Taylors Group supports Yorkshire woodland creation scheme
Family-owned tea and coffee company Bettys & Taylors Group has entered into a five-year partnership with the Woodland Trust, supporting the charity's plans to create a new woodland at Snaizeholme in the Yorkshire Dales.
The scheme will see up to 50,000 native trees planted and upland peat bog restored to help mitigate flood risk and improve carbon sequestration. The Woodland Trust hopes the new woodland will provide a home for red squirrels and birds such as herons, grey wagtails, kingfishers and dippers.
Bettys & Taylors Group's sustainable development specialist Alice Tollan said: "Snaizeholme will not only create one of the largest new woodlands in England, helping in the combat against climate change, but will also improve ecological connectivity by establishing natural corridors which link habitats together."
Tollan also noted that the firm has "a long commitment to protecting the environment". Back in 1990, it launched a 'Trees for Life' scheme to finance planting in the UK and in tea and coffee growing regions. To date, some five million trees have been planted under the scheme.
© Faversham House Ltd 2023 edie news articles may be copied or forwarded for individual use only. No other reproduction or distribution is permitted without prior written consent.