Manmade coral reefs and Seabins: The best green innovations to mark the World Ocean Summit
As delegates head back from a three-day World Ocean Summit in Abu Dhabi, edie has pulled together six of the best innovations that can improve the health of the world's oceans.
---
Leaders from around the world have convened for the sixth World Ocean Summit in Abu Dhabi (5-7 March). The three-day conference has seen more than 75 influential speakers implore more than 400 guests from business, government and technology spheres to alleviate some of the key strains damaging the oceans.
Already at a near-irreversible level, plastic pollution into the oceans is set to treble in the next decade. As plastic pours in, fish are being dragged out; more than 90% of the world's fish stocks and 30% of the world's oceans are either overfished or fully exploited. Then we have climate change, which is increasing the temperatures of the oceans, creating harmful consequences such as deoxygenation and acidification.
Governments, scientists and businesses are attempting to alleviate some of these trends. A new One Ocean Growth hub was launched in January by Science and Universities Minister Chris Skidmore. Led by the University of Strathclyde the hub aims to connect researchers with communities to help cut ocean pollution and deliver against the aims of Sustainable Development Goal 14 – Conserve and sustainably use the oceans, seas and marine resources.
However, the plethora of problems eating away at the health of the oceans has created an urgent need for innovative new solutions. To mark the World Ocean Summit, edie has round-up six of the best solutions to boost the health of this blue planet. Enjoy.
Plastic-eating Seabins
There are hundreds of innovations aimed at reducing the volume of single-use plastics in the oceans, but the Seabin has proved a hit amongst edie readers. The product came second in edie's "best green innovations of 2017" vote behind streetlamp vehicle chargers.
The Seabin is a device that uses natural fibre bags and an automated pump to suck up pollutants in the water and funnel out clean water. Oil can even be included as part of the waste collection, and the system can collect 1.5kg of waste daily.
Notable trials include Land Rover BAR's use of the Seabin at Portsmouth Harbour. Over the course of the year, a single Seabin bag can collect 20,000 plastic bottles or more than 80,000 plastic bags. It was originally unveiled in 2015, but has only just reached a crowdsourcing target of $250,000. Similar trials will be conducted at Port Adriano in Spain and the Port of Helsinki in Finland.
Low-carbon shipping fuel from dead fish
According to a report by the European Parliament, the international shipping industry is currently responsible for about 2.5% of global CO2 emissions – but this proportion could rise to 17% by 2050 if the sector is left unregulated and without innovative solutions. The sector needs to spur itself towards the International Maritime Organisation's (IMO) 2050 target of halving CO2 emissions from 2008 levels.
With the electrification of the shipping sector still in its infancy, cruise firm Hurtigen is among the firms taking an innovative approach to decarbonisation. The company recently unveiled plans to trial a closed-loop fuel made from liquefied organic waste across its fleet of 17 cruise liners late last year.
Called liquefied biogas (LGB), the fuel is produced by processing dead fish wasted from the fishing and animal feed industries, along with other organic waste, into a liquid oil. The oil is then heated until it reaches a gaseous state, and stored in canisters ready for combustion. The move comes after Hurtigen, which is in the process of investing $850m into green innovations by 2022, launched its first hybrid-electric ship earlier this year.
Steel-structured coral reefs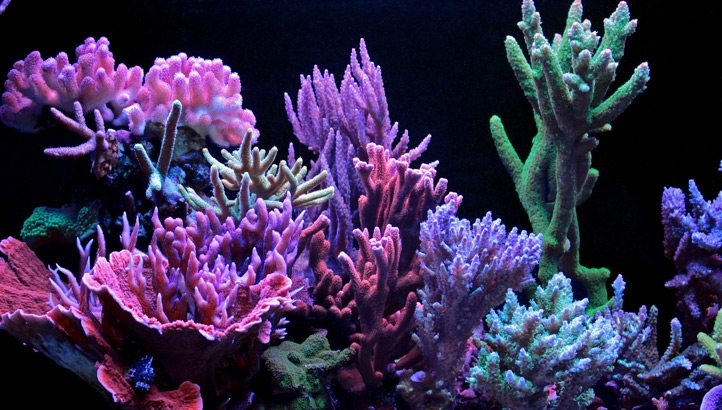 The Great Barrier Reef, one of the most iconic natural wonders of the world, is believed to have lost more than half of its coral cover, largely due to rising sea temperatures and pollution. These problems are only set to worsen as time goes on, with the Intergovernmental Panel on Climate Change (IPCC) concluding that a global temperature increase of 2C – the less ambitious of the trajectories outlined in the Paris Agreement – would result in the complete eradication of all natural coral reefs.
In response, several businesses from a variety of sectors have added coral or ocean stewardship pledges to their strategies. One such company is Mars, which this year unveiled plans to scale up trials of an innovative technology which 'rebuilds' coral reefs, after partnering with Australia's James Cook University to launch numerous tropical habitat restoration programmes.
Working with marine scientists from James Cook University, Mars Australia will scale up trials of its digital coral reef restoration device this year. Called the Mars Assisted Reef Restoration System (MARRS), the technology scans reef beds before determining where to install sand-coated steel structures known as spiders. Once the spiders are erected, coral fragments are embedded into them ready for regrowth. The MARRS project has helped to restore three hectares of habitat off the south coast of Indonesia to date and will now be rolled out off the north coast of Australia.
3D-printed seawalls
Volvo has positioned itself as one of the corporate leaders in the race to protect the world's marine habitats from plastic pollution, climate change and biodiversity loss, using its annual Ocean Race – held in partnership with the United Nations Environment Clean Seas campaign – to highlight the eight million tonnes of plastic being dumped in the ocean each year.
Last month, the carmaker went one step further, unveiling a 3D-printed seawall in Sydney Harbour in a bid to help bolster biodiversity in the area. The 50-tile wall, which is made using 100% recycled ocean and beach plastics, has been designed to mimic the structure of mangrove tree roots – an ideal habitat for micro-organisms.
The tiles have also been designed with a porous texture which helps them to filter water which comes into contact with them, removing liquid pollutants and catching debris. Researchers will monitor the impact which the sea wall has on water quality and biodiversity over the next 20 years.
Google's big-data fishing vessel platform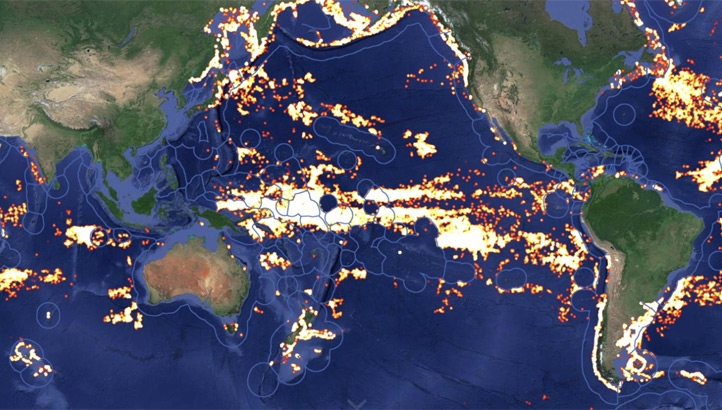 Fish is a staple food of a healthy and balanced diet, yet 90% of the world's fish stocks are either overfished or fully exploited. At a commercial level, it is believed that more than $23bn of seafood is stolen from the seas each year through illegal and unregulated fishing. In short, the deep blue is the Wild West of food production.
In 2016, Google unveiled a new technology platform that utilises enhanced data collection and transparency to promote and improve policies and provide the "world's first global view" of sustainable fishing practices.
The Global Fishing Watch was launched in partnership with non-profit Oceana and satellite analysts SkyTruth to digest and relay more than 22 million points of information on shipping vessel activities across the globe each day. More than two years on, the Global Fishing Watch can now show fishing activity for 65,000 commercial vessels operating in the ocean.
Fuel-saving ship coatings
In order to improve ship efficiency, many coatings used to enhance speed and fuel conservation use biocides to rid ships of marine life. These materials, many of which use tin, have been described as the "toxic time-bomb in the seas". Whistle-blowing website WikiGreen has claimed that the amount of heavy metals and pesticides released into the oceans annually could fill St. Paul's Cathedral nine times over.
Over the last 20 years, paint and coatings manufacturer AkzoNobel has launched biocide-free coatings offering fuel and carbon savings for ships. More than 5,500 vessels have been coated with AkzoNobel's Intersleek range, for example, which has helped ship owners save 10m tonnes of fuel and 32m tonnes of CO2. This equates to a collective saving of $3bn based on fuel costs at $300 per tonne.
The paints firm has faced criticism that it was using tin as a catalyst, which the firm says has been absent from products since 2002. However, AkzoNobel's latest range offers anti-fouling coatings based on Lanion technology. The patented technology uses bio-renewable materials to deliver "enhanced vessel performance" that reduces drag while lowering emissions and fuel consumption.
Matt Mace
© Faversham House Ltd 2023 edie news articles may be copied or forwarded for individual use only. No other reproduction or distribution is permitted without prior written consent.