More plastic pledges, rising CSR stars and #ThisIsACrisis: Top 10 sustainability stories of February 2019
As the shortest month of the year draws to a close, we take a look back at February's biggest sustainability and energy stories. The round-up includes Iceland's plastic-free produce, Amazon's carbon-neutral shipments, edie's new 30 Under 30 initiative and the 'Sustainability Oscars'.
---
It's been a HUGE month for the edie editorial team, with hundreds of sustainability, energy and CSR professionals gathering in London for our biggest ever Sustainability Leaders Forum and Awards. 
And, as corporates, governments and NGOs continue to set more ambitious carbon, waste and water targets – or turn such ambitions into actions – the general public has once again been reminded of the climate crisis by unseasonably high temperatures this week. For the first time since records began, UK temperatures topped 20 degrees during winter – an moment that has been attributed to rising greenhouse gas emissions, and which stands in stark contrast to last year's so-called 'Beast from the East'. 
The good news is that businesses, NGOs and policymakers are charging ahead with new sustainability ideas, frameworks and innovations. Take a look through all of the month's most-read news stories, and click the links in the descriptions below to read them for yourself.
Two months into 2019, plastic remains as high (if not higher) on the sustainability agenda as it was in 2018. One of the latest announcements in this space is Iceland's move to offer 62 fruit and vegetable lines without plastic packaging, as part of a 12-week trial at one of its largest UK stores.  
After an initial round of judging by edie and our 30 Under 30 partners Global Action Plan and the Institute of Corporate Responsibility and Sustainability (ICRS), edie readers were keen to find out who had been chosen as inaugural members of the brand-new initiative for rising sustainability stars. And what a list it is! You can read about the 30 young visionaries who were selected to join this nomination-based membership community here.
The opening of Ikea's new Greenwich store this month saw queues of up to 600 customers waiting to see the retailer's new 'leading sustainability' concept for themselves – and to buy some recycled vases and cushions. This feature sees edie reporter Sarah George take a look inside for herself, to see how the stpre evidences the company's shift towards circularity and 'climate-positivity'.
In mid-February, the Institute for Public Policy Research (IPPR) released a landmark report warning that the time period we have left to avert an "age of environmental breakdown" is growing rapidly smaller.  Shortly after its publication, #ThisIsACrisis began trending on Twitter. Here, edie takes a deeper dive into the report and outlines its key findings.
Reflecting on some of the key moments of our recent Sustainability Leaders Forum and Awards, episode 57 of our Sustainable Business Covered podcast breaks down what it takes to become an effective sustainability leader, featuring insight from Ikea, Heathrow and Unilever's former chief executive Paul Polman. In this episode, produced in association with E.ON, the edie team also bid farewell to insight editor Gorge Ogleby as he leaves to join team Defra.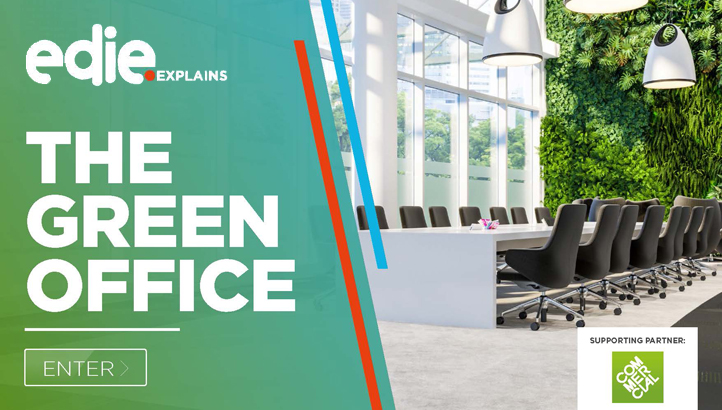 A 'greener' office can improve the efficiency of everyday operations, reduce office resource consumption and enhance the welfare of employees. This free, downloadable guide – developed in partnership with Commercial Group – sets out the key considerations and practical tips for energy and sustainability professionals when it comes to rolling out a 'green office' programme.
Sustainability professionals and the general public alike were keen to find out more about Aldi's new food redistribution initiative, developed in partnership with Neighbourly. Under the scheme, the supermarket will directly donate surplus food from 24 of its UK stores to local charities
On Sunday (24 February), the UK rejoiced as national treasure Olivia Coleman received her first Oscar. But for those seeking a climate-related alternative to blockbusters like The Favourite and A Star is Born, edie has created a (by no means official) round-up of the year's best climate-related films and documentaries. Vegan popcorn at the ready…
In the first of a brand new Sustainable Development Goals (SDGs) in Action editorial series, which breaks down exactly how businesses are adopting the SDGs, edie reveals how Asia Pulp & Paper (APP) is driving out deforestation while improving the livelihoods of its workers in Indonesia. A must-read for anyone looking to drive internal engagement with the Goals.
Globally, Amazon ships an average of 1.6 million parcels each day, making it the most-used online retailer in the world. It is hardly surprising, then, that people were keen to hear about its new ambition to offer 'net-zero' carbon shipments by 2030.
Sarah George
© Faversham House Ltd 2023 edie news articles may be copied or forwarded for individual use only. No other reproduction or distribution is permitted without prior written consent.