More than TV: Can ITV place climate change at the core of its business purpose?
EXCLUSIVE: Following 18 months of radical internal transformation, edie asks how media company ITV is ready to revitalise years of strong CSR work to make environmental stewardship, health and wellbeing and societal change the core purpose of its business model.
---
Broadcasters and media firms are finally utilising their influence in the global effort to educate on climate change and ecological degradation. If BBC acted as the lightning rod for citizen awareness through the iconic Blue Planet series, then Sky's Ocean Rescue campaign and Netflix's Our Planet docuseries has shifted the dial from awareness to action.
There is, however, a notable absentee from this list. ITV has been included in Dow Jones Sustainability Indices as far back as its creation in 2004 and carbon-neutral as 2018, but the media giant has focused more on practice rather than publicly preaching the necessity of corporate responsibility.
Reaching more than 40 million viewers in the UK every week and with a global footprint spanning 12 countries, it is surprising that ITV hasn't been more obvious in coupling its strong track record on CSR with its massive audience reach. But following more than 18 months of dedicated work behind the scenes, things look set to change.
Last week, the media firm unveiled a plethora of new sustainability pledges, including committing to a 1.5C science-based target, purchasing 100% renewables and removing all single-use plastics in operations, productions and supply chain. The new targets fall under a new "Social Purpose" strategy that is intrinsically linked to the wider "More than TV" ethos, that was set up by chief executive Carolyn McCall, DBE, when she joined the company in January 2018. The strategy includes pillars to the environment, mental and physical health, embracing diversity and community involvement.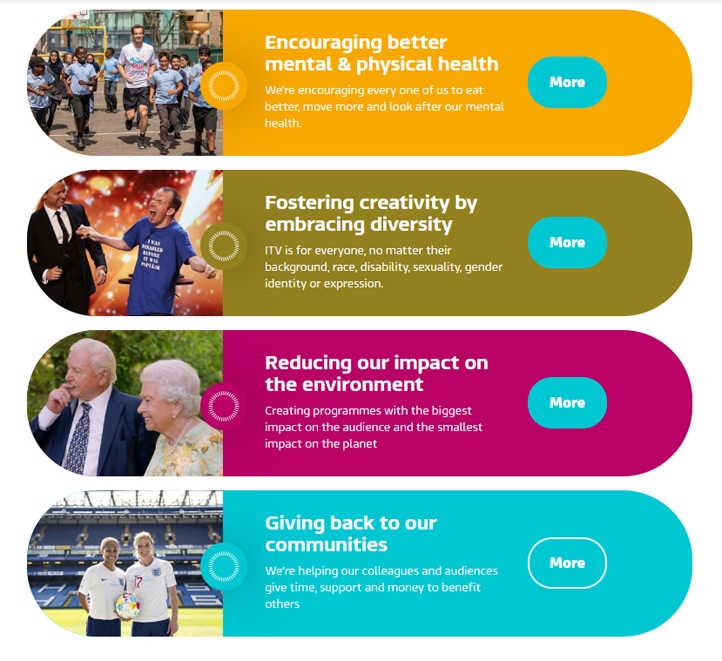 A knock-on effect of this new strategy was the revamping of the corporate responsibility team at ITV. Julia Giannini was the corporate responsibility manager when McCall arrived, but has since been repositioned to senior manager of Social Purpose. According to Giannini, the new leadership and brand positioning has meant that the company is ready to become more ambitious and more vocal when it comes to sustainability.
"We've done a lot of brilliant work [on sustainability], but we've never really talked about it externally as much as we could have," Giannini tells edie. "But right now, we have more stakeholders with their eyes on us, because we're a business under relatively new leadership and a new brand strategy.
"The More than TV brand strategy is one that actually aligns perfectly to social purpose and gave us a perfect, but a bit unexpected, combination of events that meant that this feels like the right time to really get social purpose right, and to talk about it more."
Calculated decisions
Giannini notes that McCall has backed the social purpose strategy from day one, and that the rebranding of the CSR team to that of social purpose was a "calculated decision" aimed at moving business interactions with society away from a "nice to have" – and at times a tick-box exercise – to a necessity that ran through every business decision.
The results of this internal shift are ambitious and commendable. ITV has now committed to setting a science-based target and will aim to reduce emissions by 10% annually until the target is finalised. The science-based target will be aligned to the Paris Agreement's most ambitious target of limiting global warming to 1.5C.
The company has also committed to joining the Climate Group's RE100 initiative to procure 100% renewable energy. ITV's owned UK buildings are already powered completely by renewables, accounting for 55.6% of its global electricity consumption.
Other targets outlined in the strategy include: zero single-use plastics used in operations, productions and the supply chain; supporting SME suppliers to improve their environmental impact; ensure all staff and freelancers are provided with environmental awareness training and achieve 100% Albert certification – to improve the carbon footprint of TV production – for programmes ITV produces and commissions.
Giannini explains that the new commitments don't yet have timeframes against them, but that these should be finalised next year as the company continues to gather all the relevant data. She also notes that the new and vocal concerns from the wider public, driven by the aforementioned broadcasts, combined with the new internal setups have created the "perfect storm" for ITV to launch the targets, even though the timeframes aren't ready.
"We wanted to make a statement that we are ready for this," Giannini says. "We know that this is important to everyone and that's why the commitments are in place. And trust us, we're now doing the work to understand how soon we can make this happen.
"I think the targets, because they've been made public, will help conversations in the business going forward. we recognise that this is an opportunity to galvanise the business and speak to all the stakeholders who are actually involved in delivering the strategy. At no point did we want this to seem like our team had just gone away and come up with targets and now we're telling the business what to do. This was co-creation."
Explaining offsets
In 2018, ITV became a carbon-neutral business, having reduced emissions by more than 52% over a five-year period and offsetting all direct emissions from business operations, travel and energy use. Efficiency is improving too, with emissions per unit revenue and per employee reducing by 12.8% and 11.8%, respectively, since 2017. These provide a good foundation for the new science-based targets, but the company reiterates it won't be relying solely on offsetting to get there.
Carbon offsetting has always been a divisive tool in the carbon-reduction arsenal. Some argue that offsetting gives businesses and governments a means to buy their way out of their own environmental impact.
"We do not see offsetting a get-out clause for neutralising the impact," Giannini adds. "We've made it clear that the number one priority is to reduce our emissions. And so that's why we're committing to the science-based targets. Only emissions that we don't have a solution for and can't be avoided would be offset for now.
"Even from a financial perspective, we've made it clear that the more we work on procuring renewable energy and reducing our environmental impact full stop, the less money we spend on offsetting. So, it financially makes sense for us as well."
More than TV
The More than TV strategy is now more than a year old. Launched by McCall to diversify the company commercially as well as emphasising its wider societal impact, the strategy had already changed consumer-facing services.
With the company looking to capture new market opportunities, could ITV be willing to rival Blue Planet and Our Planet with its own feature-length climate expose?
Well, in 2018 ITV aired a documentary with Sir David Attenborough about Queen Elizabeth II's Commonwealth Canopy conservation project to raise awareness of indigenous forests by creating a vast network of protected native forests across Britain and the Commonwealth. Giannini claims the company is exploring what can be done in this area, but that in the short-term ITV can use its existing television show portfolio to help nudge behaviours, especially now that most are already aware of the climate issues.
In long-running shows such as Coronation Street and Emmerdale, for example, ITV is now using props, dialogue and storylines around locally sourced food, recycle bins and reusable bags and cups.
"We see ourselves as the platform that can normalise certain ways of behaving through the programmes that we have in place," Giannini says. "We can communicate those kinds of messages to the viewers that are watching, rather than launching something entirely new."
While work is still do be done on how ITV communicates the ethical, societal and environmental impacts of shows such as Love Island – a potential gateway into fast fashion according to some – the company has taken steps to improve the sustainability of its production.
In 2018, ITV ensured that 38 productions made or commissioned became Albert certified, including Love Island and its coverage of the FIFA World Cup. In total, 778 hours of ITV runtime were Albert-certified
For waste management and staff training, all single-use cups and cutlery have been removed from main hub sites in London, Manchester and Leeds and 100% of ITV's largest suppliers have been tasked with meeting the organisation's sustainability criteria. In 2018, 645 colleagues completed the online environmental awareness training module.
Evidently, things are changing at a pace at ITV and Giannini says that some exciting campaigns are in the pipeline. And at a time where strong leadership is a requirement for business prosperity, she tells others not to be afraid of change, but embrace it as a catalyst for action.
"One thing that delayed a lot of the original work on the targets was the fact that we had a new chief executive joining back in 2018," she says. "We had to restructure the business, but that didn't and doesn't mean that we have to start from square one. Because we'd done the work and came armed with the evidence of why sustainability is so critical, her response was incredible; she noticed that this was the right thing to do for the business."
Matt Mace
© Faversham House Ltd 2023 edie news articles may be copied or forwarded for individual use only. No other reproduction or distribution is permitted without prior written consent.