Mumbai Airport's plastics ban and TOMS's charity podcast: The sustainability success stories of the week
As part of our Mission Possible campaign, edie brings you this weekly round-up of five of the best sustainability success stories of the week from across the globe.
---
Published every week, the new series charts how businesses and sustainability professionals are working to achieve their 'Mission Possible' across the campaign's five key pillars – energy, resources, infrastructure, mobility and business leadership.
From the construction of a 'net-negative' carbon office in London, to the installation of two major new solar farms in Kenya, each of these projects and initiatives is empowering businesses to play their part in achieving a sustainable future, today.
ENERGY: Finance secured for two utility-scale solar plants in Kenya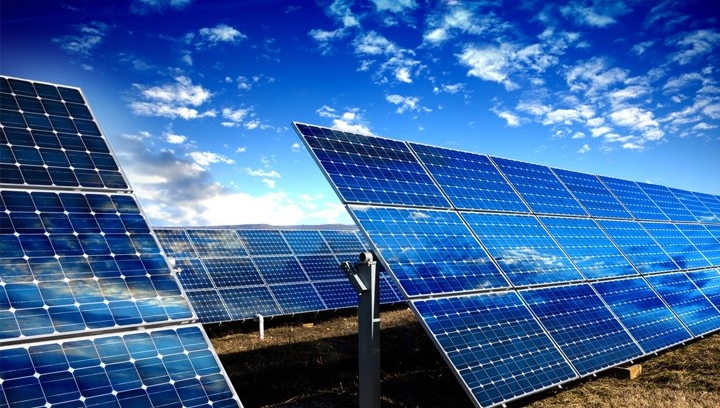 Broadly, global progress towards SDG 7: Clean Energy For All, has not been rapid enough to date to reach the UN's 2030 targets. But, since 2010, it's been estimated that 160 million people have gained access to electricity for the first time – mainly through renewable generation and mainly in Bangladesh, Myanmar and Kenya.
This trend, in Kenya at least, is now set to continue rapidly, with the construction of two grid-scale solar plants. The Radiant and Eldosol solar farms, which are being built near Eldoret City, will have a total capacity of 80MW and consist of 300,000 solar panels. Both projects are due to come online in 2020 and are being jointly funded by the European Investment Bank (EIB), the Netherlands Development Finance Company. Kenya's Government has notably set a 2022 target to ensure universal electricity access.
"Expanding renewable energy is crucial to enable all Kenyans to access electricity," the EIB's representative for East Africa, Catherine Colin, said.
"The Radiant and Eldosol solar projects demonstrate how visionary energy investment can accelerate social, economic and human development and show how Kenya is taking advantage of its rich renewable resources as a global leader in clean power generation."
RESOURCES: Mumbai Airport completes single-use plastics ban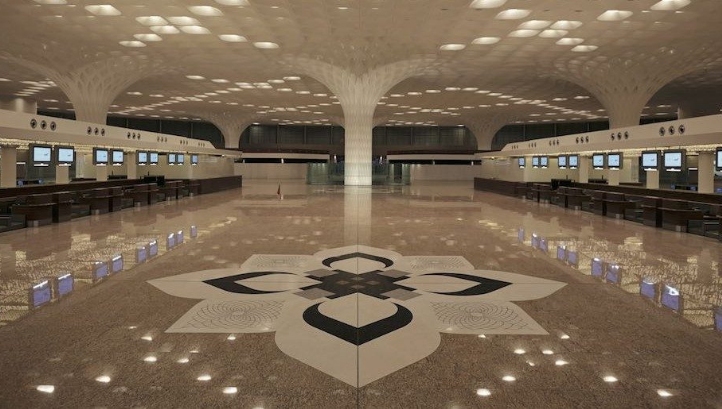 Last year, Mumbai's Chatrapati Shivaji Maharaj International Airport made headlines after announcing plans to remove all single-use plastics from sale and circulation.
Almost 18 months later, and with other travel giants such as Etihad having followed suit, the Airport this week confirmed that its plastic phase-out is complete, with 99% of outlets on the site having done away with their most commonly used plastic disposables. Items replaced with reusable, paper-based or foil alternatives include straws, plates, cups, cutlery, bags and packaging for fashion and beauty products. The airport has also installed reverse vending machines for customers who bring in plastic bottles from outside.
"Having already initiated the ban in 2018, the main aim was to provide passengers with alternatives that do not affect their overall experience, while at the same time eliminating the use of single-use plastic across all airport operations along with our stakeholders," the Airport wrote in a statement on Wednesday (2 October).
"Today, we are proud of having achieved our goal right in time with the Prime Minister's initiative for the entire nation and we shall continue our endeavour in providing sustainable and world-class service to our patrons."
MOBILITY: Electric bin lorries hit the streets of Brazil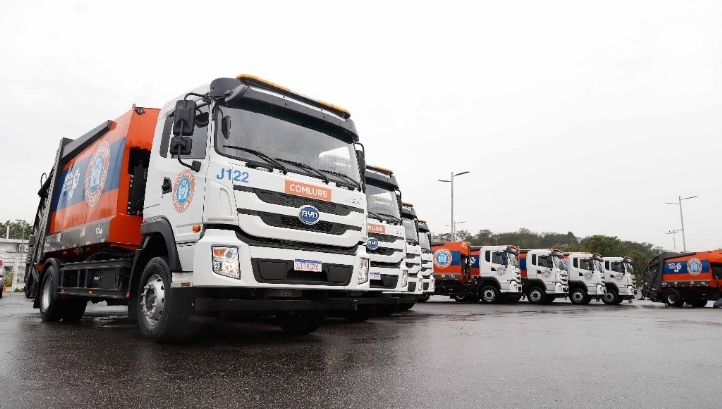 With concerns around air pollution pushing fleet operators in the UK to switch to electric vehicles (EVs), electric bin lorries are becoming a more common sight.
This transition also seems to be underway in Brazil. Rio de Janeiro's municipal urban cleaning company Comlurb recently received its first delivery of fully-electric bin lorries – nine T8 vehicles from Chinese EV giant BYD. The trucks will be used for weekly domestic waste collections every week, starting this month, with a further 11 BYD T8s due to be delivered to Comlurb by the end of 2020. According to BYD, the trucks can run for 200km on eight hours of charge. The vehicles are also fitted with regenerative brakes.
"I congratulate the city for having the first operating fleet of e-trucks in a large city outside of China," BYD's senior vice president Stella Li said. "We are very proud of this important delivery which demonstrates that both Comlurb and BYD are willing to make contributions to reducing emissions and improving air quality."
THE BUILT ENVIRONMENT: 'Net-negative' carbon office block to be built in London's West End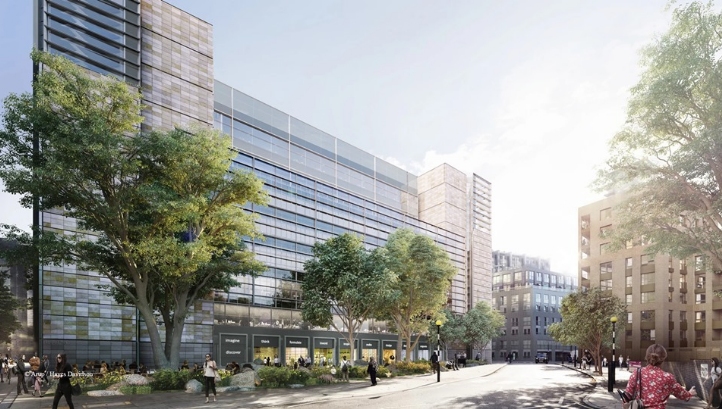 Last month saw the World Green Building Council host its annual World Green Building Week – an event calling on all firms in the built environment sector to set ambitious targets that eliminate carbon emissions for building portfolios by 2030.
This week, the final funding needed to build an office block which purports to save more carbon in design and construction than it will emit during its lifespan was confirmed. The rebuild of 1 Triton Square, in London's West End, has been awarded BREEAM Outstanding certification. It will see the office fitted with technologies that minimise its water and energy usage, as well as a 500-space bicycle park and new terraces – work which will be carried out in a way which prioritises the reuse of existing materials.
During the project, which began last year and is earmarked for completion in early 2020, no building waste will be sent to landfill. The building's new design was developed by architecture firm Arup; the development will be owned and managed by British Land.
BUSINESS LEADERSHIP: TOMS co-launches charity podcast to 'start conversations that matter'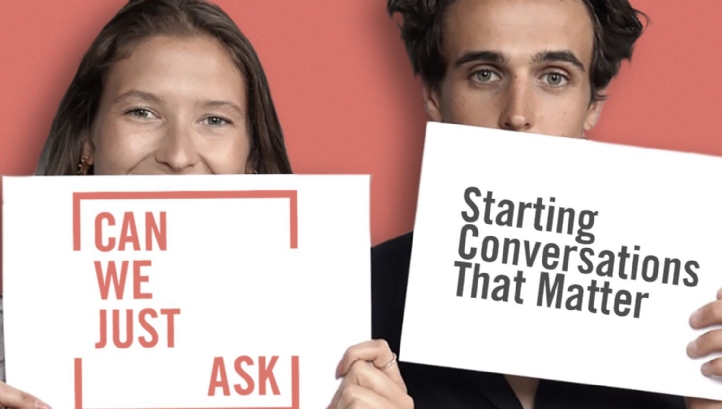 In this new era of climate activism, more and more brands are launching communications campaigns or new services to demonstrate their purpose beyond products. The Body Shop, for example, recently opened an 'activist hub' at its Bond Street store in London, while Patagonia is currently running a pop-up café whereby visitors can receive advice on climate activism.
Additionally, shoe brand TOMS recently published its first podcast in partnership with 'Can We Just Ask' – an organisation which describes itself as a "platform intended to encourage debate and discussion" around important social and environmental issues.
Representatives from TOMS and Can We Just Ask will discuss social entrepreneurship, men's mental health, gender equality and community activism with key figures, spotlighting experts in each of these fields. Funds raised through the sale of tickets to these podcast recordings will be donated to London-based charity The Mix, which provides mental health support to under-25s. Four of the eight podcasts in the series will be recorded live, enabling fundraising in this way.
"In addition to providing for basic needs, TOMS is taking a stand on human issues – and when people wear TOMS, they're taking a stand too—for the issues of today, and for a better tomorrow," TOMS said in a statement.
Sarah George
© Faversham House Ltd 2023 edie news articles may be copied or forwarded for individual use only. No other reproduction or distribution is permitted without prior written consent.