Net-zero by 2050: What does it take to make this a reality?
As a manufacturer reliant on energy for both the creation and lifetime use of our products and solutions, we understand that we have a critical role in achieving the worldwide reduction of CO2 emissions.
---
But the road ahead for us is a complex one. Panasonic is a multinational organisation, aiming to achieve zero CO2 emission at all operating companies by 2030, and to become carbon neutral including scope 1-3 by 2050.
What is at stake is understood by all. Even more importantly today therefore, is the 'how'. Learning from each other on how to reduce CO2 emissions is crucial.
Our second blog in this 3-part series has been created to transparently share Panasonic's journey towards Net-Zero. That we might encourage discussion and collaboration to achieve our global common goal.
The true size of the Panasonic net-zero task
As a core milestone towards its Environment Vision 2050, Panasonic's President and Chief Executive Officer (CEO), Yuki Kusumi, announced in May 2021 a more aggressive, short-term target: to make our total CO2 emission net-zero by 2030 at all operating companies as a milestone towards making the Environment Vision 2050 real.
Panasonic has experienced phenomenal growth since it began in 1918.  The company became known in its first year for its two high-quality products: an attachment plug and a two-way socket. They proved so popular that by the end of 1918, the company had expanded from three people to 20 employees. As an example of our long-term commitment to sustainability, in the 1990s we nurtured the electrification of the mobility sector in a joint battery development with Toyota.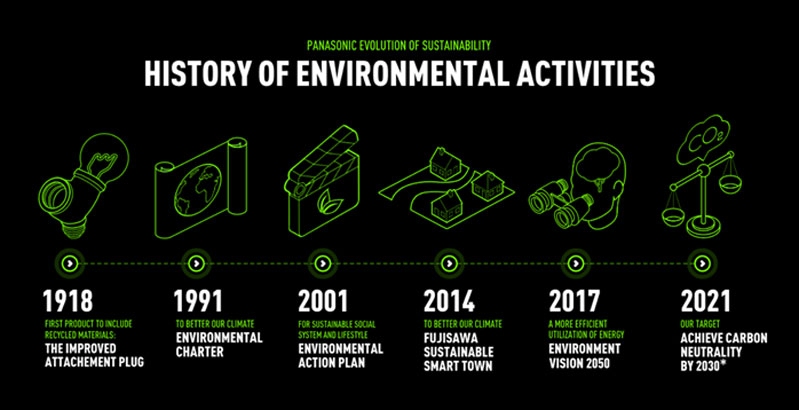 Where are we today?
Today, Panasonic boasts 243,540 employees across 523 companies, and aims to make it more sustainable – not only in terms of energy consumption and carbon neutrality, but also in terms of the use and re-use of resources overall.
Panasonic overview (as of March 31, 2021):
Net sales of €54.02bn
523 companies (including the parent company)
69 associated companies
250+ Factories
243,540 People
Products & Solutions ranging from small components such as capacitors and compressors to refrigerators, air conditioners and heat pumps.
Net Zero Progress
With several portfolios of components and products and numerous factories worldwide, achieving net zero is no easy feat. Yet development has already begun. Panasonic has already realised six Zero CO2 model factories and a Zero CO2 showroom among its facilities.
In August 2019, Panasonic joined 'RE100', an international initiative of corporations committed to change to 100% renewable energy in their business activities. We aim to replace all of our purchasing electricity across the world to 100% renewables by 2050, as well as to realize manufacturing with zero CO2 emissions.
Panasonic achieved a reduction of 170,000 tonnes of CO2emissions between FY2018 and FY2020 – and this reduction continues. Equivalent to the energy used in 20,472 homes in one year. Panasonic generated 78,000 MWh of renewable energy in FY2020. Equivalent to the electricity used in 10,041 homes in one year
Panasonic has realised six model Zero CO2emission factories globally.
Panasonic Eco Technology Center Co., Ltd. (PETEC) factory in Japan recycles used home appliances and develops and verifies innovative recycling technology. The factory has the following features:
100-meter-tall wind power generation system on factory premises since 2016 with a power generating capacity of 2 MW.
Switched all procured electricity to 100 % renewable energy sources.
Switched boilers using fossil fuels to energy-saving boilers, and used credits to offset CO2 emissions from fossil fuels.
Achieving Net Zero with Sustainable Products and Solutions
Over 100 years ago our founder, Konosuke Matsushita, established Panasonic's foundation management philosophy "to contribute to the progress and development of society through its business activities." As climate issues now take centre stage, the challenges for society are to embrace change and adapt to a new way of sustainable living.
The products and solutions that support and contribute to the decarbonisation of society span energy creation, energy saving, energy storage, and energy management. And as approximately 85% of carbon-dioxide emissions today are from burning fossil fuels, these solutions, such as energy creation from solar panels, heat pumps, and hydrogen fuel cells are imperative.
In our third and last blog article of this series, we will explore the utilisation of hydrogen in the journey towards net zero in greater detail.
The Bigger Picture
The IPCC (Intergovernmental Panel on Climate Change) has unequivocally said that human influence has warmed the atmosphere, ocean, and land and that human-induced climate change is already affecting many weather and climate extremes in every region across the globe.
According to a Roland Berger's report, the manufacturing sector bears a particular responsibility in climate change, emitting an annual total of 880 million tons of carbon dioxide equivalents. This makes it one of the largest single emitters of greenhouse gases in Europe.
We all must do our part. Even the smallest gesture contributes to making a difference.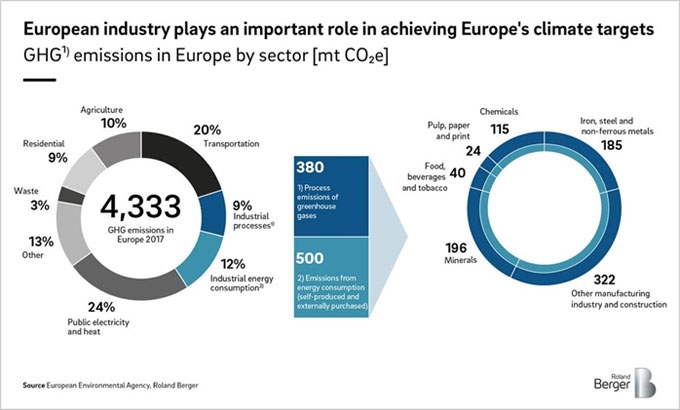 If we want to make an impact and contribute to reducing carbon emissions, we need to look at the production process. Approaching decarbonisation by starting with our own operations – our factories – first.
To achieve its 2030 target, Panasonic has and will continue to procure renewable electricity at factories and non-manufacturing sites. Subsequently, power generation equipment will be implemented wherever feasible, such as hydrogen fuel cells, photovoltaic power generation systems and wind power generation systems.
Share your thoughts with us!
What are you achieving or how do you think you can offset your carbon at work and in the home? Let's share ideas! Please put them in the comments below.
For more information about our solutions, smart city initiatives, and commitments to sustainability, please head over to our edie profile page where you can read more about our progress or simply contact us for more information.
© Faversham House Ltd 2023 edie news articles may be copied or forwarded for individual use only. No other reproduction or distribution is permitted without prior written consent.