Net-Zero Carbon: The Energy Management Inspiration Sessions
Event Date: 20/05/2020 1:00 pm
Hosted during edie's special Net-Zero Week of online content and events, the Energy Management Inspiration Sessions offer up an afternoon of live, interactive webinar presentations and discussions – all dedicated to achieving a net-zero carbon future for your business.
This is the first of three 'online events' to be hosted by edie within Net-Zero Week (18-22 May) – edie's themed week of online content and events which is inspired by our flagship exhibition, Net-Zero Live. 
With the vast majority of edie's audience now working remotely, and many placed on furlough, due to the Coronavirus outbreak – this collection of free webinars will give you the information and inspiration you need to steer your organisation to sustainability success, from the comfort of your own home.
Registrants will gain access to three live and interactive webinar sessions which are all taking place on Wednesday 20 May 2020. These sessions include a high-level panel debate (1pm–1.45pm); a selection of standout sustainable business case studies (2pm–3pm); and a 45-minute masterclass on becoming an effective sustainability leader (3.15pm–4pm).
Registrants can choose to tune into one, two or all three webinar sessions on the day – and the full collection of sessions will be made available to watch on-demand afterwards.
Full details of the three webinar sessions are as follows:
1) The Big Net-Zero Debate: Business energy challenges and opportunities in the 2020s
Timings:
1pm–1.45pm (BST)
Synopsis:
Kicking off our Energy Management Inspiration Sessions, a selection of energy industry experts will take part in a panel discussion about the political, regulatory infrastructural and institutional drivers behind net-zero business in the UK.
Speakers (provisional):
David Mason, Environment Technical Director, Skanska
Charlotte Morton, Chief Executive, ADBA
Lord Gregory Barker, Executive Chairman, En+ Group
Chris Hewett, Chief Executive, Solar Trade Association 
Discussion points:
From carbon pricing to energy efficiency: the policy priorities of UK energy managers
The 'known unknowns' of the UK's net-zero revolution
Renewable, flexible and smart: What the future holds for business energy
2) Net-Zero Buildings & Transport: Learning from the leaders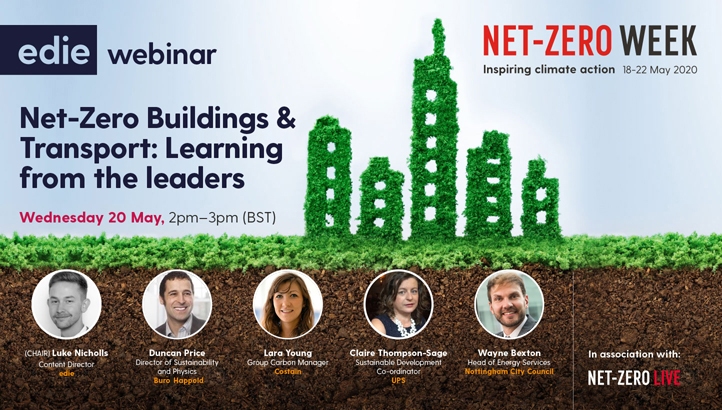 Timings:
2pm–3pm (BST)
Synopsis:
Inspired by edie's Buildings & Transport Stage at Net-Zero Live, our second Inspiration Session will showcase an array of best-practice case studies to help energy and sustainability managers make net-zero buildings and mobility a reality for their organisation.   
Speakers:
Duncan Price, Director of Sustainability & Physics, Buro Happold
Lara Young, Group Carbon Manager, Costain
Claire Thompson-Sage, Sustainable Development Co-ordinator, UPS
Wayne Bexton, Head of Energy Services, Nottingham City Council
Discussion points:
Making your buildings net-zero carbon and ultra-efficient
Overcoming infrastructural and institutional challenges to EV adoption
Driving engagement and behaviour change through your buildings and transport
3) 45-Minute Masterclass: How to unlock energy innovation in your business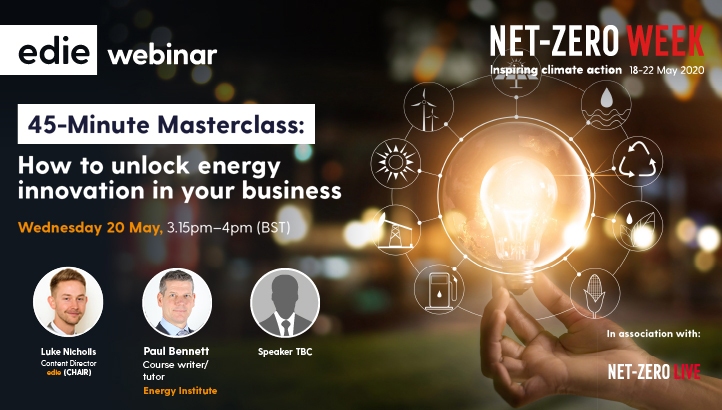 Timings:
3.15pm-4pm (BST)
Synopsis:
Our third and final Inspiration Session is all about creating a culture of innovation around energy use in your business. The session will show you new ways to harness energy innovations (both technological and behavioural) whilst increasing the innovation potential of your team and wider workforce.
Speakers:
Paul Bennett, Course Writer/Tutor, Energy Institute
Masterclass presenter TBC
Discussion points:
What great 'energy innovation' looks like
Choosing which energy innovations are right for your business
Overcoming barriers/challenges to get innovations off the ground and turn concepts into reality
---
edie's Net-Zero Week 2020
The Climate Action Inspiration Sessions are being held during edie's Net-Zero Week 2020 – a themed week of online content and events dedicated to supporting sustainability, energy and resource efficiency professionals on their journey to net-zero, and beyond. 
The week also aims to spark new business ideas and actions through edie's award-winning campaign, Mission Possible. Specifically, edie readers are encouraged submit new net-zero themed commitments on behalf of their organisations on the Mission Possible Pledge Wall.
The week is inspired by Net-Zero Live – edie's flagship exhibition which is set to take place on 10-11 November at the NEC Birmingham.
View all of edie's Net-Zero Week 2020 content here.
---
Action inspires action. Stay ahead of the curve with sustainability and energy newsletters from edie
Subscribe