Net-zero cities: Bristol's mission to be carbon-neutral by 2030
Launched as part of edie's Net-Zero November campaign, this new mini-series explores how local authorities are collaborating with businesses to actuate community-centred sustainability schemes on the road to net-zero emissions. We begin with a look at Bristol City Council's commitment to be carbon-neutral by 2030 - 20 years ahead of the Government's 2050 deadline.
---
Councils have been at the forefront of the UK's fight against climate change; often the first bodies to announce ambitious environmental targets in an effort to encourage businesses and central government to follow suit. Indeed, local authorities were the first to declare individual 'climate emergencies' before the Conservative Government and devolved assemblies made the move.
Chief among them was Bristol City Council – controlled by Labour – which, in November 2018, officially declared a climate emergency. That motion was unanimously passed and now acts as the foundations for the City's transformative commitment to become carbon-neutral by 2030.
That Bristol was the first council in the country to declare a climate emergency was perhaps no surprise, given the city's leading stance on climate action over the past decade. In 2015, Bristol became the UK's first European Green Capital. And, having already recorded a 71% reduction in carbon emissions from its direct activities against a 2005 baseline – surpassing a target to reduce emissions by 65% by 2020 – it now has the lowest carbon footprint of any UK city.
Sphere of influence
Speaking to edie, the City's Energy, Transport and Green New Deal Lead Kye Dudd stresses the importance of the unitary authority continuing to lead the climate movement in a way that he hopes will create something of a domino effect of climate action among businesses, citizens and policymakers alike.
"Ours is a small footprint in the wider scope of things," Dudd says. "We need to extend our influence into the business sphere and to bring other people with us. There are four areas of action: the Council and city as a whole have to act; we need to take the citizens with us; we need national action by influencing central Government to initiate the funding and legislation required; and finally, we need to drive international climate action as well.
"For the areas that we've got direct control over, it's really important that we augment our influence and deliver against that 2030 goal – we must do everything we can."
This devotion to the cause certainly carries through into the Council's own ambitions and activities, with a goal to be carbon-neutral for its own direct emissions by 2025. To reach this aim, the Council recently partnered with Manchester-based blockchain technology company EnergiMine to reward council employees who partake in sustainable actions by using the EnergiToken (ETK) platform. ETK uses blockchain to incentivise actions that promote energy reduction, clean transport use and social cause initiatives. Employees can now earn tokens to spend on rewards – or donate the equivalent value to a registered charity – by acting in an environmentally sustainable way.
Great progress has also been made outside of the Council's own operations – particularly in the area of renewable energy. More than £50m has been invested in low-carbon and renewable energy projects in the region since 2012, and to great effect: Bristol sourced 21GWh of energy generation from solar, wind and biomass in 2018 – enough to power 24,000 homes for a month.
This progress forms a key contribution to the new One City Climate Strategy for Bristol – a strategy co-led by Bristol Mayor Marvin Rees which is currently being shaped by an Environmental Sustainability Board made up of 15 city partners.
City Leap
Under the Once City One Climate Strategy, the Council wants to maximise the opportunity of a smarter, more connected energy system which harnesses low-carbon technologies, works with local communities and embraces innovation. It plans to do this through City Leap: a project co-led with local energy supplier Bristol Energy which is searching for organisations willing to invest in a joint venture that will help deliver a net-zero carbon energy system in the city by 2030.
Through City Leap, the Council aims to attract a further £1bn of global investment in the city. Local partners already supporting the project include the University of Bristol, University of the West of England, Western Power Distribution, Bristol is Open, Invest Bristol and Bath, Bristol Green Capital Partnership and Bristol Energy.
"City Leap was a work in progress before the declaration," Dodd explains. "We needed access to the expertise to create the frameworks… the two universities in particular have instrumental in developing a plan to help Bristol towards the 2030 goal. Finding a single strategic partner, or a consortium of organisations, to help deliver the investment needed to decarbonise is essential."
The signs are already looking positive: since its launch last year, the City Leap initiative has already garnered interested from almost 200 local organisations, international firms, investors and energy and infrastructure businesses.
"We've got to whittle down the interest to a shortlist of around 10 bodies that could deliver what we want," adds Dodd. "Obviously we need companies that have the capital investment, but we've also had SMEs that have expressed an interest. And there's scope for them to get involved at a later stage, for the delivery of the projects."
Heat and transport
On the SME front, Dudd notes that district heat networks and community renewable energy projects are two areas where smaller local businesses can get involved. Among programmes to support from the council is a near-5MW community-owned solar project, including roof-mounted solar panels on public buildings, in Lawrence Weston. And in terms of low-carbon heat, Bristol's Heat Network – a new network of underground pipes that will deliver affordable, low-carbon heat and energy across the city – is already benefitting more than 1,000 social housing properties and is continuing to expand. The map below outlines the latest planning across the city centre.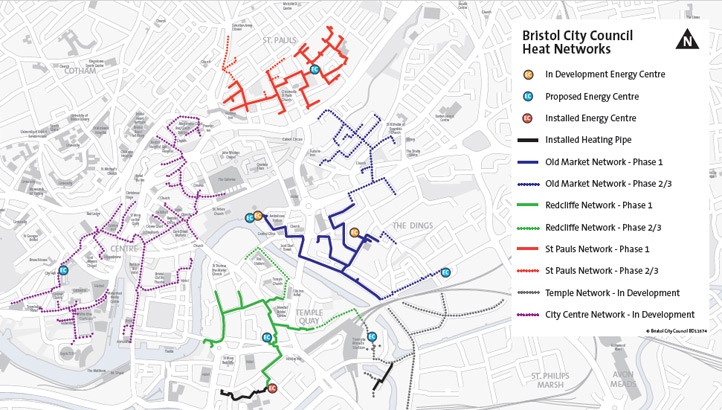 Looking ahead, Dudd also sees an urgent need to decarbonise transport across the city. "The issue we're struggling with is Scope 3 emissions and imported consumption," he says. "That's more with how the economy is organised across goods and services, which makes up 60% of Bristol's carbon footprint."
Action is already being taken in this area: last month, the Council voted to make Bristol the first UK city to ban public use of diesel cars from its streets to combat air pollution. While still requiring government approval, that scheme is set to start from 2021. On the transport front, the Revive programme last week (20 November), a joint programme between local authorities to accelerate the transition to electric vehicles (EV).
Bristol's Eastville Park is the first of four planned charging hub for the region, each hosting four to eight rapid-charge connections that can charge an EV up to 80% from 30 minutes' charging. In total, four local authorities will install 120 new or replacement charge point connections across over the next year. The majority of the charge points will be supplied with 100% renewable energy provided by Bristol Energy.
Dudd reiterates that councils have a key role in creating the right policy enablers to help local businesses and regions transition to net-zero emissions to respond to the climate emergency
"As a council, we can look at procurement and other areas of policy to help set the framework for net-zero," Dudd adds. "But really [net-zero] is a fundamental issue and needs national Government guidance. There's also a role for unions, academics and businesses. It's not just the council looking at this challenge in Bristol, nor can it be."
Matt Mace
© Faversham House Ltd 2023 edie news articles may be copied or forwarded for individual use only. No other reproduction or distribution is permitted without prior written consent.