Net-Zero Resources & Waste: The Circular Economy Inspiration Sessions
Event Date: 21/05/2020 1:00 pm
Hosted during edie's special Net-Zero Week of online content and events, the Circular Economy Inspiration Sessions offer up an afternoon of live, interactive webinar presentations and discussions – all dedicated to minimising waste and moving towards a regenerative economy.
This is the first of three 'online events' to be hosted by edie within Net-Zero Week (18-22 May) – edie's themed week of online content and events which is inspired by our flagship exhibition, Net-Zero Live. 
With the vast majority of edie's audience now working remotely, and many placed on furlough, due to the Coronavirus outbreak – this collection of free webinars will give you the information and inspiration you need to collaborate, innovate and activate the circular economy, from the comfort of your own home.
Registrants will gain access to three live and interactive webinar sessions which are all taking place on Thursday 21 May 2020. These sessions include a high-level panel debate (1pm–1.45pm); a selection of net-zero waste case studies (2pm–3pm); and a 45-minute masterclass on accelerating the circular economy through innovation (3.15pm–4pm).
Registrants can choose to tune into one, two or all three webinar sessions on the day – and the full collection of sessions will be made available to watch on-demand afterwards.
Full details of the three webinar sessions are as follows:
1) The Big Circular Economy Debate: Resources and waste challenges and opportunities in the 2020s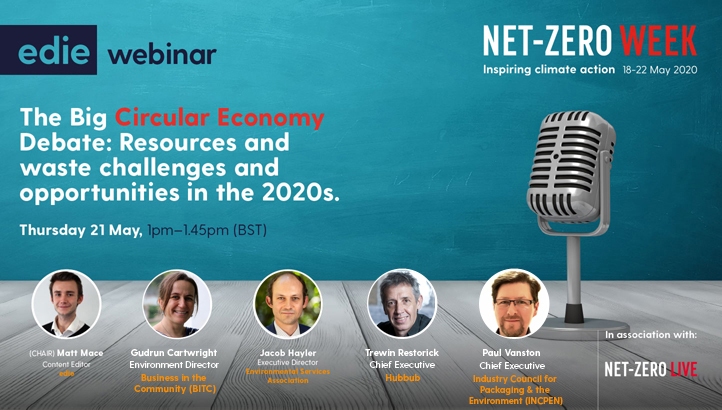 Timings:
1pm–1.45pm (BST)
Synopsis:
Kicking off our Circular Economy Inspiration Sessions, a selection of industry experts will take part in a panel discussion about some of the biggest issues facing circularity in the UK – from hyper-consumerism and unsustainable business models to waste management infrastructure and recycling technologies
Speakers (provisional):
Gudrun Cartwright, Environment Director, Business in the Community (BITC)
Jacob Hayler, Executive Director, Encironmental Services Association
Trewin Restorick, Chief Executive, Hubbub
Paul Vanston, Chief Executive, Industry Council for Packaging & the Environment (INCPEN)
Discussion points:
Policy, regulation and infrastructure: A quick resources & waste update
Where waste fits in the transition to 'net-zero' business 
What the plastics issue has taught us about advancing the circular economy in the UK
2) Net-Zero Waste: Learning from the business leaders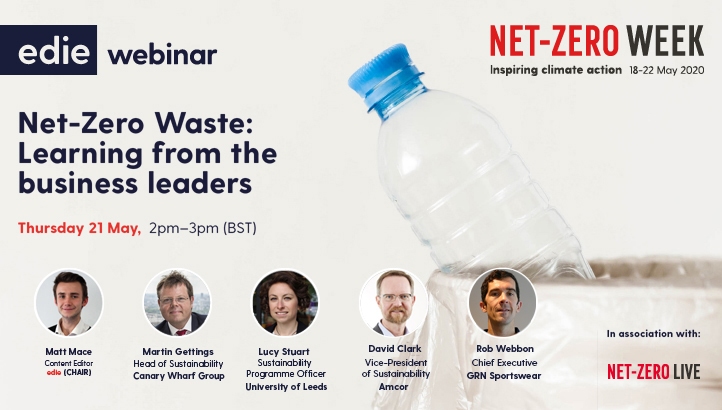 Timings:
2pm–3pm (BST)
Synopsis:
It's time for some quick-fire case studies. Our second Inspiration Session will hear from a spread of businesses that are accelerating the circular economy transition by redesigning systems, shaking up business models and embracing a 'zero-waste' philosophy.
Speakers:
Martin Gettings, Head of Sustainability, Canary Wharf Group
Lucy Stuart, Sustainability Programme Officer, University of Leeds
David Clark, Vice-President of Sustainability, Amcor
Rob Webbon, Chief Executive, GRN Sportswear
Discussion points:
The key ingredients for a winning circular economy strategy 
Overcoming Business and the natural environment: The regenerative alternative
Engaging consumers and suppliers on your resource efficiency journey
3) 45-Minute Masterclass: Accelerating the circular economy transition through innovation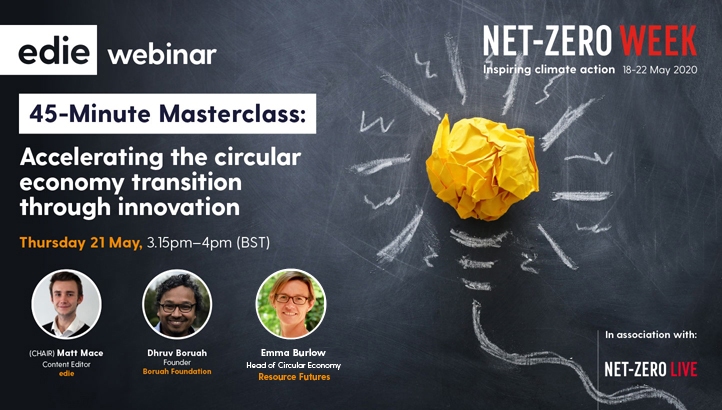 Timings:
3.15pm-4pm (BST)
Synopsis:
Our third and final Inspiration Session is all about unleashing innovation within your organisation when it comes to managing resources and waste. The masterclass-style webinar will equip you with the practical knowledge and skills to manage the transition towards a circular economy.
Speakers:
Dhruv Boruah, Founder, Boruah Foundation/Plastic Hackathon
Emma Burlow, Head of Circular Economy, Resource Futures
Discussion points:
Circular innovation: What this looks like in practice
The key ingredients of a successful circular economy business strategy
Innovative approaches to create a 'zero-waste' culture
---
edie's Net-Zero Week 2020
The Climate Action Inspiration Sessions are being held during edie's Net-Zero Week 2020 – a themed week of online content and events dedicated to supporting sustainability, energy and resource efficiency professionals on their journey to net-zero, and beyond. 
The week also aims to spark new business ideas and actions through edie's award-winning campaign, Mission Possible. Specifically, edie readers are encouraged submit new net-zero themed commitments on behalf of their organisations on the Mission Possible Pledge Wall.
The week is inspired by Net-Zero Live – edie's flagship exhibition which is set to take place on 10-11 November at the NEC Birmingham.
View all of edie's Net-Zero Week 2020 content here.
---
Action inspires action. Stay ahead of the curve with sustainability and energy newsletters from edie
Subscribe