No need for plastic to be on the menu
"There is no need for plastic to be on the menu" Prince Charles said recently referring to the plastics in the ocean that are ingested by fish caught for our dinner tables. The need to find a solution to recycle more plastic continues to attract considerable public debate and scrutiny.
---
There is no question plastics have provided considerable benefits to society; what we need now is a sense of urgency to build a circular economy to extend the life of our precious raw materials and preserve our environment.  Michael Gove's desire to improve plastic recycling and consult on return schemes for plastic drinks containers in the UK should be welcomed. However, we also need innovative solutions that can recycle the many plastics resolutely termed 'unrecyclable'. These are the end-of-life plastics such as films, tubs, pots, black plastics, contaminated plastics, and laminated and composite plastics that are not captured in these banks.
Estimates put the global value of recycling plastic at $280bn/annum. So it is no surprise that many companies now see the plastic waste problem as an opportunity and are developing innovative solutions. Barclays "Unreasonable Impact", an accelerator programme to support high-growth entrepreneurs, is supporting businesses who are solving global problems such as plastic waste. Other organisations, such as the Ellen MacArthur Foundation, are also addressing this issue by supporting the collaboration of businesses across the plastics value chain.
Recycling Technologies is proud to have been selected by Ellen MacArthur Foundation and Barclays Unreasonable Impact as a pioneer in addressing plastics waste. Recently we were asked by Barclays to address the Unreasonable Impact Accelerator World Forum's audience on "the future of supply chains". At the Forum we were able to show how chemical recycling can process the currently unrecyclable plastics and how this will extend the benefits plastics provide to our supply chains for food and industrial production.   
In a business as usual scenario, the world is forecast to drown in plastic waste – according to 'The New Plastics Economy' published by the Ellen MacArthur Foundation in 2016, global demand for plastics topped 322m tonnes in 2015 and is expected to double in the next twenty years. They estimate that by 2050 there will be more plastics than fish in our oceans.
Today, globally, only 10% of plastics are recycled at the end of their life. The rest, 90%, is either discarded in landfill, incinerated or lost in the natural environment. Businesses and governments are being asked to do more, more quickly.  Only recently, a petition signed by over 600,000 citizens, was handed to Frans Timmermans, EU Commissioner, asking for an ambitious EU strategy to tackle plastic pollution and improve recycling. These signatories want to see an end to plastic packaging waste in landfill and in the environment.
The problems associated with these so–called 'unrecyclable' plastics is creating new corporate social responsibility problems for consumer product companies. There is a solution to this in the form of chemical recycling for their packaging. Chemical recycling involves breaking plastic down and back into its constituent parts – using heat in the absence of oxygen. This 'cracks' the plastic back into the oil it originally came from; this oil can be used by manufacturers to make more plastics and in so doing will create a plastics value chain which is less dependent on fossil-derived raw materials 
So given the problems we see in our oceans from waste plastic, Prince Charles, Barclays, Recycling Technologies and the recycling industry rightly want to see plastics 'off the menu'.
We invite everyone to join together to more quickly achieve this goal.  Now we know we can chemically convert plastic back into its raw materials, to be made into more plastic again and again, let's bring that sense of urgency to growing capacity domestically and realising the economic opportunities that this low risk chemical solution delivers to the plastics supply chain.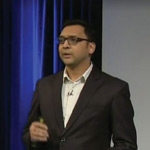 Ravish Jain is commercial operations director at Recycling Technologies
© Faversham House Ltd 2023 edie news articles may be copied or forwarded for individual use only. No other reproduction or distribution is permitted without prior written consent.