Orkney's tidal turbine and Ferrero's paper packaging: The sustainability success stories of the week
As part of our Mission Possible campaign, edie brings you this weekly round-up of five of the best sustainability success stories of the week from across the globe.
---
Published every week, this series charts how businesses and sustainability professionals are working to achieve their 'Mission Possible' across the campaign's five key pillars – energy, resources, infrastructure, mobility and business leadership.
As UK tabloid headlines filled with news concerning the Olympic Games in Tokyo, projects and initiatives which empower businesses to play their part in achieving a sustainable future, today, continued to launch and scale-up.
ENERGY: 'World's most powerful' tidal turbine starts generating electricity
Official figures from the UK Government this week confirmed that renewable electricity accounted for a record 43.1% of the UK's generation mix during 2021. As expected, offshore wind accounted for the majority of generation.
Another positive announcement in the UK's renewables space came from Orkney's European Marine Energy Centre (EMEC), where Orbital Marine Power's O2 tidal turbine this week begun generated power whilst connected to the grid for the first time. The 2MW offshore unit is anchored in the Fall of Warness and has been under development for some 15 years. It is expected to have a working life of 15 years.
Orbital Marine Power has confirmed that the turbine, which received financial support from the Scottish Government and Abundance Investment, will be providing power to a new onshore electrolyser for green hydrogen generation. The UK is notably striving to host 5GW of low-carbon hydrogen generation capacity by 2030.
"Our vision is that this project is the trigger to the harnessing of tidal stream resources around the world to play a role in tackling climate change whilst creating a new, low-carbon industrial sector," Orbital Marine Power's chief executive Andrew Scott said.  
RESOURCES: Ferrero unveils plans to trial paper-based packaging next year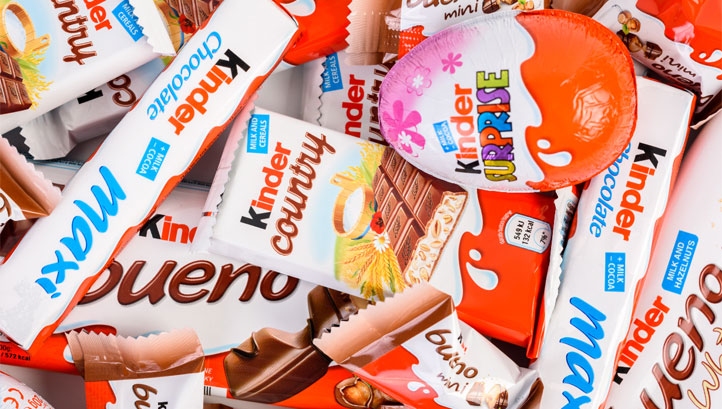 After being criticised by green groups last year for producing heavy and hard-to-recycle plastic packaging, Ferrero last year became a member of the Ellen MacArthur Foundation and committed to scaling up funding for sustainable packaging R&D. Upon joining the Foundation, the company announced it would collaborate with the 4evergreen alliance – a collaboration working on plastic-free, fibre-based packaging.
Now, Ferrero has confirmed that it will be ready to trial paper-based, plastic-free packaging in Italy from 2022. The packaging will initially be applied to Kinder Brioss and Kinder Delice. Should trials prove successful, the paper film option will be added to all Ferrero bakery products sold in Italy.
Ferrero has also announced plans to introduce a lighter-weight film for Kinder Bueno bars sold in all markets, reducing plastic by 20%. These two changes should reduce the firm's annual plastic use by 550 tonnes and carbon emissions by 1,450 tonnes.
MOBILITY: Seven business giants collaborate to accelerate EV transition
Thursday (29 July) saw some of the UK's largest commercial fleet operators committing to convert their fleets to 100% British-built electric vehicles (EVs) by 2030 at the latest, as part of a new initiative, whereby they will also provide advice to the Government on real-world challenges facing businesses looking to transition away from diesel and petrol.
The new initiative involves the  Government's Electric Vehicle Fleet Accelerator (EVFA), bp, BT, Direct Line Group, Royal Mail, ScottishPower, Severn Trent and Tesco. Should these seven businesses meet the 2030 goal, 70,000 electric vans will hit the roads by the end of the decade. However, they are warning Ministers that they face challenges in terms of EV choice and availability as well as charging access.
BT's chief executive Philip Jansen said: "We have a real opportunity to create a low carbon society as we build back from the pandemic. 
"At BT, we want to buy British but to do that we need to be confident that the supply of vehicles, components and charging points to keep our vans on the road will be sufficient. This needs to be a team effort with Government removing obstacles and helping take this to the next level."
THE BUILT ENVIRONMENT: Ground broken for Grosvenor's first net-zero office development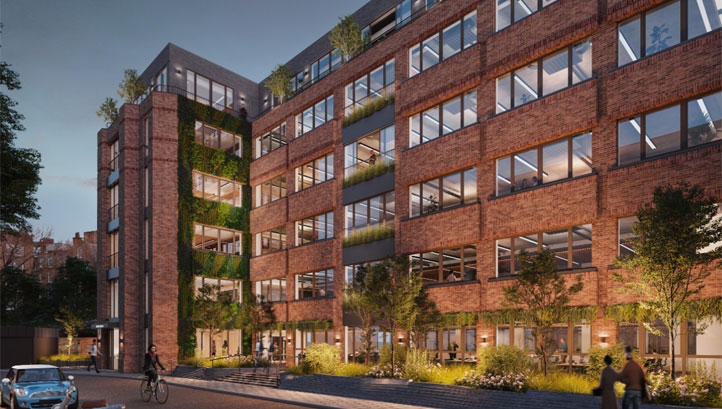 Late last year, property developer Grosvenor Britain & Ireland outlined plans to become a net-zero business by 2030, through a new strategy called 'Think Zero'.
Now, the business has begun working on site at what should be its first net-zero office. Net-zero for the site, off Sloane Square, London, covers emissions across the lifecycle. The project is called Holbein Gardens and entails a redevelopment and one-storey extension of an office block built in the 1980s.
To reduce embodied emissions, Grosvenor is using designs which maximise the reuse of existing materials and, where new materials are needed, low-carbon options such as cross-laminated timber and thermalite aircrete blocks. Other built-in features include electric heating, onsite solar generation and sustainable urban drainage systems.
Grosvenor is targeting BREEAM Outstanding, Well Gold and Wired Score Gold accreditation for Holbein Gardens. The development is additionally part of the London Energy Transformation Initiative (LETI) as a Pioneer Project. As well as being net-zero, the development will send zero waste to landfill.
BUSINESS LEADERSHIP: Coutts achieves B-Corp certification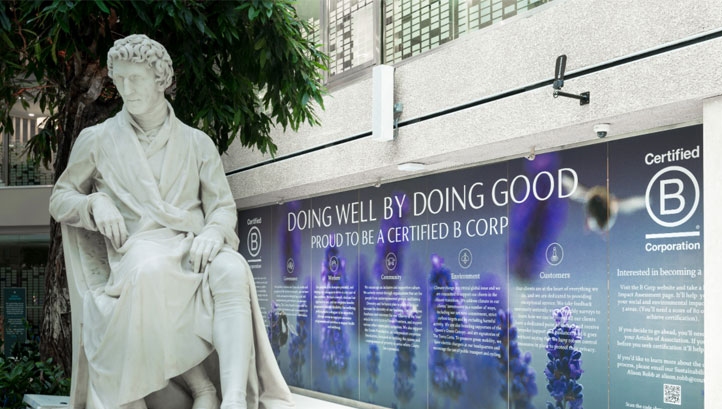 Covid-19 has prompted increased debate and discussion about the purpose of businesses in society, with much research indicating that the general public is increasingly looking to support firms with a purpose beyond their products and services. Executives are taking note and the B-Corp movement is quickly evolving.
This week, Coutts announced that it has become the UK's largest bank and wealth manager to achieve B-Corp status. The firm is known as the 'Queen's bank', having served every member of the royal family since the late 1700s. Globally, there are now more than 4,000 B-Corps, of which some 500 are UK-based. Aside from Coutts, certified firms include Bulb, The Body Shop, Sipsmith, TeaPigs and Beauty Kitchen.
Coutts said in a statement that the bank will do more to reduce financed emissions and assess the social and climate impact of its service providers and suppliers. It will also push to encourage business clients to set emissions goals in line with the Paris Agreement, while individuals will be offered new services on carbon footprint measurement and offsetting. As with any B-Corp, Coutts will need to re-certify every three years.
"When we saw that one of the ambitions of the B Corp community is to accelerate a global culture shift to redefine success in business and build a more inclusive and sustainable economy, we knew we had to be a part of it," Coutts' chief executive Peter Flavel said. 
"Having an answer to 'what next?' is what we feel matters the most. Whilst a certification is absolutely important, it's what we do from here to improve ourselves, support others and ensure more businesses are thinking sustainably and responsibly that will make the difference.
Sarah George
© Faversham House Ltd 2023 edie news articles may be copied or forwarded for individual use only. No other reproduction or distribution is permitted without prior written consent.