Here are the 9 reasons why water will dominate the sustainability agenda in 2022:
0 businesses can operate without water
1/5 of freshwater supplies have disappeared in 20 years
£533 billion business opportunities created by tackling water security
Cost of dealing with water issues is 5x greater vs. addressing water risks
3 billion people are affected by water shortages around the world
10% of the world's greenhouse gas emissions come from water use, storage and distribution
Water challenges cost businesses £226 billion in 2020
5,537 companies were asked to disclose water data by investors or customers in 2020
Clean water and sanitation is the 6th SDG, and underpins all other SDGs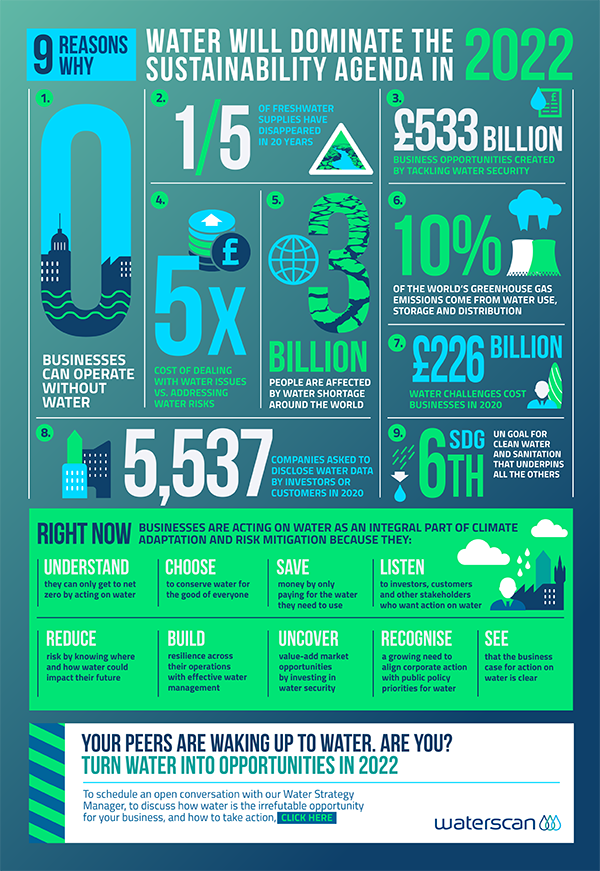 Read, download and share the full infographic here:

Right now, businesses are acting on water as an integral part of climate adaptation and risk mitigation because they:
UNDERSTAND they can only get to net zero by acting on water
CHOOSE to conserve water for the good of everyone
SAVE money by only paying for the water they need to use
LISTEN to investors, customers and other stakeholders who want action on water
REDUCE risk by knowing where and how water could impact their future
BUILD resilience across their operations with effective water management
UNCOVER value-add market opportunities by investing in water security
RECOGNISE a growing need to align corporate action with public policy priorities for water
SEE that the business case for action on water is clear
Your peers are waking up to water. Are you? Turn water into opportunities in 2022.
To schedule an open conversation with our Water Strategy Manager and discuss how water is the irrefutable opportunity for your business, and how to take action, click here.
---
---
N.B. The information contained in this entry is provided by the above supplier, and does not necessarily reflect the views and opinions of the publisher
---