Hosted during edie's special Engagement Week of online content and events, the Sustainability Reporting and Communications Sessions offer up an afternoon of live, interactive webinar presentations and discussions – all dedicated to helping sustainability and CSR professionals enhance their engagement strategies from the comfort of their own working environment.
Behaviour change and engagement – and, by extension, communications and reporting – represent one of the biggest challenges for edie's core audience of sustainability, CSR and energy professionals.
And during these times of uncertainty following the Coronavirus outbreak, communicating with key stakeholders – from executives and staff, to consumers and commercial partners – is all the more important, but equally more difficult.
edie is here to help! This exclusive online event is being hosted by our trusty editorial team on the afternoon of Thursday 7 May 2020. Registrants will gain access to three live and interactive webinar sessions: a Q&A debate (1pm–1.45pm); a selection of best-practice case studies (2pm–3pm); and a 45-minute masterclass (3.15pm–4pm).
Registrants can choose to tune into one, two or all three webinar sessions on the day – and the full collection of sessions will be made available to watch on-demand afterwards.
Full details of the three webinar sessions are as follows:
1) ENGAGE Q&A: Shaping the future of sustainability reporting and communications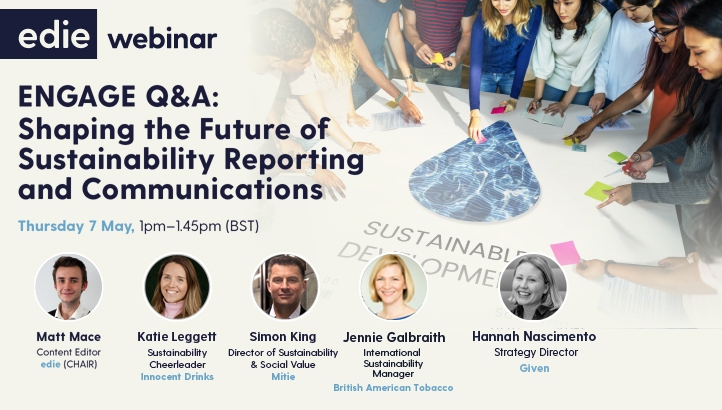 Timings:
1pm–1.45pm (BST)
Synopsis:
Kicking off our Reporting and Communications Sessions, a selection of CSR leaders and reporting/communications experts discuss how the sustainability conversation is changing; what new reporting approaches and frameworks are emerging, and what you can do to stay ahead of the communications curve.
Speakers:
Matt Mace, Content Editor, edie (chair)
Katie Leggett, Sustainability Cheerleader, Innocent Drinks
Simon King, Director of Sustainability & Social Value, Mitie
Jennie Galbraith, International Sustainability Manager, British American Tobacco
Discussion points:
Using the 'Greta' and 'Blue Planet 2' effects to your advantage
How CSR reporting will change in the 2020s
Driving engagement with the Sustainable Development Goals (whilst avoiding 'rainbow-washing')
2) The Communications Power Hour: Best-Practice Case Studies to Increase Engagement and Change Behaviours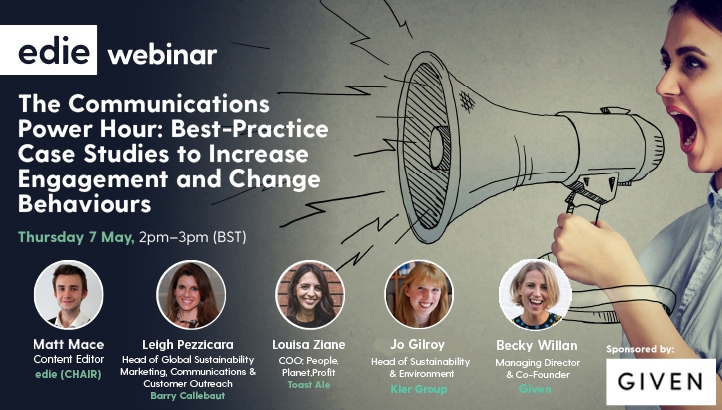 Timings:
2pm–3pm (BST)
Synopsis:
It's time to change the sustainability conversation. Our second Session offers up a series of quick-fire case studies, hearing from some of the individuals and organisations that are unleashing the power of purpose to engage stakeholders, spark behaviour change, increase transparency and build trust.
Speakers:
Matt Mace, Content Editor, edie (chair)
Leigh Pezzicara, Head of Global Sustainability Marketing, Communications & Customer Outreach, Barry Callebaut Group
Louisa Ziane, Sustainability Director, Toast Ale
Jo Gilroy, Head of Environmental Sustainability, Kier Group
Becky Willan, Managing Director & Co-Founder, Given
Discussion points:
The key ingredients of a powerful communications campaign
The art of great sustainability storytelling
Measuring the impacts of your engagement and behaviour change strategy
3) 45-Minute Masterclass: Taking your sustainability reporting onto the next level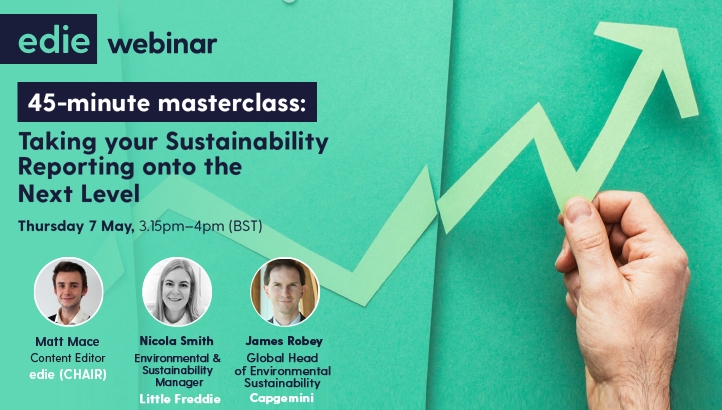 Timings:
3.15pm-4pm (BST)
Synopsis:
The way sustainability is reported is changing – from the emergence of new standards and frameworks to the increasing demand for ESG and climate-related disclosures. Our third and final Session will equip you with the tools and techniques to evolve your sustainability reporting strategy in a way that increases engagement and drives meaningful change.
Speakers:
Matt Mace, content editor, edie (chair)
Nicola Smith, Environmental & Sustainability Manager, Little Freddie
James Robey, Global Head of Environmental Sustainability, Capgemini
Discussion points:
Standards, frameworks and assurance: Cutting through the complexity
TCFD and climate-related disclosures: The need to know
Reporting in the digital age: What happens next?
---
edie's ENGAGE Week 2020
The Sustainability Reporting and Communications Sessions are being held during edie's ENGAGE Week 2020 – a themed week of content and online events dedicated to supporting sustainability, energy and resource efficiency professionals build personal engagement and drive meaningful change through the work that they do.
The week will include exclusive interviews, blogs, insight reports and podcasts – all dedicated to spark new ideas and actions when it comes to driving stakeholder engagement through robust sustainability reporting and captivating CSR communications.
View all of edie's engagement-themed content here.
---
---
---
N.B. The information contained in this entry is provided by the above supplier, and does not necessarily reflect the views and opinions of the publisher
---