The UK has been significantly impacted by the COVID-19 coronavirus and this had resulted in a nationwide lockdown to reduce the spread of the outbreak.
The UK lockdown places restrictions on working, travelling, and socialising which also had an impact on the levels of air pollution across all major cities in the UK, as suggested by the new data from The European Environment Agency.
The levels of Nitrogen Dioxide (NO2) have seen a drastic decrease in many major cities over the past few weeks when compared to the same period from last year. As the lockdown had restricted travelling and working, there were less traffic on the roads and less logistical operations happening.
Although there had been a drop in the concentrations of particulate matter (PM2.5), there hasn't been a consistent drop across the UK and Europe yet. This could mean that the lower levels of air pollution could be short-term and we may see a drastic increase in air pollution once the lockdown measures have been eased.
Local Air Pollution Levels from 2019 to 2020
New data from the European Environment Agency suggests that the levels of air pollutants have seen a marked decrease in comparison to 2019 due to the lockdown measures. The EEA had obtained data by measuring hourly on the ground and they have approximately 3,000 monitoring stations across Europe.
In the images below, you can see that London had an average concentration of 43.0 ug/m3 on 25th March 2019. Compare this to the same period this year, London now has an average concentration of 26.2 ug/m3. This data shows that this is nearly half the levels of air pollution from 2019.
You can also see that this trend is consistent across all major cities in the UK.
Concentration of Pollutants in 2019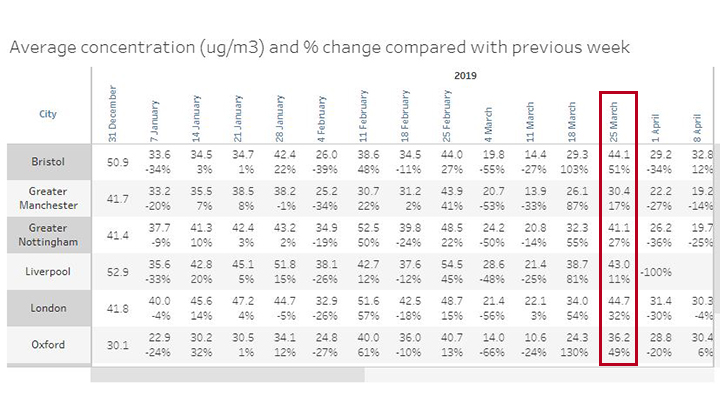 Data from 2019 – The European Environment Agency (https://www.eea.europa.eu/themes/air/air-quality-and-covid19/air-quality-and-covid19)
Concentration of Pollutants in 2020
Data from 2020 – The European Environment Agency (https://www.eea.europa.eu/themes/air/air-quality-and-covid19/air-quality-and-covid19)
Is the Coronavirus Affected by Air Pollution?
Air pollution has negative effects on health and the environment and this can be particularly dangerous to those who have existing cardiovascular or respiratory conditions. Health authorities have warned citizens with conditions relating to the respiratory system may be at an increased vulnerability to the coronavirus.
Piotr A. Kowalski and Aleksander Konior from Airly (an air quality data start-up) shows that there might be a correlation between higher levels of air pollution and a faster rate of spread of the coronavirus. This data suggests that regions around the world with higher levels of air pollution, specifically particulate matter (PM2.5), has a stronger correlation to areas that have been significantly affected by COVID-19.
It is said that continuous exposure to high levels of particulate matter can deteriorate the properties of the respiratory system which could make people more vulnerable to illnesses.
However, it has not been concluded that continued exposure to the particulate matter could worsen the effects of the virus.
How Can Businesses & Educational Establishments Improve Air Quality?
Businesses in the commercial, educational, industrial, and residential sectors can all do their part in reducing air pollution by ensuring that indoor air pollution is minimised through the use of high-quality air filtration systems. In Europe, the The Clean Air For Europe Directive 2008/50/EC (CAFÉ Directive) is a legislation that aims to improve the quality of air in and limit exposure to air pollution.
At AAC Eurovent, we offer a comprehensive range of high-performance carbon filter systems that deliver measurable NO and NO2 reduction. Our NOx filters can help improve the indoor air quality and they can also be enhanced to address concerns relating to particulate matter (PM2.5 and PM10).
Our NOx filters are widely recommended by air quality consultants and they are routinely specified by mechanical consultants. Our carbon filter systems can be used in a range of applications, including inner city residential, commercial, educational, and accommodation projects. These are also suitable for new build or retrofit schemes.
Contact AAC Eurovent for Carbon Filter Systems
If you are looking for an effective and reliable air filtration system that delivers measurable NOx reduction to improve indoor air quality, then AAC Eurovent can help you. We also offer a free design and manufacture service for bespoke projects that require effective indoor air quality management.
Call us on 0800 999 4884 or you can send us an email. 
---
---
N.B. The information contained in this entry is provided by the above supplier, and does not necessarily reflect the views and opinions of the publisher
---